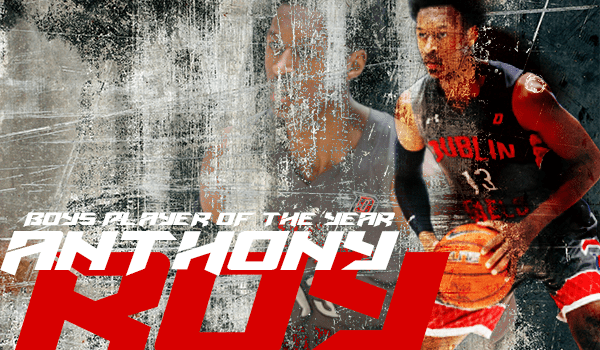 Anthony Roy Became The Leader The Dublin Basketball Team Needed, Then Helped Push The Gaels To Within One Point Of The NorCal Open Final...
Anthony Roy Became The Leader The Dublin Basketball Team Needed, Then Helped Push The Gaels To Within One Point Of The NorCal Open Final •
Player of the Year honors are never decided by one performance. High school basketball seasons stretch four months from conditioning week to the state finals. Season-long consistency and leadership are balanced along with talent and effort. 
So while one game won't lead to a Player of the Year award, it can certainly galvanize a player's case. Dublin High's Anthony Roy finalized his Player of the Year credentials in the North Coast Section Open Championship game. 
He scored a season-low six points that night. His team lost to Bishop O'Dowd by three. 
Roy, who spent his freshman year at O'Dowd before moving to Dublin, was the centerpiece to the Dragons' defensive game plan. Dogged by double teams, he couldn't find his shot. So he stopped shooting, and helped elevate his teammates. 
Roy led the team with six assists that night, four of which went to Malik Jackson, who scored a career-high 29 that kept the Gaels in the game. Roy, who averaged nearly 18 points a game on the season, took just 10 shots that night. 
_______________________________
STAY CONNECTED:
Follow SportStars on Twitter & Instagram | Like us on Facebook | Subscribe!
_______________________________
"He told me after the game, 'Coach, I just wasn't feeling it and I knew we'd be better if I helped get others going,'" Dublin coach Tom Costello said. 
The maturity that goes with knowing that, and acting on it, is rare for high school standouts. That leadership was the backbone of a Dublin team that thrived, even after its leading scorer from the previous season transferred to an East Bay Athletic League rival. 
Roy was named the EBAL's Most Valuable Player after leading the way both on and off the floor for a team that went 24-7. Dublin reached the NorCal Open semifinals before falling to Sheldon-Sacramento by one point.
"Anthony Roy is an incredible young man," Bishop O'Dowd coach Lou Richie said in the moments after the NCS final. "He was at O'Dowd as a freshman, and Tom (Costello) and I have had many conversations about him and his maturation. And I couldn't be happier for a better kid to go to Dublin and turn out the way he's turned out. He's probably the Bay Area Player of the Year. Hats off to his parents."
Roy averaged 17.8 points per game, close to doubling his scoring average from his junior season. He added 5.4 rebounds, 2.5 assists and 1.5 steals per contest. 
"His length was a problem, and he could just score in different ways," Salesian coach Bill Mellis said. His team lost to the Gaels 66-61 in the final of the Gridley Invitational. Roy was the tournament's Most Outstanding Player. "He was really good going to the basket but could also knock down some shots. 
"Toward the end of the game, they went to a 1-3-1 zone defense and put him at the top. I know he made at least three or four plays that led to steals that sealed the game."
From the moment Dublin's open gyms started in the fall, Costello saw a different player in his 6-foot-4 senior. 
"He absolutely embraced his chance to lead," the coach said. "He's just a natural, magnetic personality. Guys sort of gravitate toward him. He's just a likable kid. His work ethic changed. I'm just super, super proud of him. Taking on that role and owning it. He made us so much better."
Part of making the team better sometimes meant making the coaches better. 
"His basketball IQ is off the charts," Costello said. "He made suggestions that sometimes the coaching staff didn't even notice. And I'm OK admitting that! Oftentimes he'd come over and say 'Coach, let's get Devon the ball here,' or 'Malik has this guy on him, we should go to him.' Nine times out of 10 he was right."
Roy currently has an offer from CSU Fullerton, but Costello says he's gaining interest from a handful of other mid-majors as well.
Dublin played Roy at nearly every position over the course of the season. Costello expects he'll play as a combo guard in college. And the coach knows wherever he lands will be a steal for that program. 
"He just makes the other players around him better," Costello said. "Teachers love him, the administration loves him. Everybody loves him."