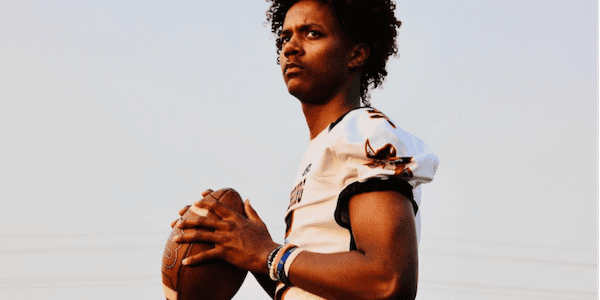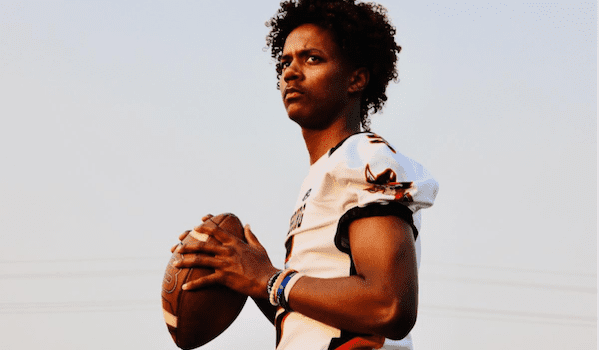 Top 2023 Quarterback Recruit, Jaden Rashada, Settles Down At Pittsburg After Briefly Chasing Fall Football Hopes In Florida • Jaden Rashada just wanted a...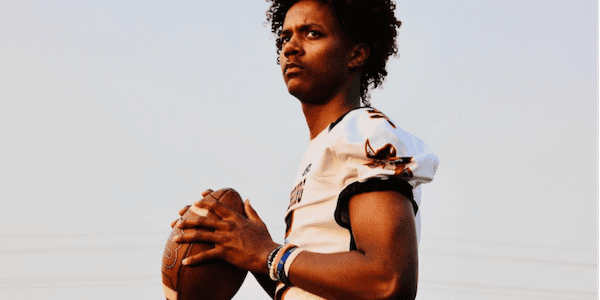 Top 2023 Quarterback Recruit, Jaden Rashada, Settles Down At Pittsburg After Briefly Chasing Fall Football Hopes In Florida •
Jaden Rashada just wanted a chance at playing football in 2020. 
It was that desire that led him to the house of his best friend, Rashid Williams, on an early-Summer evening — to say goodbye — before catching a 4 a.m. flight to Florida the following morning. 
"It was sad," said Williams, a talented sophomore receiver for Pittsburg High. "But sometimes you have to try to understand that maybe there's a better situation for certain people."
While the state's COVID-19 infection rate spiked, and the rest of the Bay Area's aspiring high school football players waited on a plan from the CIF, Rashada believed that opportunity was accepting an invitation to attend IMG Academy. 
IMG, located just 45 minutes south of Tampa, is a national powerhouse that attracts and recruits talent from across the country. Rashada came onto the academy's radar through scouting reports targeting him as one of the country's best young dual-threat quarterbacks — despite the fact that he'd seen action in just a handful of games as a freshman at Liberty-Brentwood.
_______________________________
SportStars NOW
Get the New App in the Apple Store & Google Play
_______________________________
The promise of a normal football season seemed too good to pass up. Then, just weeks before Florida high schools began their season — and around the same time 247Sports.com ranked him the nation's No. 1 dual-threat quarterback in the 2023 class — Rashada and his family decided a Bay Area season would be worth the wait. 
"It was an alright experience, but it wasn't what was best for me at the time at all," Rashada said on a late September evening on the Pittsburg campus, where he hopes to suit up for his last three prep seasons. "My family thought deep into it and thought it was just best to come back and end my high school career at Pitt. 
"The reason I came back was a lot bigger than football. It was a lot to think about but we got to the bottom of it."
Rashada said it was an adjustment living on the IMG campus, and his family was trying to figure out how to make it all work as well. Keep in mind, this was all in Florida — in the middle of a pandemic, and hurricane season. 
"It's hard enough to imagine your son being in a whole different place, in a bubble with sirens and storm watches and big bugs," Jaden's dad, Harlen Rashada said. "With everything that was going on there was really a lot of uncertainty. … It was an emotional rollercoaster."
That uncertainty and emotional strain seemed far removed from the 6-foot, 4-inch, 180-pound sophomore after a month back in the Bay Area. 
He's back amongst friends. That includes Williams, who has also landed inside 247Sports.com's list of Top 100 national 2023 recruits. Both are part of an extremely talented sophomore class that should make a big impact for the Pirates over the next three seasons.
_______________________________
STAY CONNECTED:
Follow SportStars on Twitter & Instagram | Like us on Facebook | Subscribe!
_______________________________
"When I knew I was coming back, I was thinking that I can't wait to do something big," Jaden Rashada said. "Down there at IMG, they're expected to do something great with kids coming in from every state. But if we can do something great here, it's going to be much bigger than anything I would've ever experienced there."
Rashada's friendship with Williams goes way back. The two families have been close since the boys were 3-years old. They grew up playing on the same youth football teams together. 
"When we were younger and showed up for a practice or workout, we'd always ask if Jaden was coming," Williams said. "He was way taller and could see over the line. He has a great spiral and puts it where it needs to be. I was probably 8 or 9 when I realized, 'Yeah, he's super good.' We knew he was going to be something great."
That he ended up in the premiere offensive position is kind of funny since he comes from a family of defenders. 
Harlen Rashada starred in the secondary for Skyline-Oakland before becoming a standout safety at Arizona State in the mid 90's. Jaden's older brothers Roman and Harlen Jr. also specialized on the defensive side of the ball. The latter logged 60 tackles, 3.5 sacks and two blocked punts for an 11-2 Freedom-Oakley team in 2016. 
"I coached all of my sons at some point," Harlen Sr. said. "Each time, I was the defensive coordinator. At one point I was talking with one of Jaden's first coaches and he told me, 'You know, I'm thinking of putting him at quarterback. He's a leader and does some things really well.' And of course, I was like, 'Yeah, that's good. That's good. But what about on defense?'"
It wasn't until around sixth grade when Jaden knew that quarterback was the position he really wanted to pursue. It was around that time that he gave up travel baseball to focus on developing his football skills. He thinks he might return to the diamond for Pittsburg in the spring.
Pittsburg coach Victor Galli knew of the Rashada Family, and coached against Harlen Jr., but hadn't met Jaden or spoken with him before he'd enrolled at the school. Certainly he'd heard the buzz about him though. After all, he does already hold offers from Auburn, Cal, Utah, San Diego State, as well as his dad's alma mater.
"Obviously he's known as an elite athlete, but he's very humble," the 19-year Pirates coach said. "I think it's good. He wants to work and he wants to compete."
He will have to compete.
Before Pittsburg takes the Pirates Stadium field to host Serra-San Mateo on the bizarro season-opener date of Jan. 8, Rashada will need to beat out a handful of quality starting quarterback candidates. It's also unknown if he'll be subject to a transfer sit-out period.
Eli Brickhandler is a 6-2 senior transfer who led Whitney-Rocklin on a Cinderella run to the Sac-Joaquin Section Division II championship game last season. There's also 6-1 junior Khamani Blakney, a baseball standout who Galli hinted at being no pushover. Christian Aguilar is a sophomore the coaches like as well. His older brother Joey passed for more than 5,500 yards with 59 touchdowns across two seasons at Freedom from 2017-18.
"Last year we had a QB competition all the way into the first game, and then Jerry (Johnson) grabbed it," Galli said. "We're definitely going to be in that situation again."
Rashada says he's already struck up a rapport with Brickhandler. 
"He wants it just as bad as I do," Jaden said. "We're just going to get each other better day by day. Whoever gets the starting job gets the starting job. It's going to be a competition, but I don't have a problem with helping my competition out. We're all teammates at the end of the day. They should be someone you can lean on for whatever."
Neither Jaden, Harlen Sr. or Galli know what to expect when it comes to a January-to-March season. The current CIF plan has Dec. 7 as the date sections can begin allowing practices.
"You can sneeze loud enough and the whole practice is over right now," Harlen Sr. said. "So I don't know how that's going to play out when you go through flu season. … But if it does get going, I think we'll get some good football. You're talking about a very hungry group of kids across the area."
Though his Liberty team visited Pirates Stadium for a playoff game last November, Jaden admits he remembers nothing about the setting. But ever since he enrolled, he's had all kinds of people ask or tell him about Pittsburg's renown game night atmosphere.  
"I'm hoping we're just able to have fun playing the game we love and there's no limitation on seats," he said. 
Reflecting on over 5,800 miles traveled in one wild summer, Harlen Sr. seemed to sum the Rashada Family's recent past and hopeful future with one thought. "Sports are important, man. It's not everything, but it's a lot to a lot of these kids."