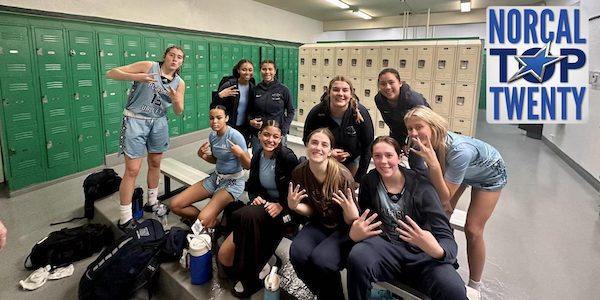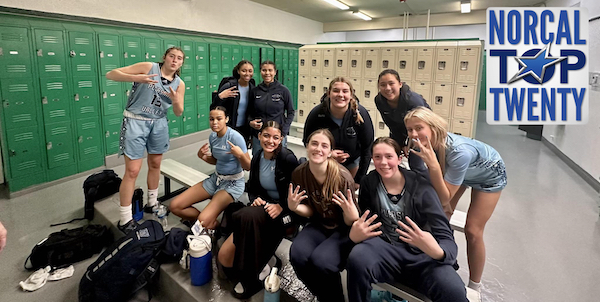 Nine Teams Are In New Spots And A New Team Joins The Fun As The NorCal Girls Basketball Rankings Shift Following MLK Showcases •...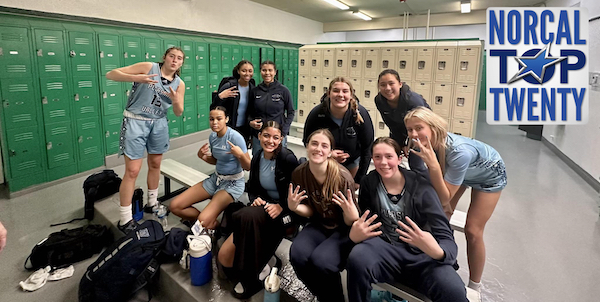 Nine Teams Are In New Spots And A New Team Joins The Fun As The NorCal Girls Basketball Rankings Shift Following MLK Showcases •
NorCal Girls Basketball Rankings
All records are through Monday, Jan. 16. Previous rank in parenthesis. Records obtained through MaxPreps.com
PICTURED ABOVE: No. 17 Pleasant Valley-Chico Celebrates It's MLK Showcase Win Over Lynnwood At St. Mary's-Stockton. (Bob Paddock photo/Facebook)
1. (1) Piedmont 15-0
2. (2) Archbishop Mitty-San Jose 14-2
3. (3) Folsom 14-2
4. (4) St. Mary's-Stockton 14-7
5. (5) Salesian-Richmond 15-3
6. (6) Oakland Tech 13-5
7. (7) Sacred Heart Cathedral-S.F. 14-2
8. (8) Carondelet-Concord 17-3
9. (13) Cardinal Newman-Santa Rosa 15-6
10. (10) San Ramon Valley-Danville 15-3
11. (11) Acalanes-Lafayette 11-5
12. (9) Antelope 15-3
13. (15) McClatchy-Sacramento 14-5
14. (16) Vanden-Fairfield 13-7
15. (17) Heritage-Brentwood 13-3
16. (18) Bishop O'Dowd-Oakland 10-5
17. (19) Pleasant Valley-Chico 17-3
18. (20) Pinole Valley 13-5
19. (14) Monta Vista-Cupertino 13-1
20. (NR) Marin Catholic-Kentfield 13-4
DROPPED OUT: No. 12 Christian Brothers-Sacramento
5 TEAMS KNOCKING:
Colfax (16-2), Eureka (16-4), Palo Alto (10-4), Pinewood-Los Altos Hills (5-5) and St. Patrick-St. Vincent-Vallejo (12-3)
FAST BREAKDOWN
So how did St. Mary's-Stockton go 0-2 over the Martin Luther King, Jr., Day weekend, at home, and still stay at No. 4? Because both losses — to Shabach Christian of Maryland and Centennial of Nevada — were to nationally ranked teams. Strength of schedule does matter, as Cardinal Newman's ascension into the Top 10 shows. Yes, there are some losses by big margins, but Newman has played a brutal schedule, and then hammering Antelope by 35 made it clear Santa Rosa's finest is a team to watch out for in postseason.
There might be some shakeups this weekend, though, after the SI20 showcase Saturday at Carondelet and De La Salle, as No. 1 Piedmont will face No. 11 Acalanes in an 8 p.m. game Saturday, and No. 3 Folsom meets No. 5 Salesian an hour earlier. The intersectional highlight is SoCal power Mater Dei-Santa Ana versus St. Mary's-Stockton in a late afternoon matchup, though that won't have much impact on the NorCal rankings.
Our rankings, of course, don't matter to the teams nearly as much as what the sections will do in postseason. First up will be the North Coast and Central Coast decisions about which teams land in the Open divisions, and which teams drop to Division I, which will then set up where teams are placed in NorCals.
_______________________________
CONNECT WITH US:
Follow SportStars on Twitter & Instagram | Like us on Facebook | Subscribe!
_______________________________
For many teams, the goal is to be the highest seed possible in the lowest division — for example, being the second seed in NorCal Division II is vastly preferable to being the 15th seed in Division I.
How to make that happen? A combination of big wins and occasional losses is often the best course of action, but even then, the CIF committee might do something goofy like bring Clovis West-Fresno and some other Central Section teams north into the NorCal brackets, spoiling all those carefully laid plans.