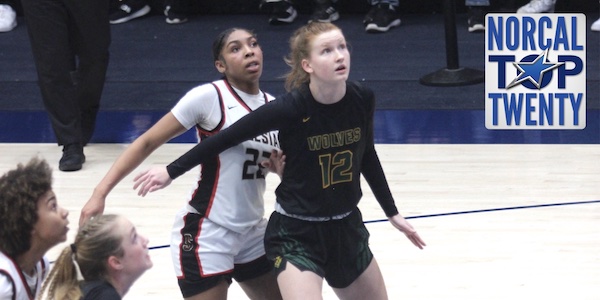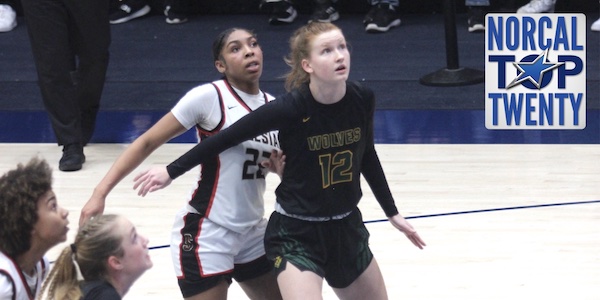 Section Tournament Results Finally Bring Some Changes To NorCal Girls Basketball Rankings, Though Top 5 Teams Remain • NorCal Girls Basketball Rankings All records...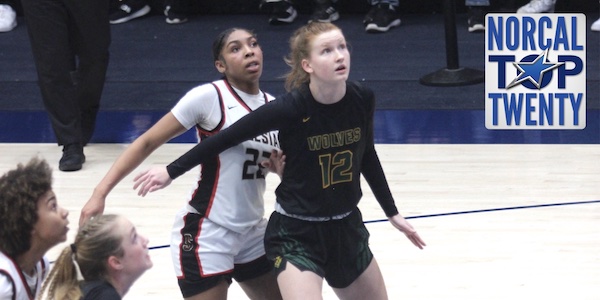 Section Tournament Results Finally Bring Some Changes To NorCal Girls Basketball Rankings, Though Top 5 Teams Remain •
NorCal Girls Basketball Rankings
All records are through Monday, Feb. 24. Previous rank in parenthesis. Records obtained through MaxPreps.com
PICTURED ABOVE: Paige Baldyga Of No. 8 San Ramon Valley Boxes Out Makiah Asidanya Of No. 4 Salesian During The NCS Open Final. (Chace Bryson photo)
1. (1) Piedmont  27-0
2. (2) Archbishop Mitty-San Jose   26-2
3. (3) Folsom   26-2
4. (5) Salesian-Richmond   25-4
5. (4) St. Mary's-Stockton   23-9
6. (6) Oakland Tech   25-5
7. (8) Cardinal Newman-Santa Rosa   24-7
8. (9) San Ramon Valley-Danville   26-4
9. (11) Carondelet-Concord   22-7
10. (10) Acalanes-Lafayette  21-7
11. (NR) Pinewood-Los Altos Hills   16-11
12. (12) Antelope  26-4
13. (13) Vanden-Fairfield   25-7
14. (14) McClatchy-Sacramento   25-6
15. (15) Bishop O'Dowd-Oakland   19-8
16. (NR) Palo Alto   20-6
17. (17) Pleasant Valley-Chico   27-3
18. (7) Sacred Heart Cathedral-S.F.   21-5
19. (19) Colfax   30-2
20. (20) Marin Catholic-Kentfield   26-5
DROPPED OUT: No. 16 Heritage-Brentwood and No. 18 Pinole Valley
5 TEAMS KNOCKING:
Christian Brothers-Sacramento (29-3), Monte Vista-Danville (24-6), Moreau Catholic-Hayward (20-9), Pinole Valley (20-10) and St. Francis-Sacramento (23-5).
FAST BREAKDOWN
Ideally, the rankings are settled on the court, but there's one sticking pointing: Seeding.
Heritage, for example, is seeded 16th in Division I, rather than, say, first in Division II. The difference between Heritage (who was No. 16 before dropping out this week) and No. 20 Marin Catholic is minimal, but the chances of Heritage finishing the season on a roll are much less than for Marin Catholic. And yet Heritage was considered one of the top six teams in North Coast Section due to its sixth seed in the Open – and, as expected, finished sixth. Yet the Patriots now drop below Marin Catholic, despite doing just as the committee predicted.
No. 17 Pleasant Valley, by the MaxPreps' rankings, should be in the middle of the pack in Division I, but instead is the second seed in Division II, and like Marin Catholic, is primed for a deep postseason run.
_______________________________
CONNECT WITH US:
Follow SportStars on Twitter & Instagram | Like us on Facebook | Subscribe!
_______________________________
The list of confusing decisions could go on (and on), and of course there's no way to satisfy everyone and get the brackets exactly right. But CIF could take a big step forward by adjusting the way the NorCal and SoCal brackets are created.
As it is, a CIF committee consisting of the 10 section commissioners and an unnamed group of CIF functionaries devises the girls and boys brackets on a Sunday morning. That means the committee selects and ranks 200-plus teams out of a pool of at least 250 schools.
That would be a monumental task for any committee, but remember the CIF commissioners do not claim to all be experts in basketball. They also do football, soccer, wrestling and a host of other brackets during the course of a year. And though some of them do know basketball well, others might have backgrounds in water polo or baseball. In short, the basketball bracketing decisions are not, in the end, made by basketball people.
And even if only basketball people were involved, there's still the necessity to have just as good a feel for the boys' side as the girls' side. Since you're reading this, you presumably follow girls' basketball, and would have a reasonable grasp of NorCal girls' teams. But honestly, what's your feeling about Ferndale and Contra Costa Christian in Division VI? Was it fair to send the Antioch school north to Ferndale in the NCS final?
OK, maybe you're really dialed in. So tell us, is Laguna Beach really the seventh seed in SoCal Division V? Or should Marina have gotten that slot?
You have an informed opinion? Impressive. Now do the same on the boys' side, which is what this group of section commissioners and basketball folks are supposed to do in just a few hours.
Obviously, the almost impossible job becomes truly impossible once it becomes clear how much knowledge is required to make informed decisions. New No. 11 Pinewood, at 16-11, is the 10th seed in NorCal Division I, which on its face is ludicrous — but Pinewood has gotten a key player eligible and others back from injury and could well be underseeded.
 
To improve this very difficult situation, CIF needs to reform the process by having the seeding done by two separate committees, one for the boys and one for the girls. The committees should consist of people focused on basketball up and down the state, who should be paid a small stipend to account for the enormous amount of time it would take to keep tabs on all the potential playoff teams in California.
 
Granted, the brackets would still be controversial. And granted, mistakes would still be made. But political horsetrading among section commissioners — "I'll vote for your team in Div. III if you help me in Div. II" — would be eliminated, and the decisions would be made with a much better understanding of the big picture.
 
This kind of committee, in fact, should be created for every sport, leaving the section commissioners to oversee postseason play instead of defining it. Experts, of course, aren't always the answer, but when it comes to postseason, with coaches and players having put in so much time and effort, at least they have a much better chance of answering a question about which Div. IV team deserves the ninth seed and which should be 11th.