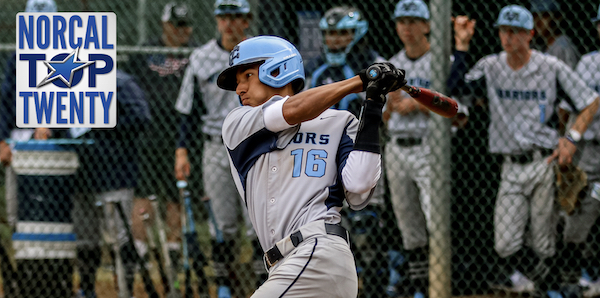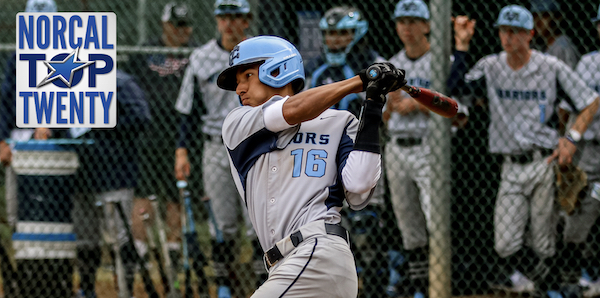 Head-To-Head Wins Among Top Teams Both Simplifies And Complicates Our First NorCal Baseball Rankings In Two Weeks • NorCal Baseball Rankings All records are...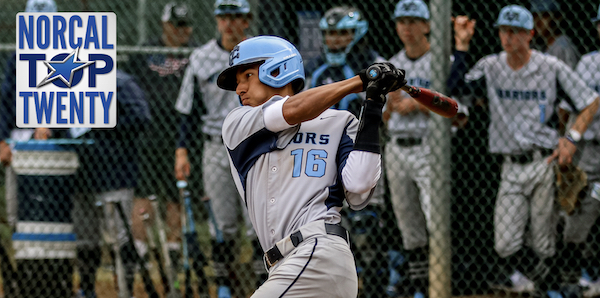 Head-To-Head Wins Among Top Teams Both Simplifies And Complicates Our First NorCal Baseball Rankings In Two Weeks •
NorCal Baseball Rankings
All records are through Monday, March 20 (via MaxPreps). Previous rank is in parenthesis.
PICTURED ABOVE: Junior Outfielder Tatum Marsh Of No. 2 Valley Christian-San Jose. (Ike Dodson photo)
1. (3)  Archbishop Mitty-San Jose   8-1
2. (4)  Valley Christian-San Jose   8-1
3. (1)  De La Salle-Concord   5-1
4. (6)  Franklin-Elk Grove   8-1
5. (2)  Whitney-Rocklin   5-1
6. (8)  Foothill-Pleasanton   6-1
7. (9)  Cardinal Newman-Santa Rosa   6-0
8. (12)  Bellarmine-San Jose   7-1-1
9. (16)  Elk Grove   7-1
10. (10)  Clayton Valley-Concord   3-2
11. (5)  St. Francis-Mountain View   5-3
12. (14)  Granada-Livermore  6-1
13. (NR)  Pleasant Grove-Elk Grove   6-1
14. (NR)  Oak Ridge-El Dorado Hills  3-3-1
15. (15)  Palo Alto   4-2
16. (7)  Woodcreek-Roseville   1-2-1
17. (18)  St. Ignatius-S.F.   7-1
18. (19) Marin Catholic-Kentfield   6-1
19. (NR)  Palma-Salinas   7-0
20. (NR)  Acalanes-Lafayette   7-2
DROPPED OUT:
No. 11 Redwood-Larkspur, No. 13 Serra-San Mateo, No. 17 College Park-Pleasant Hill and No. 20 Del Campo-Fair Oaks
5 TEAMS KNOCKING:
21. Redwood-Larkspur (8-1), 22. Amador Valley-Pleasanton, 23. Serra-San Mateo (4-3), 24. Berkeley (2-0) and 25. Liberty-Brentwood (4-2).
AROUND THE HORN
We took one week off from baseball rankings last week and things went a bit haywire. Look at all that movement. Four teams drop out and just two teams remained where they were ranked back on March 7.
Let's start at the top where we've placed Mitty-San Jose as the new No. 1. After former No. 2 Whitney-Rocklin defeated preseason No. 1 De La Salle (more on those two in a minute) we knew it would come down to West Catholic Athletic League rivals Mitty or Valley Christian-San Jose for the top spot. Both teams have identical 8-1 marks, but Mitty does have a 6-2 tournament win over Valley Christian from early March. And while we don't value baseball head-to-heads quite as much as basketball (pitching is a major variable), we felt Mitty's overall body of work gave them the edge. The Monarchs' opponents have a combined .629 winning percentage thus far, while the Warriors' sits at .526.
_______________________________
CONNECT WITH US:
Follow SportStars on Twitter & Instagram | Like us on Facebook | Subscribe!
_______________________________
Once Nos. 1 and 2 were figured out, we had to untangle De La Salle, Whitney and previous No. 6 Franklin-Elk Grove (which is the only team to beat Whitney thus far). We felt De La Salle, which lost to Whitney 6-5 on the road in the second game of a back-to-back, was too good to fall further than No. 3. The Spartans will have to prove that this Friday when they host No. 6 Foothill-Pleasanton in an East Bay Athletic League game on Friday, March 24.
Meanwhile, Franklin's 8-1 win over Whitney was a little too convincing to ignore, which meant the Wildcats of Elk Grove edged out the ones from Rocklin for the No. 4 spot. Tough break for Whitney to beat the No. 1 team and actually drop three spots, but that's how tightly those five teams at the top are bunched at the moment.
Other big movers this week were Bellarmine-San Jose, which jumps four spots to No. 8 after WCAL wins over former No. 5 St. Francis-Mountain View and No. 13 Serra-San Mateo. St. Francis had a tough stretch of losses and fell to No. 11 while Serra will sit out of this week's Top 20 and go back to knocking on the door. The Padres went 0-3 last week.
Four new teams enter the NorCal Baseball Rankings this week, with the highest debuts coming from a pair of Sac-Joaquin Section squads. Pleasant Grove-Elk Grove enters at No. 13. The Eagles' only loss came against new No. 9 Elk Grove, and they have a win over new No. 14 Oak Ridge. The Trojans pushed their way in on the strength of wins over both Bellarmine and Franklin.
Palma-Salinas brings its unbeaten mark to No. 18 and Acalanes-Lafayette debuts at No. 20. The latter owns Foothill's only loss of the season as of March 20.