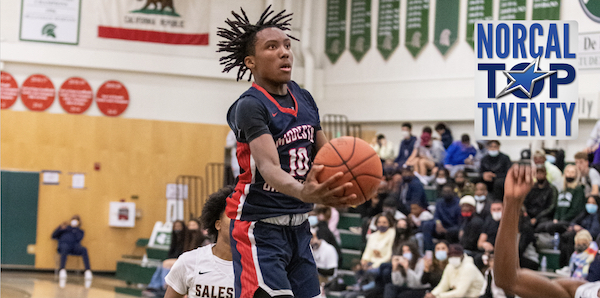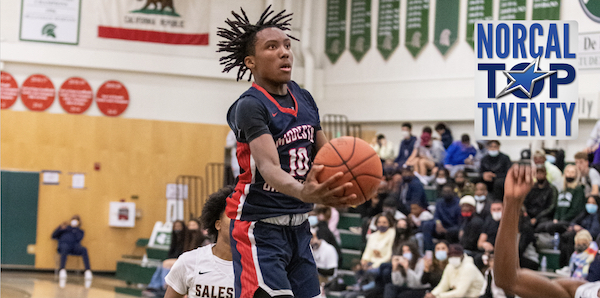 Regional Success Of CIF Central Section Leads To Quite A Bit Of Change For Our Penultimate NorCal Boys Basketball Rankings • NorCal Boys Basketball...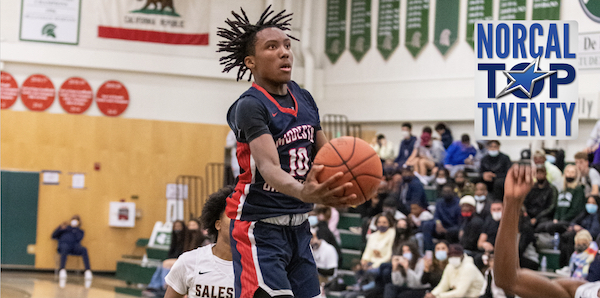 Regional Success Of CIF Central Section Leads To Quite A Bit Of Change For Our Penultimate NorCal Boys Basketball Rankings •
NorCal Boys Basketball Rankings
All records are through Tuesday, March 7. Previous rank in parenthesis. Records obtained through MaxPreps.com
PICTURED ABOVE: Senior guard BJ Davis of No. 1 Modesto Christian. (Berry Evans III photo).
1. (1) Modesto Christian   27-7
2. (2) Dougherty Valley-San Ramon   27-4
3. (5) De La Salle-Concord  22-9
4. (4) Archbishop Mitty-San Jose   22-6
5. (11) Granada-Livermore   26-10
6. (8) Salesian-Richmond 26-9
7. (9) San Ramon Valley-Danville   26-8
8. (10) Archbishop Riordan-S.F.  23-7
9. (7) Inderkum-Sacramento   28-4
10. (16) University-S.F.   30-4
11. (3) Jesuit-Sacramento   26-6
12. (12) Weston Ranch-Stockton   23-11
13. (6) Folsom   26-4
14. (14) Dublin   18-12
15. (NR) Sacred Heart Prep-Atherton   20-7
16. (NR) Vanden-Fairfield   24-11
17. (15) Campolindo-Moraga   23-8
18. (13) Lincoln-Stockton   25-5
19. (18) Sacred Heart Cathedral-S.F.   16-13
20. (NR) Oakland Tech   22-12
DROPPED OUT:
No. 17 Clayton Valley-Concord, No. 19 Rio Americano-Sacramento and No. 20 Branson-Ross
5 TEAMS KNOCKING:
21. Branson-Ross (28-4), 22. Oakland (26-8), 23. Justin-Siena-Napa (26-5), 24. Rio Americano-Sacramento (27-6) and 25. Serra-San Mateo (17-12).
FAST BREAKDOWN
Well, that was quite a week and a half. The CIF Northern Regional tournament brought us some barnburners and some eye-raising blowouts. It also featured a lot of the Central Section, which is why we have just one Top 20 team — No. 5 Granada-Livermore — playing for a state championship this Friday and Saturday.
Let's start with the Matadors, who will be making the school's first ever trip to a basketball state final when they face Notre Dame-Sherman Oaks (26-10) in the Division I title game at 8 p.m. Friday night at Golden 1 Center in Sacramento. Granada jumped six spots after winning the Div. I regional, defeating No. 19 Sacred Heart Cathedral-S.F., Clovis West-Fresno (the bracket's top seed), No. 8 Riordan-S.F. and No. 6 Salesian. Salesian moved up from No. 8 after producing lopsided wins in each of the first three rounds (most impressive was an 81-51 defeat of No. 7 San Ramon Valley-Danville).
_______________________________
CONNECT WITH US:
Follow SportStars on Twitter & Instagram | Like us on Facebook | Subscribe!
_______________________________
Modesto Christian and Dougherty Valley have the top two spots locked up for the final rankings. Their seasons ended to the same team, NorCal Open Division champion St. Joseph-Santa Maria from the Central Section. The other two NorCal Open teams, De La Salle and Mitty, fill out the Top 4. The Spartans' season ended with a two-point loss at Modesto Christian, which came three days after beating Mitty by two in San Jose.
No. 8 Riordan, who was eliminated by Granada, got a raw deal in the fallout from its on-court fight with No. 9 Inderkum in the quarterfinals. No team should be judged on a loss in which its missing three starters and two other key role players. But the fact that Granada advanced to state helped Riordan's overall resume. Between the 2019-20 season (with their season ending in a COVID-motivated forfeit and not on the court), and this one — don't forget they also lost King-Jhsanni Wilhite after one month, too — the Crusaders are due for some good fortune.
University-S.F. earned a big six-spot bump to No. 10 after reaching 30 wins by knocking off previous No. 3 Jesuit-Carmichael in the opening round. The Red Devils built an impressive overall resume featuring wins over four teams inside this Top 20, as well as three wins over two teams playing for state titles (San Domenico-San Anselmo and Half Moon Bay).
There were three new teams to jump into the rankings, but let's start with what will probably be the most controversial: Oakland Tech at No. 20, and not Oakland High. It was Oakland who won the All-Town regional final between the two teams 77-61 and will play for the Div. III state title at 4 p.m. on Friday. But Tech's list of quality wins is longer — and it includes THREE against Oakland. If the Warriors can take it one step further and bring home the program's first state crown, then we'll find some room for them. But for now, they creep into the "5 Knocking" section.
Finally, Sacred Heart Prep-Atherton, which took out former No. 6 Folsom before being ousted by No. 7 San Ramon Valley 59-57, debuts at No. 15. And Vanden-Fairfield's deep Division II run brings back the Vikings once again, landing at No. 16.
Final rankings will release next week with an expanded Top 30.