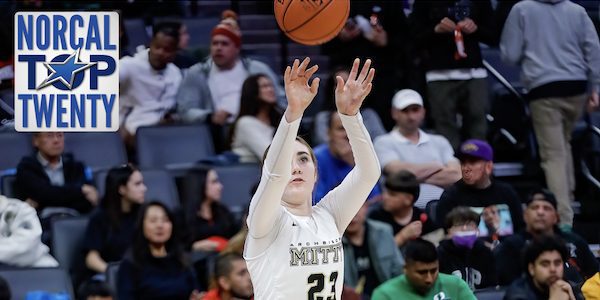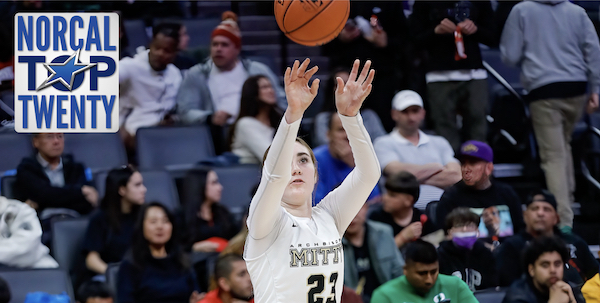 Archbishop Mitty Takes Over No. 1 In NorCal Girls Basketball Rankings After Rolling To Another Open Div. Regional Championship • NorCal Girls Basketball Rankings...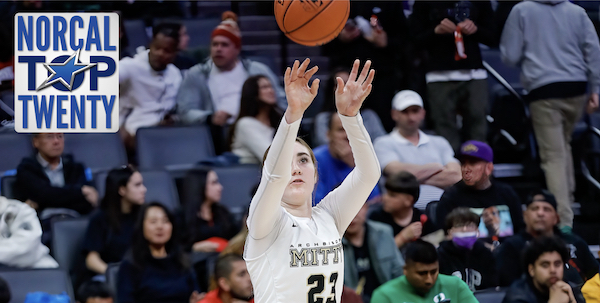 Archbishop Mitty Takes Over No. 1 In NorCal Girls Basketball Rankings After Rolling To Another Open Div. Regional Championship •
NorCal Girls Basketball Rankings
All records are through Tuesday, March 7. Previous rank in parenthesis. Records obtained through MaxPreps.com
PICTURED ABOVE: Senior guard Elle Hanson of No. 1 Archbishop Mitty-San Jose. (David Gershon photo)
1. (2) Archbishop Mitty-San Jose   28-2
2. (4) Salesian-Richmond   27-5
3. (1) Piedmont  27-1
4. (3) Folsom   26-3
5. (6) Oakland Tech   29-5
6. (5) St. Mary's-Stockton   26-10
7. (7) Cardinal Newman-Santa Rosa   25-8
8. (8) San Ramon Valley-Danville   28-5
9. (9) Carondelet-Concord   23-8
10. (11) Pinewood-Los Altos Hills   17-12
11. (10) Acalanes-Lafayette  21-8
12. (15) Bishop O'Dowd-Oakland   20-9
13. (12) Antelope  26-5
14. (13) Vanden-Fairfield   25-8
15. (17) Pleasant Valley-Chico   30-4
16. (14) McClatchy-Sacramento   25-7
17. (16) Palo Alto   20-7
18. (18) Sacred Heart Cathedral-S.F.   21-6
19. (19) Colfax   34-2
20. (20) Marin Catholic-Kentfield   28-6
DROPPED OUT: None.
5 TEAMS KNOCKING:
Christian Brothers-Sacramento (30-4), Monte Vista-Danville (26-7), Moreau Catholic-Hayward (21-10), San Marin-Novato (24-8) and St. Francis-Sacramento (23-6).
FAST BREAKDOWN
We have a final four.
Northern California (as we define it, without the Central Section) will send four teams to Golden 1 Arena in Sacramento this weekend. And though rightfully, the focus will be on nationally-ranked No. 8 Archbishop Mitty vs. No. 6 Etiwanda in the Open Division championship game, any team that makes it to the state final has had a fabulous season. So before we get to Mitty/Etiwanda…
Someday Oakland Tech will get placed in the Open, but in the meantime the Bulldogs keep playing state title games — this time against Santiago-Corona, a team they beat by five in the West Coast Jamboree. Note, however, that transfer Destiny Agubata was not eligible for Santiago in that game, and that could make a difference. Then again, Erin Sellers has become a Steph Curry-like clutch 3-point shooter down the stretch for Tech, which could counterbalance Agubata's arrival.
_______________________________
CONNECT WITH US:
Follow SportStars on Twitter & Instagram | Like us on Facebook | Subscribe!
_______________________________
Regardless, expect a physical battle between two defense-oriented teams that will likely be as closely contested as the 62-57 game back on Dec. 28.
In Division IV, Colfax heads into the finals with 34 wins, the most in the state — and it should be mentioned that 24 wins would be considered a superb season by almost every team in the country. Colfax's opponent, Los Osos-Rancho Cucamonga, has a paltry 28 wins to its credit. However, one of them was a 10-point win over Division I finalist Santiago.
Bret Harte-Angels Camp, at 25-7, is a surprise arrival in the Division V title game. The Bullfrogs (love that mascot) lost three league games before getting hot down the stretch. They face off against Marina- Huntington Beach, a 15-loss squad that's also an unexpected visitor to Golden 1 after winning the SoCal bracket as the eighth seed. It did so by knocking off No. 1 Gahr-Cerritos, and like Bret Harte, hasn't really been tested since the regionals started.
Which brings us back to Archbishop Mitty and Etiwanda, two heavyweight programs loaded with talent. Mitty has more depth, and since the return of Morgan Cheli from a foot injury, has dominated all opposition. Coach Sue Phillips has depth, size, skill and talent, but in Etiwanda, the Monarchs face one of the best defensive teams in decades. Etiwanda's man-to-man is suffocating, but in the 55-54 win over National No. 1 Sierra Canyon-Chatsworth, coach Stan Delus used a 2-3 zone to slow down megastar Juju Watkins and pull off a huge upset.
Both teams are extremely well coached and have played national schedules, so picking a favorite, much less a winner, is almost impossible. But, not to waste an opportunity to be NorCal homers, the pick here is for Sue Phillips and Archbishop Mitty to be cutting down the nets Saturday in a double-overtime thriller won by a Cheli 3 with five seconds to go.
You read it here first.