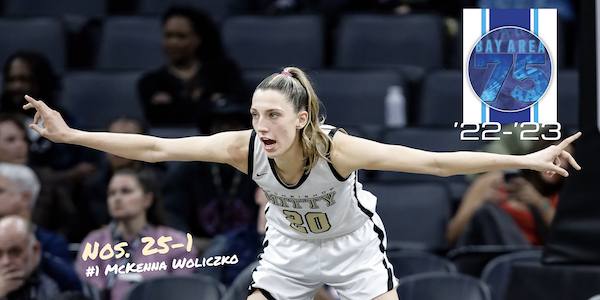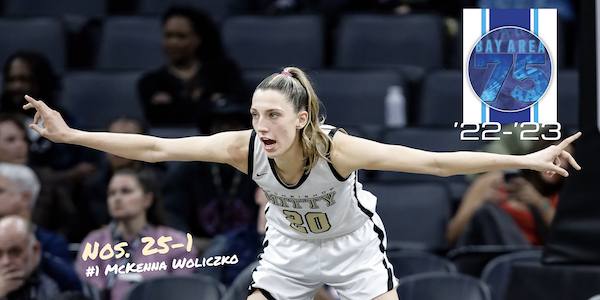 Our 11th Annual Bay Area 75 Athlete Rankings For The '22-'23 School Year Begins Concludes With Nos. 25-1 PICTURED ABOVE: No. 1, McKenna Woliczko...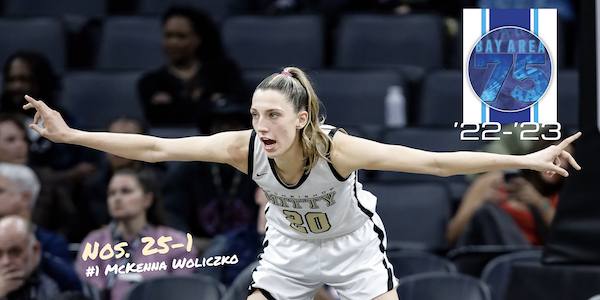 Our 11th Annual Bay Area 75 Athlete Rankings For The '22-'23 School Year Begins Concludes With Nos. 25-1
PICTURED ABOVE: No. 1, McKenna Woliczko of Archbishop Mitty-San Jose Basketball, Softball
Welcome to our 11th annual Bay Area 75 rankings — SportStars' countdown of the top 75 Bay Area athletes from the 2022-23 school year.
Covering high school sports in the Bay Area continues to be luxury that we vow never to take for granted. The talent that we're able to witness over a 10-month stretch every year is truly remarkable. Every year we build this list, we marvel at the final list of names and shake our heads at the many names that have come before them. This year was no different.
As always, our only criteria used in generating the list is that the athletes must compete at a school from within one of the nine Bay Area counties, and they must have played in a sport which culminated in a sanctioned section title or reached a national-level of success (i.e., won a national championship or been named to a youth national team).
All sports fans know rankings are an opinion, and certainly subjective. They also spark debate and conversation, which is why we love them. So don't hesitate to give us your thoughts. We're looking forward to it.
— Chace Bryson
2023-24 Bay Area 75 Rankings
25. GRACYN LOVETTE (Marin Catholic-Kentfield)
Basketball, Softball
Lovette would have made this list on her hoop prowess alone. The SportStars' All-Norcal selection will play for Lehigh next year after averaging 15.1 points, 7.8 rebounds, 3.8 assists and 3.4 steals a game. She was also the team's best defender (4.6 deflections per game). She makes the list with her hoops stats, but she lands within the Top 25 after adding in a .551 batting average with 27 hits (13 for extra bases) and 20 RBI over just 16 softball games.
24. HANNE THOMSEN (Montgomery-Santa Rosa)
Cross Country, Track
Thomsen kept alive the chances of four cross country state titles with her second in as many years. The sophomore repeated as the Div. III champ, running Fresno's Woodland Park course 26 seconds faster than her winning time as a freshman. On the oval, the dynamic distance runner earned NCS double gold in both the 1600 and 3200 meters. She eventually took fourth in the 1600 at the state meet.
23. JADEN DUMDUMAYA (De La Salle)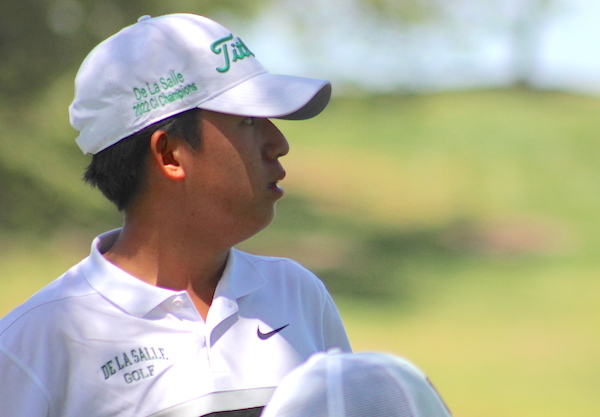 Golf
Dumdumaya returns as the list's top golfer. He was under par in every postseason round as the Spartans repeated as NCS, NorCal and CIF State Champions. He shot a 4-under 68 at NCS and followed that with a 4-under 68 to earn NorCal top medalist honors. He shot under par at the state tournament as well, firing a 1-under 71 for a T12 finish.
22. GAYATHRI KRISHNAN (Cupertino)
Tennis
Krishnan also returns to the list for a second straight season. The Columbia-bound senior repeated as CCS singles champion and helped Cupertino win the CIF NorCal team title. She did so without surrendering more than two games in any of her four tournament straight-set wins. As of late July, she was one of 25 players being considered for USA Today National Girls Tennis Player of the Year. 
_______________________________

CONNECT WITH US:
Follow SportStars on Twitter & Instagram | Like us on Facebook | Subscribe!
_______________________________
21. ALEC BLAIR (De La Salle)
Basketball, Baseball
Just a sophomore, this might be the first of three stops on this list for Blair — and it may not be the highest ranking either. Blair's second varsity season on the hardwood culminated in 3rd Team All-State and 1st Team All-NorCal honors after averaging 16 points and five rebounds while shooting over 50 percent from the field for the NCS Open Div. runners-up. In the spring, he was the starting center fielder for the NCS and NorCal champions. He batted .311 with 23 hits, 23 RBI and 20 runs scored.
20. ADEN VALENCIA (Sobrato-Morgan Hill)
Wrestling
While he didn't compete at the state meet this year, Valencia still used the CCS Championships to show why he's considered one of the best wrestlers in the nation — not just the Bay Area. The Stanford commit who FloWrestling ranks as the No. 6 wrestler in the nation at 132 pounds, won the CCS title at that weight via two technical falls, a pin, and 1-0 shutout in the final.
19. MICHAEL CASTANEDA (Valley Christian-San Jose)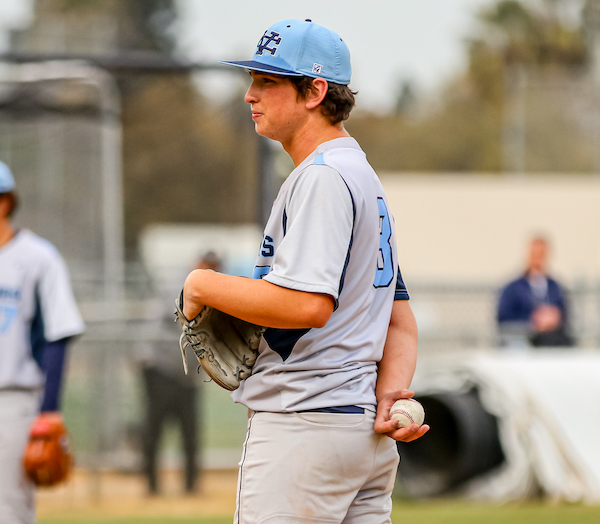 Baseball
SportStars named the Northern Kentucky-bound senior its NorCal Pitcher of the Year, but Castaneda was more than just that. He was one of the most impactful two-way players on the second-best team in the region. The pitching was REALLY good though. He went 12-1 on the mound with a 1.18 ERA and was especially dominant in the CCS Div. I final when he allowed Hollister just three hits while striking out seven over 6.1 innings. He also batted .385 with 30 RBI for the Warriors.
18. CHARLOTTE KOHLER (Saint Francis)
Soccer
Kohler returns to the list for a second straight year after powering the Lancers to a 25-1 record that included CCS and NorCal titles. She was named both the WCAL Midfielder of the Year and Player of the Year. Her international career continued as part of the U17 Women's World Cup team. She had a team-best three goals as the U.S. won its group before losing its quarterfinal on penalty kicks.
17. NATE CLINTON (Amador Valley-Pleasanton)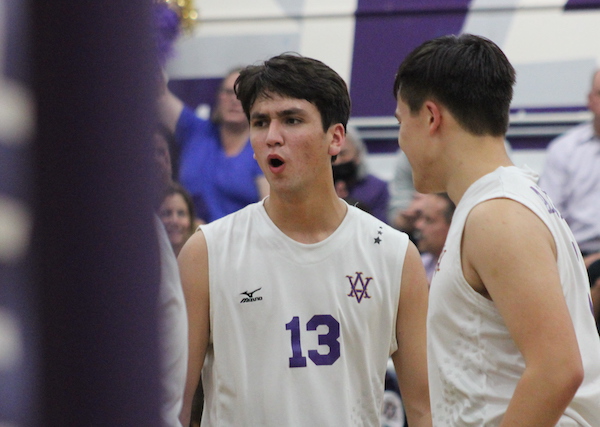 Volleyball
Calling Clinton the region's most dominant player would likely draw very little debate among the East Bay boys volleyball community. The Stanford-bound outside hitter was the EBAL Player of the Year for the NCS Div. I champs. He also landed on Volleyballmag.com's Fab 50 national recruit list as well as the Junior Volleyball Association's All-National Team.
16. KAILANI TATRO (Pinole Valley)
Softball
No NorCal softball player had a more impressive two-way season than Tatro. She was in the circle every game for the 29-2 Spartans and finished the season with a 0.77 ERA and 277 strikeouts. The Robert Morris University-commit was an obvious choice to be named 1st Team All-State Multi-Purpose when considering that she also posted a .538 average with 49 hits, 41 RBI, 22 doubles and four homers for the NCS Div. III champs.
15. KIELY TABALDO (Menlo-Atherton)
Wrestling
FloWrestling.com ranks Tibaldo as the nation's No. 1 ranked wrestler at 112 pounds, and No. 19 across all weights. The senior was the 111-pound CIF state champion after going 5-0 in Bakersfield with two pins. She won the state final by shutout, beating Paloma Valley's Karissa Turnwall 3-0. Her run to a CCS title was even more dominant. Tabaldo went 4-0 with two pins under 30 seconds, a third pin at 1:04 and a 9-0 shutout in the final.
14. DANNY SCUDERO (Archbishop Mitty)
Football, Baseball
A SportStars All-NorCal selection and the WCAL Football Player of the Year, Scudero was a playmaker on both sides of the ball. His biggest offensive contribution came at wideout with 60 catches, 982 yards and 13 touchdowns, though he also rushed for 309 yards and three scores. Also a threat in the return game, Scudero accumulated over 1,800 all-purpose yards and finished in the CCS' top 10 in scoring with 118 points. In the spring, he casually batted .400 with 10 runs scored in 15 games for the 21-8 Monarchs.
13. MEGHAN MCANINCH (Miramonte-Orinda)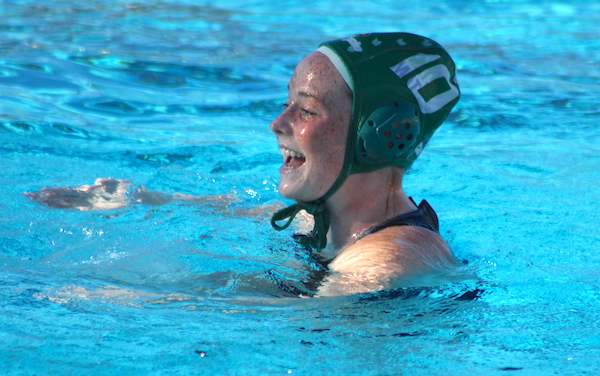 Water Polo
McAninch will head to USC in the fall after being named a NISCA 1st Team All-American and the Diablo Athletic League-Foothill Division MVP both for a second straight year. She was the catalyst for a second straight undefeated season for the Matadors, which included NCS Open and CIF Div. I NorCal titles. 
12. ETHAN HARRINGTON (Palo Alto)
Swimming
Harrington once again established himself as one of the fastest sprinters, taking down CCS and CIF State meet records alike. The Stanford-bound national recruit won four CCS titles, winning the 50 freestyle (breaking his own meet record from 2022), 100 freestyle and contributing to a pair of relay wins. At state, he again broke his own record in the 50 freestyle as well as Alexei Sancov's 2018 mark in the 100 freestyle.
11. ZACHARY JONES (Riordan-S.F.)
Football, Basketball, Track
Jones winds up our highest-ranked boys three-sport athlete on the list. He was a 1st Team All-WCAL section after posting four interceptions and adding three receiving TDs. During the basketball season, Jones was a key defender and contributor for an Irish team that went 23-7. Then finally, he starred on the track. He won the long jump at the CCS championships and took second in the 100 meters.
10. JABARI MANN (Serra-San Mateo)
Football
Mann was a SportStars All-NorCal linebacker in addition to its NorCal Defensive Player of the Year. He led a dominant defense that helped pave the way to a CCS Open Div. title and a trip to the CIF Open Div. State Bowl Game. Mann had a team-best 87 tackles with five sacks and an INT. He also contributed as a running back on offense.
9. CHUKWONOSO UDEH (De La Salle)
Track
Udeh just missed the Bay Area 75 cut a year ago, and instead was listed as a "name to watch." Guess we can pat ourselves on the back for that one. The junior was a three-time individual NCS champion with golds in the 110 hurdles, long jump and high jump. He also ran the second leg of the second-place 400 relay team. At the state meet, Udeh won the long jump title while also earning fifth-place podium finishes in the other three events.
8. RYAN BEASLEY (Dougherty Valley-San Ramon)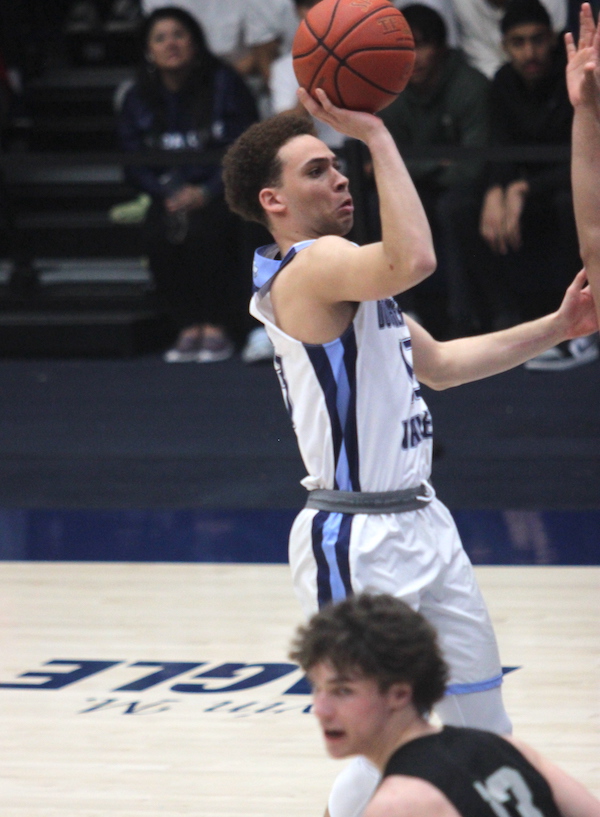 Basketball
Big moment. Big game. Big stage. Our choice for NorCal Player Of The Year was an absolute monster all season — but especially when the stakes were highest. The USF-bound point guard averaged 24.8 points, 6.8 rebounds, 2.1 assists and 1.8 steals per game. He shot 51 percent from the field for the NCS Open Div. champs. Beasley was also named the SF Chronicle's Metro Player of the Year. 
7. JAIVIAN THOMAS (McClymonds-Oakland)
Football
SportStars' NorCal Offensive Player of the Year featured for the Warriors as one of the most dynamic runners in California. The Cal commit ended the year ranked third in the state among reported stat leaders with 2,456 rushing yards. He also averaged a gaudy 14.53 yards per carry and scored 29 touchdowns for the OAL champs and CIF State Bowl participants.
6. RL MILLER (Sacred Heart Cathedral-S.F.)
Football, Basketball
Miller was a no-brainer for one of SportStars' All-NorCal All-Purpose slots. The Fresno State-bound star scored five defensive touchdowns, returning four of his five interceptions for scores and adding a fumble recovery TD. He was also the WCAL Wide Receiver Of The Year with 32 catches for 687 yards and eight scores. His versatility was evident on the hardwood as well. He averaged 10.5 points, 4.6 rebounds and 2.4 steals a game. He posted a double-double of 24 points and 12 rebounds in the CCS Open Div. final, which the Irish won 64-59 over Serra-San Mateo.
5. LUKE BAKER (San Ramon Valley)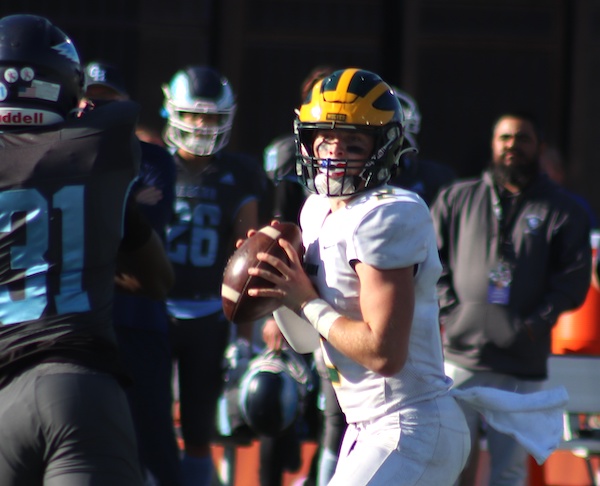 Football, Baseball
The SportStars All-NorCal Offense included five quarterbacks from the 2022 season. But if we were forced to choose just one, it would've been Baker. The NorCal Offensive Player of the Year finalist shined both as a leader and a playmaker in helping San Ramon Valley win NCS and NorCal titles en route to making its first trip to a CIF state bowl game. The junior passed for 3,733 yards and 46 touchdowns while rushing for 237 yards and five more scores. His signature performance may have come in the CIF Division 2-A state bowl game when he led two fourth-quarter game-tying drives to help the Wolves rally and force overtime.
On the baseball diamond, where he has an oral commitment to play for Santa Clara, Baker ranked third on the Wolves in hits with 23 and tied for first in RBI with 20. He also scored 18 runs and had three home runs for a San Ramon Valley squad that went 20-10, won the EBAL Tournament and reached the NCS Div. I semifinals.
4. AMANDA MUSE (Heritage-Brentwood)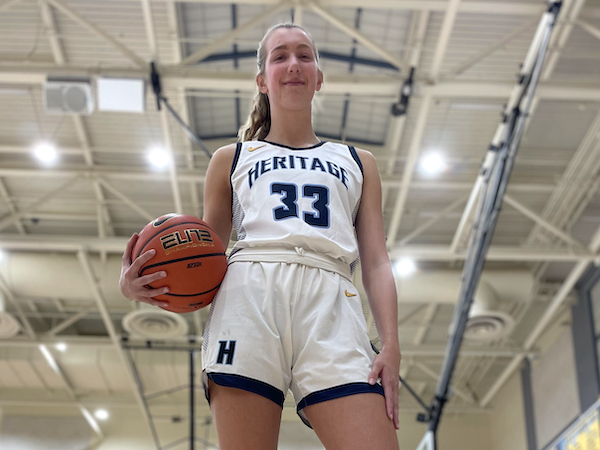 Basketball, Water Polo, Swimming
The 6-4 senior UCLA signee didn't make the McDonald's All-American team because of her scoring — though 14.5 points a game isn't half bad. And it wasn't her 59 percent shooting or 12.1 rebounds. No, Muse earned the Mickey D swag because she controlled the paint to the tune of 4.1 actual blocks a game — and who knows how many altered shots from shooters who realized their stuff was just too weak to compete with Muse. In addition to the ultimate honor of McDonald's All-American, Muse was also a 2nd Team All-State and 1st Team All-NorCal selection by CalHiSports.com and SportStars, respectively.
Prior to her final hoops season, Muse led the Patriots water polo team with 74 goals and added 14 assists. The team won 18 games, finished second in league and reached the NCS quarterfinals. Finally, in her last high school athletic endeavor, Muse attended the BVAL Championships to compete in her first ever swim meet — and took 4th in the 50 yard freestyle (missing NCS qualification by two one-hundredths of a second).
3. ISAIAH CORTEZ (Gilroy)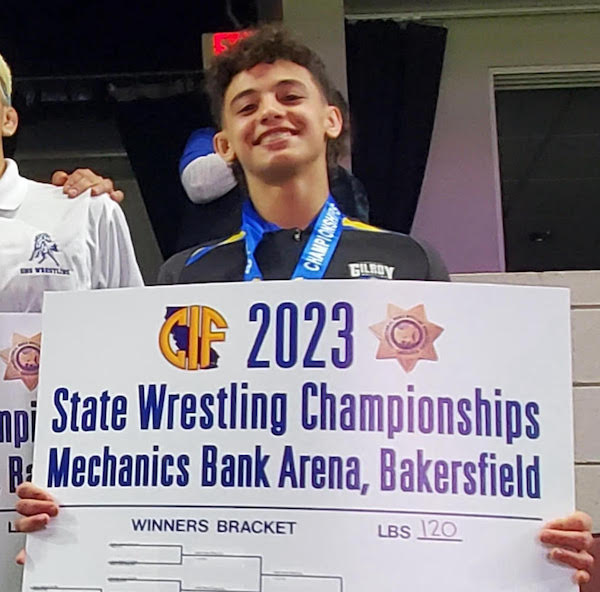 Wrestling
According to TrackWrestling.com, Cortez was 49-0 since the last time we released the Bay Area 75 and up until early June — with 28 pins. He is FloWrestling.com's No. 1 ranked wrestler in the nation at 120 pounds. After finishing third in the 106-pound division at his first CIF State Wrestling championships a year ago, Cortez went to Bakersfield on a mission. 
The sophomore went 5-0 in the 120-pound bracket with three pins (one in under a minute) and a 1-0 decision over Isaiah Quintero of El Dorado-Placentia in the championship match. Quintero was the one wrestler who beat Cortez at the 2022 state championships. Cortez of course repeated as CCS champion as well.
2. JERRY MIXON JR. (Sacred Heart Cathedral)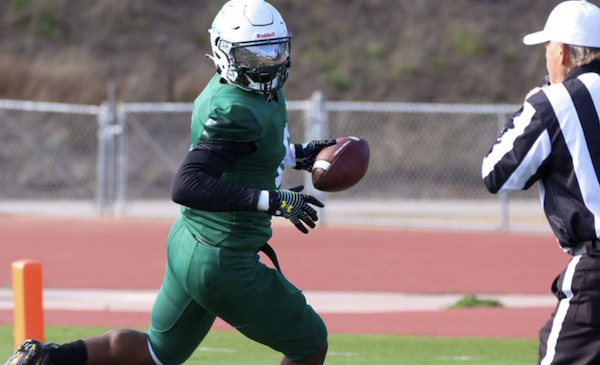 Football, Basketball
Mixon was recently honored as the CalHiSports.com Grid-Hoop Player of the Year for his combined efforts on the football field and in the gym for the Irish. A cousin of Cincinnati Bengals star Joe Mixon, football is where Jerry's future lies — with the newest chapter starting at the University of Oregon this fall.
Mixon's senior season with the Irish ended with him being named a 1st Team All-State linebacker as well as the WCAL Linebacker of the Year. He led SHC with 79 tackles while also adding four sacks, two forced fumbles and a blocked field goal. Of course, he played on both sides of the ball and contributed over 600 total yards of offense. He also had a 99-yard kickoff return for a TD.
In the winter, Mixon helped lead the Irish basketball team to a CCS Open Div. championship by averaging 11.8 points, 5 rebound, 3 assist and 2 steals a game.
1. MCKENNA WOLICZKO (Archbishop Mitty-San Jose, Fr.)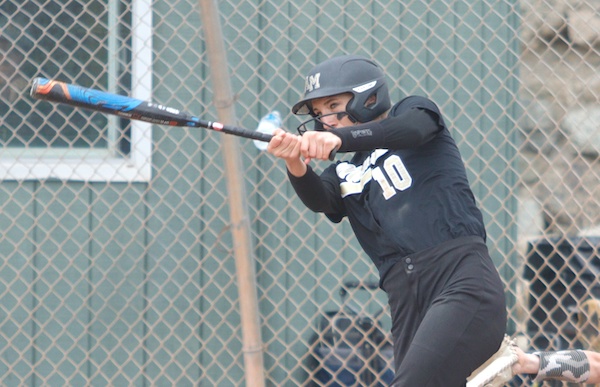 Basketball, Softball
One year after Jess Oakland became the first softball player to land our No. 1 ranking, Woliczko (pronounced va-litch-ko) becomes our first ever freshman to take the crown.
It was an unprecedented first year of high school athletics for the Monarchs' two-sport star. We've always viewed CalHiSports.com as the authority on All-State honors, and McKenna landed on their 1st Team All-State Elite basketball team (in addition to being their State Freshman of the Year) and 2nd Team All-State softball team. Legit All-State honors in two spots is rare enough, but doing it as a freshman is adding some kind of exclamation point.
On the court for the Monarchs, Woliczko averaged a double-double of 20.2 and 10.3 rebounds. Her non-stop motor, unexpected speed, and skill around the basket makes her especially hard to defend and an equally adept defender in her own right. Mitty went 28-3 and won CCS and CIF NorCal Open Div. titles.
On the softball diamond, Woliczko was the Monarchs starting shortstop while hitting .429 with 30 hits and a team-leading 22 runs and 23 RBI. Mitty went 21-5, but the season ended with back-to-back playoff losses where Woliczko's absence was felt. Why was she gone? Well, she had a date with the 16U National Team at the FIBA Americas Championships in Mexico. And what did she do in her international debut? How about averaging 11.8 points and 9.7 rebounds per game as the U.S. took gold.
She's got a chance to hold on to this spot for a few years.