Bay Area 75 – Athletes 25-1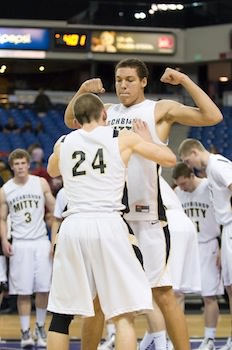 25. IVAN RABB
Bishop O'Dowd-Oakland – Basketball – Sophomore
Rabb is the first of two athletes inside the Top 25 to be named as the CalHiSports.com State Sophomore of the Year in their respective sport. He's the nation's No. 1 recruit for the Class of 2015, according to ESPN.com, and already holds offers from college powerhouses Kansas, Connecticut and North Carolina. Rabb averaged 22 points and 13 rebounds in leading the Dragons to a 26-4 record.
24. JORDAN PAROUBECK
Serra-San Mateo – Baseball – Senior
Ranked among the Top 100 baseball recruits in the nation by MaxPreps, the five-tool Serra outfielder hit .402 with 22 extra-base hits, including 7 home runs. He was named the West Catholic Athletic League MVP and was the highest-drafted Bay Area high school product when the San Diego Padres took him 69th overall. He has since signed and began his pro career.
23. MEGAN REID
Miramonte-Orinda – Basketball/Soccer – Junior
Of the handful of two-sport standouts among the Bay Area 75, Reid is the only one who plays her sports during the same season. Sometimes she'll even play them on the same night. In early January she had 9 points, 7 rebounds, 7 steals and 6 assists in one half of basketball before driving 10 miles to check into Miramonte's soccer game and deliver a hat trick over the game's final 60 minutes.
22. TRENT SHELTON
Campolindo-Moraga – Baseball – Senior
Shelton polished off a brilliant four-year varsity career with the Cougars by delivering his best all-around season yet. He hit .408 with 15 RBI and 16 runs, but made an even bigger impression on the mound. Shelton went 10-3 with a 1.48 ERA. He allowed just 53 hits over 80.2 innings and both of his postseason starts were complete-game shutouts. And, not surprisingly, Campo won a fourth-straight NCS title.
21. AUSTIN HOOPER
De La Salle-Concord – Football – Senior
A brilliant two-way player for the undefeated state-champion Spartans, Hooper started at tight end and defensive end. Despite only playing in 10 of the team's 15 games because of injury, Hooper still racked up 39 tackles with 8 sacks on defense and had 11 catches for 293 yards and 3 TDs on offense. He was named first-team All-State and will be the newest member of the fraternity of Stanford tight ends in the fall.
20. CHARLIE WISER
Miramonte-Orinda – Water polo/Swimming – Senior
The All-American was named Bay Area News Group's East Bay Player of the Year after a water polo season of 64 goals, 25 assists and 50 steals. He was also named the All-NCS Div. I MVP after Miramonte won the section title. In the spring, he won an NCS title in the 200 individual medley, and finished second in the 100 breaststroke despite a time that was faster than the previous high school national record.
19. MARIYA MOORE
Salesian-Richmond – Basketball – Junior
The first of three Class of 2014 East Bay girls basketball in the Top 25, Moore lead Salesian back to the CIF Div. IV state final behind averages of 18.8 points, 8.1 rebounds, 6.8 assists and 4 steals. The Pride lost in the state final 62-60, but not before Moore scored 35 points and set championship game records for free throws (17) and free throws attempted (20).
18. GABBY GREEN
St. Mary's-Berkeley – Basketball – Junior
Another national recruit from the 2014 class, Green averaged 16.6 points, 6.9 rebounds, 3.9 assists and 4.2 steals. The Panthers' season ended in the CIF Open Division NorCal semifinals to eventual state-champion Bishop O'Dowd. In May, Green was named to the U19 National Team.
17. RAEANN GARZA
James Logan-Union City – Softball – Senior
She may not have the flash that other power softball pitchers have, but you'd be hard-pressed to find a more consistent performer and big-game player than Garza over the past four years. She went 21-1 for the NCS-champion Colts, posting a 0.85 ERA with 6 shutouts and just 14 walks over 140 innings. The first-team All-State selection also hit .412 with 23 RBI.
16. WARREN MILES LONG
James Logan-Union City – Football – Senior
Simply, Long is our pick as the most complete two-way player of 2012. The Northwestern-bound standout rushed for 1,706 yards and 21 TDs and was the only running back all season to gain more than 100 yards against De La Salle's defense (doing so in a rain-soaked NCS title loss). He also paced the Colts defense with 86 tackles, 4 sacks and 2 INT (one in which he returned for a TD).
15. NATALIE ROMEO
Carondelet-Concord – Basketball – Junior
After waiting two years behind All-State guard Hannah Huffman, Romeo finally got her chance to take over as the Cougars' go-to star. And the flashy, savvy point guard delivered in a big way. She scored 21.3 points per game to go with 5.6 rebounds, 6.5 assists and 6.2 steals. Had they not been placed in the Open Division, Carondelet would've been heavy favorites for a Div. II state crown.
14. ANNE MARIE SCHMIDT
Archbishop Mitty-San Jose – Volleyball – Senior
No Northern California volleyball team was better than the Monarchs in 2012. The Div. I state champions were a perfect 38-0 and Schmidt was in the middle of all of it. The defensive specialist had 570 digs and 465 serve receptions with just 23 errors. She also had 22 aces. She was the All-State Div. I MVP (MaxPreps) and the SportStars Bay Area Female Athlete of the Fall.
13. MICHAEL STREM
St. Francis-Mountain View – Baseball – Senior
Our highest-rated baseball-only athlete, Strem was the most dominant player on the most dominant Northern California team of 2013. A first-team All-State selection and Mr. State Baseball finalist, Strem hit .417 with 45 hits, and 22 RBI. On the mound, he was 11-1 with a 1.30 ERA and 79 strikeouts in 80.2 innings. He tossed a perfect game in the first-round of the CCS playoffs, and needed just 66 pitches to do it.
12. GABE DOMECUS
St. Patrick/St.Vincent-Vallejo – Volleyball/Water polo – Senior
Domecus is probably the least expected name among the Top 25, but he's no doubt deserving. Domecus will attend Ohio State in the fall after being named a first-team All-American by the American Volleyball Coaches Association. He led SPSV to a 36-3 record and NCS title with 502 kills, 265 digs, 148 aces, 46 blocks and 34 assists. He was also first-team All-NCS Div. II in water polo with 81 goals and 64 steals.
11. JOHANNA GRAUER
Amador Valley-Pleasanton – Softball – Junior
Grauer's former high school coach (who happened to be a former All-American and national champion at UCLA) unabashedly referred to the young pitcher as "the next Jenny Finch." There may be something to that. Grauer's 2013 pitching stats included a 22-2 record and a mind-boggling 0.09 ERA (2 ER all season). She compiled 274 strikeouts in 152 innings, had 19 shutouts, 4 no-hitters and 8 one-hitters. An ankle injury kept her out of the playoffs where the Dons were ousted in the quarterfinals.
10. JOE DEMERS
College Park-Pleasant Hill – Baseball/Basketball – Sophomore
DeMers has a chance to go down as one of College Park's greatest athletes ever. The sophomore was the starting power forward and the second-leading scorer for a Falcons basketball team which won the CIF Div. II NorCal title. He then transitioned to baseball earned Sophomore State Player of the Year honors pitching to a 10-0 record with 63 strikeouts and just 5 walks over 63 innings. He also hit .373 with 25 hits and 17 RBI.
9. STEVEN STUMPH
Campolindo-Moraga – Swimming – Senior
Steven Stumph closed his decorated high school swimming career with his name on five different North Coast Section records, four of which he set in 2013. Stumph was part of two record relay swims while also setting the 100 butterfuly and 100 breaststroke records. His victory in the breaststroke in 53.39 seconds also set the national high school record previously held by U.S. Olympian Brendan Hansen.
8. NATE MOORE
Castro Valley – Track/Basketball – Junior
Despite finishing second in both of his events at the NCS Meet of Champions, Moore was undeterred a week later at the state championships. He won gold in the Triple Jump with a 2013 national-best high school mark of 50-feet, 11.75 inches. He also won gold in the long jump with a leap of 24-11.75. He was the first Bay Area boy to win both events at state since 1984 and was named SportStars Bay Area Male Athlete of the Spring.
7. JABARI BIRD
Salesian-Richmond – Basketball – Senior
The Cal-bound swingman was the most electrifying player for the Bay Area's best regular season basketball team in 2012-13. He averaged 17.2 points and 6.8 rebounds a game and lead Salesian to an NCS Div. IV title, a 30-4 record, and the top-seed in the CIF NorCal Open Division where they were upset by Sheldon-Sacramento. Bird was also named to the McDonald's All-American Game where he had 9 points, 3 rebounds and 3 assists.
6. ODERAH CHIDOM
Bishop O'Dowd-Oakland – Basketball – Senior
Chidom was the most steady, and most effective performer on a Dragons team which was undoubtedly the best in the state in 2012-13 and among the top 10 in the nation. The Duke-bound forward averaged 14 points and 10 rebounds for the CIF Open Division champions. She was the first Bay Area girl to be named McDonald's All-American Game since Carondelet's Jayne Appel (now in the WNBA) went in 2006.
5. SASHA WALLACE
Castro Valley – Track and Field – Junior
Wallace followed her breakthrough junior season with an equally great senior campaign. She went double-gold at state for the second straight year, defending her state titles in the 100-meter hurdles and the triple jump. By doing so she became the first East Bay girl to ever repeat at state in the same two events. And just for a little something extra, Wallace won her two events as well as the long jump at the NCS Meet of Champions. She took sixth in the long jump at state after having only begun competing in the event six weeks prior.
4. MARCUS LEE
Deer Valley-Antioch – Basketball/Volleyball – Senior
Our choice for the Bay Area's top multi-sport athlete of the year, the Kentucky-bound center averaged 17.9 points, 19.3 rebounds and 7 blocks a game in basketball before a spring of pounding out 185 kills and 52 blocks on the volleyball court. He was named a McDonald's All-American in basketball and propelled Deer Valley to its first NCS Div. I championship and CIF Northern Regional Div. I championship appearance. In volleyball, he helped lead the Wolverines to a 42-2 overall record, an NCS Div. I title and a trip to the CIF Northern Regional Div. I final.
3. CHELSEA CHENAULT
Carondelet-Concord – Swimming – Senior
Losing out on an Olympic Team spot by two-tenths of a second in June 2012, Chenault entered her final senior year more determined than ever.At the 2013 NCS Swimming Championships, Chenault closed her prep career with individual golds in the 200- and 500-yard freestyles. Her 200 time set an NCS record. Then in the 400 freestyle relay, Chenault swam the lead leg for the Cougars and set an NCS record in the 100 freestyle. Her teammates were equally fast and not only set an NCS record in the event, but a national independent (private schools) record as well. Her four-year prep swimming total included 12 NCS golds, five NCS records and 2 national records.
2. MICHAEL HUTCHINGS
De La Salle-Concord – Football – Senior
Beginning his third year as a varsity starter, and having already committed to USC, Hutchings carried big expectations as the most recognizable name on a highly-touted defense. He responded with a season of 113 tackles, 3.5 sacks, three interceptions and, more importantly, zero losses. De La Salle won the Open Div. bowl game and CalHiSports.com's State Team of the Year honors for the fourth consecutive season. And then Hutchings received one more accolade when CalHiSports.com named him Mr. State Football 2012 "" an honor only three other Spartans have received, each of which have played on Sundays (Amani Toomer, D.J. Williams and Derek Landri).
1. AARON GORDON
Archbishop Mitty-San Jose – Basketball – Senior
If Aaron Gordon didn't convince any or all doubters of his dominance during his sophomore and juniors season "" in which Archbishop Mitty won back-to-back CIF Div. I state championships "" then his senior year had to be the clincher.
After graduation took a heavy toll on the Monarchs roster following the 2011-12 season, some wondered if Gordon's prowess would be good enough to keep a relatively young Mitty team among the state's elite. Twenty eight wins later, the 6-foot-8, Arizona-bound talent had the Monarchs in the inaugural CIF Open Division state final.
Mitty would fall five points shy of a third straight state title, falling to national powerhouse Mater Dei 50-45. Gordon finished 22 points, and 20 rebounds. Which, incidentally, was a ho-hum effort for a state final. In three state championship games, Gordon averaged 24.3 points and 20 rebounds.
A little more than week after his final game in a Monarchs uniform, Gordon was in Chicago sporting a McDonald's All-American jersey and looking like college basketball's next big thing. Gordon lifted the West to a 110-99 victory with 24 points and 8 rebounds (both game-highs) and was named the game's Most Valuable Player.
On the following week, Gordon was named CalHiSports.com's Mr. State Basketball for the second straight year. He became just the 10th player to win the award twice, and the first NorCal player to do so since Jason Kidd won it back-to-back in 1991 and 1992.
Some felt the honors didn't have to stop there.
"I think Aaron Gordon is the national player of the year for his success without a lot of help," Rivals.com National Recruiting Analyst Eric Bossi told CalHiSports.com for their story on Gordon as Mr. State Basketball. "What Gordon meant single-handily to his team was incredible.
When the staff members and writers at SportStars sat down to create the first Bay Area 75 rough draft, Aaron Gordon was unanimously offered up as No. 1. No debate was needed.
We can only hope to have an athlete make it that easy for us in 2013-14.