Bruce McIntoch: A Pillar to California Prep Sports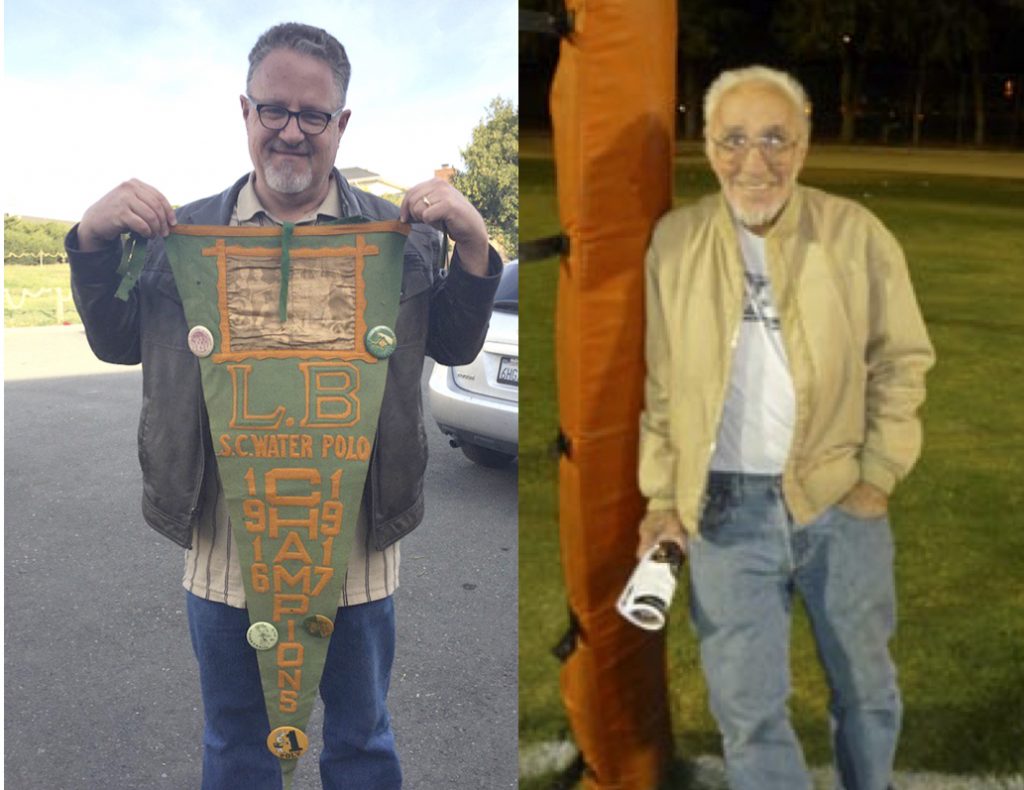 Image Above: Mark Tennis (left) and Bruce McIntoch
While those in Southern California were more familiar with his work, everyone involved in Northern California high school sports should know about legendary high school sports researcher Bruce McIntosh.
On Friday morning, December 1, we learned that McIntosh — one of the earliest supporters of Cal-Hi Sports and a longtime friend of Cal-Hi Sports founder Nelson Tennis (as well as a longtime friend of myself) — was gravely ill in a Vacaville hospital.
Later that day, Bruce died from complications of that illness. He had been living in Rio Vista for the past seven years and went to the hospital only two nights earlier. We also talked to him just two days before that and last visited him at his home in early November. He hasn't been in good health physically for several years, but every time we visited or spoke with him on the phone he displayed his usual passion for high school sports, high school football and Notre Dame (another passion he had).
Bruce lived a few blocks from Rio Vista High and was genuinely happy to know the Rams had won the CIF Sac-Joaquin Section Division VII title and were going to be playing a home game in the CIF state playoffs. They played Galileo-San Francisco in that matchup and lost 20-14.
The last football game I took Bruce to watch was a memorable one. It was at Vacaville in 2012 and the Bulldogs were playing Marin Catholic-Kentfield in a non-league game. It was a back-and-forth contest that Vacaville won 28-24. Marin Catholic, however, went on to have a better season as the Wildcats went to the CIF Div. III State Bowl before losing to Madison-San Diego.
What Bruce and I talked about the most, though, after that game was what we thought of the Marin Catholic quarterback. That QB, of course, was Jared Goff, who later became a first-round draft pick of the Los Angeles Rams.
The strongest connections for Bruce, though, were not for schools in Northern California. He kept detailed binders with results in all sports going back to the early 20th century of many schools in the CIF Los Angeles City Section. Bruce attended a CIF Southern Section school, South Pasadena, and before that grew up a few blocks from Long Beach Poly.
Born in Hawaii, McIntosh began keeping stats on local high school games after he moved to Long Beach and began following the Jackrabbits. High school record keeping remained a hobby while he was working in construction for many years in the Gardena area.
He made enough of a name for himself that he became friends with Los Angeles sports icon Bill Schroeder (Helms Sports Foundation) and became pen pals with other sports researchers around the nation, including Nelson Tennis.
In the 1970s, Bruce and Nelson would trade detailed letters often as each would help the other with whatever project the other was working on. For Nelson, it was usually information for a California state record book he had begun. For Bruce, it was usually football scores for a collection he was building that eventually would entail every high school in California, and some outside California along with many junior colleges.
When Cal-Hi Sports initially began as a statewide newsletter in the early 1980s, Bruce was the first correspondent we used for the L.A. City Section and the Southern Section outside of Orange County. In those days, before the internet, we had to cover the state by calling correspondents for scores and highlights.
Nelson died from complications of bladder cancer in 2004 and we know how much he meant to Bruce as well. Somehow, someway, we think those two are now together looking up something and talking about high school sports.
In later years, we worked with Bruce on a project for CalHiSports.com in which we were hired by schools to provide them with detailed records and football score archives. We sold that program to approximately 35 schools in 2015, 2016 and even a few as late as last summer.
Those football scores came from a detailed collection of index cards in which Bruce typed the result of every high school football team in California from 1892 to 2007. He donated some of those cards to the CIF Southern Section and also served as a member of the CIF Southern Section selection committee that chose its 100 Athletes for 100 years. Bruce also wrote a history of the CIF state track meet and collected CIF state meet programs in many sports all through the years.
Because of that work, just last Oct. 18, Bruce was one of six individuals honored with a Distinguished Service Award at the annual CIF Southern Section Hall of Fame inductions in Long Beach.
Bruce moved to Rio Vista when he did because a caregiver of his at the time, Jeannie Matthews, was moving from San Pedro to the San Joaquin Delta community and he wanted to stay close to her. Jeannie wasn't serving in that role for the last two years, but remained a friend.
For anyone wishing to donate to a cause in Bruce's memory, we can't think of anything more appropriate than just giving to your local high school athletic program. All the players and coaches and teams meant a lot to him — and he should mean a lot to them.