Conwright Walks on the Moon At Carrera Cup Italia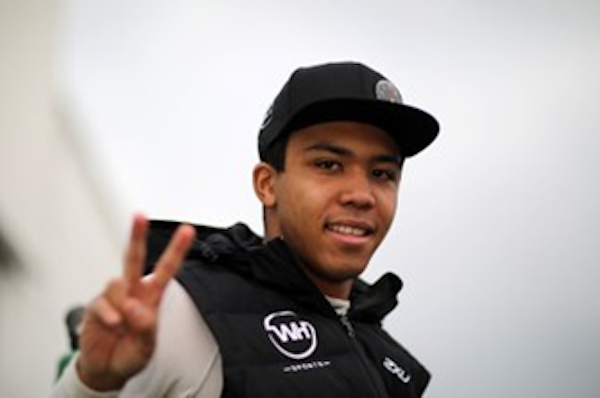 "Conwright is the Man on the Moon of the Carrera Cup Italia"
Sweet Ride
The Man on the Moon. A person who is not an outcast but different from everyone else. Unique, different in a good way. That's Jaden. Always among the best in qualifying, Jaden Conwright has a sweet 8 podiums out of 8 races to his credit.
The Californian rookie lacks only one thing. A victory in Porsche 911 GT3 Cup. Meantime he has arrived at the top of the standings at Mugello, which is not surprising for the young Bay Area teenager. As far as his team in concerned, Conwright walks on the moon!
"His spaceship is the Porsche 911 GT3 car run by Dinamic Motorsport – Centro Porsche Bologna. It is Jaden Conwright, 20, a Californian rookie, who is poised and capable of not denying a smile and who always seems "in his place," said one writer at it.motorsport.com.
"Why? Because the American driver is as serious as a hammer and fights on the edge, but without mis-steps. His fight is fair on every track and with every opponent in this highly competitive, single-make (Porsche) series. He's one who is very popular with heavy-footed rivals and above all by some racers much more experienced than he."
"In the end it is no surprise really. In qualifying he is always fast. And in the races he boasts 8 podiums out of 8, which for continuity looks like the 1988 McLaren F1.
Never "under investigation (always a clean race)," his first-place ranking is the direct result of the work done in silence and with seriousness with his staff, with the Emilian team, and also within the Scholarship Program of Porsche Italy."
A Long and Winding Road
The road that leads to the title is still long, but Conwright is ahead of everyone. Who would have bet on it? Certainly the advantage is slim, and we have learned that things can change very quickly in Porsche GT3 racing.
Durning interviews, the modest Conwright only said "of course, the podium on Saturday (achieved after penalties to Kujala and Moscow) does not seem much, but now with 8 out of 8… the stress increases. It's crazy to be first in the standings. Halfway we were finally able to do it. We have always been close, each time, 2 points back and this time we jumped up there."
And already the rival horizons are clear: "I know that Iaquinta is moving up fast now, and Bertonelli is always there. Kujala had a difficult weekend but will be very fast until the end. It is better to be in front and try to stay there, instead of trying to overtake, just like in the race.  So it's really a good feeling! Now I can't wait to go home and rest before Vallelunga!"
The secret of this first place is simple: "Just be consistent. I'm happy to be back on the podium, but this time it's not a third place, it's a second. So now, what's left… we just need to win!"