De Anza Welcomes A New Don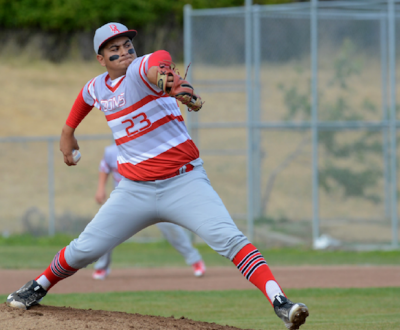 Baseball is one of the great equalizing sports. Especially at the high school level. A team may be better than its opponent over the course of a season, but one strong outing from a good pitcher "" or an abnormally bad outing by one "" can tilt the scale on any given day.
Because of that reason, postseason first-round upsets are fairly common place and don't often elicit too much hype. However, that shouldn't be the case for De Anza High's 4-1 win over San Marin-Novato on May 24.
Not only were the Dons a 15 seed on the road against the No. 2 Mustangs, they were facing the same program that had walloped them 15-2 in the North Coast Section Division III playoffs a year before. But more importantly, the Richmond school hadn't won in a playoff game in more than a decade.
The convincing win, led by a strong pitching performance from senior Ricky Hernandez, was the final validation for a program that has clearly turned a corner.
"The boys were excited," said Brandon Fredzess, the coach who began the program's revival when he took over just a season ago. "They were having fun (against San Marin). That's the number one thing we emphasize. It's not just a game, but you're here to play it and have fun. When you have fun, the results go in your favor."
It also helps to have a giant chip on your shoulder. Something that wasn't hard for Dons players to conjure up after they'd gone 19-6 in the regular season and were a playoff team the year before.
"They felt really disrespected that we were given the 15 seed," Fredzess said. "They felt they had a point to prove."
De Anza didn't waste any time proving it, either. The Dons scored twice in the top of the first and never trailed in the game. Hernandez threw a complete-game, two-hitter. He struck out eight and walked four. He finished the season with a 7-2 record, 1.21 ERA and 96 punchouts in 75 innings of work.
The team wasn't long for the tournament, however. Another double-digit seed, No. 10 El Cerrito, edged De Anza 5-2 in the quarterfinals. The Dons had put themselves back on the East Bay baseball map, though. Something few could have visualized just as recently as 2014 when they won just six games "" which was an actual improvement upon the two games won in 2013.
"The boys just weren't used to playing or being taught straight fundamental baseball, and how to be creative and use all the facets of the game," Fredzess said of what he saw upon taking over the program in 2015. They would win 14 games in his first season. "I knew what they were capabale of (coming into this season). But their ability to communicate and gel into a cohesive team has definitely surpassed my expectations."
Graduation will take its toll on the roster, but there are some good building blocks in place. Those include Jordan Holmes, who started in the middle infield and hit .341 as a freshman. The Dons' No. 2 arm, junior Richard Kirbyson (6-2, 2.96 ERA) also returns in 2017.
LEAD LION: Liberty-Brentwood's up-and-down baseball season ended with 14 wins and a NCS Div. I first-round loss to California-San Ramon, but there was nothing up-and-down about the Lions' top pitcher Anthony Fugazzi. The senior right-hander had an exceptional season that included a 7-3 record, a 1.95 ERA, 62 strikeouts and just 12 walks over 61 innings of work. He also spun a no-hitter against Pittsburg on May 12 and recorded a save on the year.
  LANCERS HOLD SERVE: By repeating as Central Coast Section Open Division champions, St. Francis-Mountain View did all it could to cement its case to finish the year as No. 1 in SportStars' NorCal Top 20. The Lancers entered the playoffs in the No. 2 spot in the rankings behind DeLa Salle-Concord. The Spartans were in the NCS Div. I semifinals at the time of press.
"" Chace Bryson