Elk Grove Football: Carter Harris Has Herd Thundering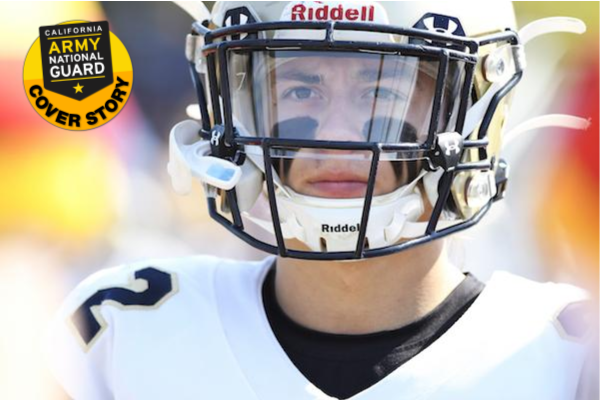 The Triple Option-polished QB Leads Elk Grove Football With A Game Sense That Earns Him The Right To Improvise — And It's Causing Opponents Fits •
Even opposing coaches rave about Elk Grove football's senior quarterback Carter Harris.
"He's phenomenal," Jesuit-Carmichael coach Marlon Blanton stated. "That's all that needs to be said."
Harris, who has become the most dangerous player in the Delta League this season, was keyed on all afternoon during the teams' Week 7 matchup in Carmichael. And the Marauders' defensive game plan was simple — don't let No. 2 beat them.
"They took advantage of our defense at times, but we didn't let him (Harris) beat us," Blanton said.
Harris had 10 carries for 56 yards in the first half against Jesuit. But he also lost a pair of fumbles. As successful as the Marauders were for three quarters, Harris still scored a go-ahead touchdown with 3:23 left in regulation. It came on a 17-yard scamper up the gut for a 35-31 Herd advantage.
_______________________________
GET CONNECTED:
Follow SportStars on Twitter & Instagram | Like us on Facebook | Subscribe!
_______________________________
"No. 2 is phenomenal. And if you don't get a hold of him, he'll run all over you," Blanton added, following his team's comeback win in the waning seconds of that contest. 
Anointing Harris as the Delta League MVP this early in the year would be foolish. It's far too soon to give that award out, especially after the Herd's eventual loss to Jesuit, 38-35. Finding a more impactful player may prove difficult, though. Especially if you look at the numbers.
Despite his 5-foot-6, 155-pound stature, Harris has posted eye-popping numbers during the team's 6-1 start. 
Those numbers include 786 rushing yards, 13 yards per attempt, 12 rushing touchdowns and three more through the air. All while fueling the highest-scoring team in the league. If he's able to stay on that pace, and his team gets back on the winning track, he could very well end up worthy of MVP recognition.
"From a mental standpoint, he's really upped his game," Elk Grove football coach John Heffernan stated. "He's a coach's kid, so a lot of that is his dad's influence. We sit down and talk about the mental aspect —  here's what we want to check to against certain looks —  but if he sees something, we're letting him check to it and go."
That free range at the line of scrimmage has allowed Harris to flourish as a senior. For the first time under center, he's changing plays at the line and getting his team in the best possible situation. Heffernan says that's been a big reason for the team's success after going 6-6 and 4-2 in league play last year.
"I've given him some freedom to check plays, change direction of plays or go from one play to a different play if he sees something the defense gives him," Heffernan explained. "I've told him to get us in the best play. And he's doing that, and he's having fun with it.
"At that point, it becomes a video game. He's out there calling the shots."
Last year, Harris won the team's quarterback competition prior to the season. He started all 12 games and led the team with 207 carries, 1,268 yards and 15 rushing touchdowns. 
That was year two under Heffernan's new triple-option offensive approach, a system which the coach brought over after eight notable years at Burbank-Sacramento. 
"They were primarily a power run team before we got here, and they obviously had a lot of success with that. So we knew we had pieces that would fit what we wanted to do," Heffernan said. "They already had the size on the line, and it fit with our athletes because we didn't need to have a traditional quarterback to run it."
Unlike many conventional, spread offenses around the section, which require a prototypical quarterback with a big arm, Elk Grove can utilize its speed instead. They pressure the edges and trick defenses with a flurry of fake handoffs. But it's up to the quarterback to make the correct read.
"You need a guy who can make a split-second decision, and he seemed to be a natural fit," Heffernan stated.
As someone with multiple years of experience playing running back, Harris' transition to quarterback in a triple-option scheme was smooth. Which is exactly what his coach was hoping. 
"This offense allows us to put athletes at quarterback and develop them into a passer," Heffernan added. "That's been good for us, and in their third year, the kids are really starting to understand the concepts and the details of what we're trying to do."
During Heffernan's time at Burbank, he compiled a 49-35 record and made the playoffs multiple times. Interestingly enough, he coached against Carter's father, Mike Harris, who was coaching at Florin-Sacramento. In a roundabout way, that experience has helped the young quarterback learn the nuances of Heffernan's system.
"My dad ran the triple option when he was in high school and he's coached it," Carter Harris recalled. "So when I was a kid, he would be watching film and he'd ask me what the proper reads were. I'd have to answer, ever since I was 6 years old.
"He still coaches me on the side, so he's taken a behind-the-scenes approach, but it's worked out."
Nowadays, Mike Harris gets his coaching hours in with the Elk Grove baseball program. Carter was a starting infielder for the Herd in 2019. He finished second on the team in runs (18) and first in stolen bases (11).    
But on Friday nights in October, Mike is tracking his son's reads on the gridiron. And lately, those have led to big plays.
Against Pleasant Grove-Elk Grove in Week 6, Harris connected on a 59-yard touchdown pass to Hunter Hall late in the first quarter. He also ran for a 64-yard touchdown in the second and put his team up 54-21 thanks to a 48-yard run in the third period. In all, he accounted for 251 yards.
"When we execute correctly, it should be a touchdown every time in this offense," Carter Harris admitted. "There are three options and you can't stop all of them."
Through seven games, that plan has worked out well. Only a red zone fumble in the final minute of a close game with Inderkum-Sacramento, and a failed final drive in the last two minutes at Jesuit has stopped this team. 
"We put an emphasis on execution. We're going to try to do a few things really well and try to out-execute our opponent," Heffernan added. 
Beyond Harris, senior running backs Tre'von Frazier and Hunter Hall have also made a big impact this season. Hall had a pair of scores from 16 and 48 yards against the Marauders. And the return of fullback Damian Allen, who missed last year due to injury, has helped the Herd's rushing attack as well.
"The kids have really bought into this system and they're playing for each other, and that's a big key with this system," Heffernan pointed out. "It's not a one-player dominated system. It relies on everyone doing their job. … You can't be selfish."
On defense, Kade Jordan (eight solo tackles, two sacks), Cruz Bartazar (21 solo tackles) and Khalani Riddick (15 solo tackles, two interceptions, one sack and a fumble recovery) have led the way. 
Following the team's first league loss, Elk Grove dives back into Delta League action against Franklin-Elk Grove on Oct. 18 and finishes with a critical home game against Cosumnes Oaks-Elk Grove on Oct. 25. ϑ