SportStars' FINAL NorCal Boys Basketball Rankings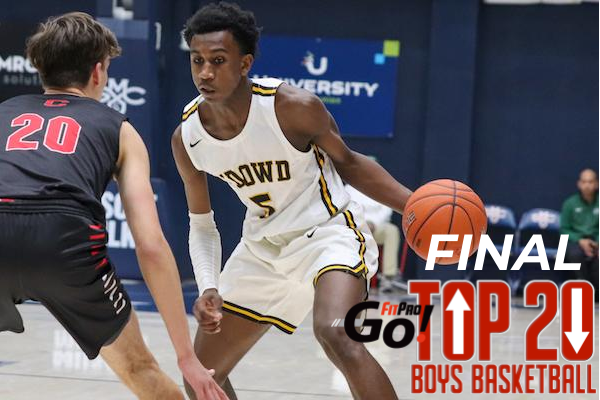 Denied A Shot At Both A Regional And State Title, Bishop O'Dowd Still Finishes No. 1 In Our Final NorCal Boys Basketball Rankings •
2019-20 Final NorCal Boys Basketball Rankings. Previous rank in parenthesis
1. (2)

↑

 Bishop O'Dowd-Oakland   23-7
The Dragons first time at No. 1 this season comes in the final ranking. They were denied a shot at No. 3 Sheldon-Sacramento when the NorCal Open final was cancelled along with the rest of the CIF postseason. Prior to that, O'Dowd defeated sitting No. 1 Mitty in the regional semifinals. The Dragons finished the season 18-0 vs. NorCal opponents. (PICTURED ABOVE: Marsalis Roberson. Berry Evans III photo)
2. (1)
↓

Archbishop Mitty-San Jose   24-8

In the absence of a head-to-head with Sheldon, we gave the Monarchs the edge based on winning a Central Coast Section Open Div. title in a field that included five teams within the Top 15 of our final rankings.
3. (3)  —  Sheldon-Sacramento   28-5
It was a rollercoaster of a CIF postseason for the two-time defending NorCal Open championships. Nearly forced out of the tournament when its district shutdown over COVID-19 concerns, Sheldon was able to get back in for one more game and earn a 59-58 comeback victory over No. 4 Dublin.
4. (4)  —  Dublin   24-7
Another stellar year for Tom Costello's team included eight wins over teams among our final 20. The Gaels came up three points shy of No. 1 Bishop O'Dowd in the North Coast Section Open Div. final, but rebounded to defeat No. 5 Bellarmine in a NorCal Open first round game.
_______________________________
CONNECT WITH US:
Follow SportStars on Twitter & Instagram | Like us on Facebook | Subscribe!
_______________________________
5. (5)  —  Bellarmine-San Jose   23-5
Bells were probably the best team that got the littlest fanfare this season. They had a 68-56 win over No. 2 Mitty and topped No. 12 Serra twice, including a stunning 65-14 result.
6. (6)  —  Archbishop Riordan-S.F.   23-5
The Crusaders were the top seed in the CIF Div. I bracket. But after winning their first two CIF Div. I regional contests, they were forced into a virus-related bow out before getting a shot at No. 8 De La Salle.
7. (9)

↑

 Campolindo-Moraga   26-6
After winning the Div. I NorCal title, the Cougars have now won their past nine state playoff games after winning the Div. II state title in 2018-19.
8. (9)

↑

 De La Salle-Concord   24-8
The NCS Div. I champs' season ended with a 54-49 loss to No. 7 Campolindo in the NorCal Div. I final. A 55-52 head-to-head win kept them one slot above Capital Christian-Sacramento.
9. (7)
↓

Capital Christian-Sacramento   24-8

Every one of the Cougars' six NorCal losses came against teams from these final Top 20 rankings, including two to No. 4 Sheldon.
10. (8)
↓

Salesian-Richmond   25-7

There was no 31-0 start for the Pride this year, but the program remained as consistent as ever. Salesian's season ended with a 60-59 loss to No. 7 Campolindo in the NorCal Div. I semis.
11. (11)  —  Dougherty Valley-San Ramon  22-7
The Wildcats were as high as No. 4 in mid-February before a knee injury to Montana-bound senior Robby Beasley derailed their season.
12. (NR)

↑

 Weston Ranch-Stockton  27-5
This group began the year as our Preseason No. 4 and were out the rankings by January. But veteran leadership steadied the ship and led the Cougars to a Div. II NorCal title.
13. (13)  —  Menlo-Atherton-Atherton  23-5
Three of the Bears' five losses came against No. 2 Mitty (twice) and No. 5 Bellarmine. Their season ended in a CIF Div. I-quarterfinal loss to No. 8 De La Salle.
14. (14)  —  Serra-San Mateo  18-9
Strength of schedule and wins over No. 11 Dougherty Valley and No. 6 Riordan assured the Padres of a Top 15 finish.
15. (12)
↓

Grant-Sacramento   25-5

A CIF Div. I first-round win over previously-ranked San Leandro gave the Pacers a second-straight season of at least 26 wins.
16. (NR) ↑ St. Patrick-St. Vincent-Vallejo   21-10
The NorCal Div. II runner-up to No. 12 Weston Ranch had three wins over NorCal Div. III champ St. Mary's-Berkeley and two wins over CCS Open-selection Sacred Heart Prep-Atherton.
17. (17)  —  Vanden-Fairfield   27-7
Before their season ended in a 76-62 CIF loss to No. 6 Riordan, the Vikings put together a resume that included a win over No. 9 Capital Christian.
18. (16)
↓

 Granada-Livermore   24-7

Outside of De La Salle and Dougherty Valley, no East Bay Athletic League team was more consistent than the Matadors. Granada finished as NCS Div. I runners-up to DLS.
19. (19)  —  Modesto Christian   20-11
Injuries never really let the Crusaders reach their full potential in 2019-20. They did compile mid-season wins over ranked teams such as Oakland Tech and Gregori-Modesto.
20. (15)
↓

Branson-Ross   30-3

The Bulls claimed the last spot over Div. III NorCal champ St. Mary's-Berkeley thanks to wins over No.12 Weston Ranch and the Piedmont team that defeated St. Mary's in the NCS Div. IV final.
DROPPED OUT:
No. 18 Rocklin and No. 20 San Leandro