Gilroy's Chase Saldate – High School Wrestler of the Week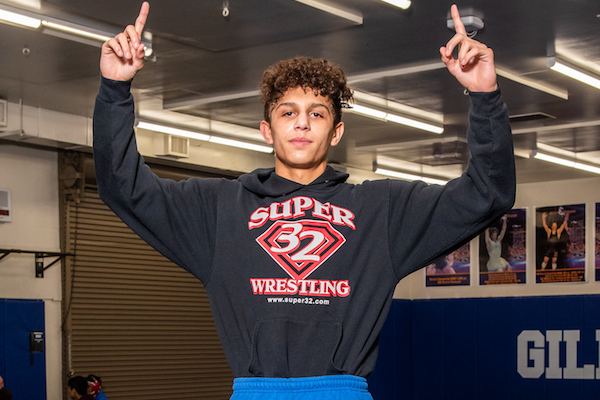 Gilroy's Chase Saldate – The Open Mat's High School Wrestler of the Week January 6th, 2020 (By Earl Smith)
The Open Mat's High School Wrestler of the Week Award goes to Chase Saldate of Gilroy High School after his championship at the Doc Buchanan Invitational. Saldate (in the 152 lb weight class)  is a multiple-time winner of SportStars "Star of the Week" honors.
For the second consecutive year, Saldate left Clovis High School, host of the Doc B, with a cowboy hat. And…
It's All About the Hat!
The Michigan State-bound Saldate continued his dominant senior campaign with a championship victory. And at the prestigious Doc Buchanan Wrestling Tournament, champions are bestowed a brand new Stetson cowboy hat. Saldate got his!
Winners of the tournament are given the hat as an award.
Saldate entered the week as the second-ranked wrestler in the nation at 152 lbs, but it's safe to say he'll move up to number one in the next update.
Chase started the tournament with a tech fall and a pin before meeting Joe Roberts (Montini Catholic, IL) in the quarters. Roberts was a third-place finisher in Illinois last year. He went on to take seventh place after falling to Saldate, 5-2.
Squaring Off
With a berth in the finals on the line, Saldate defeated returning state runner-up Tyler Badgett (Rancho Bernardo, CA), 9-4. He then earned a pair of first-period takedowns over Badgett and never looked back.
In the finals, Saldate squared off with Matthew Singleton (Woodward Academy, GA), a U16 national finalist in both freestyle and Greco-Roman this summer in Fargo. Singleton made the finals after upsetting the current top-ranked 152 lber in the country, Sonny Santiago (St. John Bosco, CA). Saldate used takedowns in the first and third periods to propel him past the Georgia state champion, 5-1.
Now a senior, Chase has placed 4th as a sophomore and 2nd as a junior at the CIF State Championships in the last two years. Since state, Saldate has been on a tear, placing third at NHSCA Jr. Nationals, fourth in Fargo's Jr. freestyle tournament and winning the Super 32.
Saldate already has a title at the Reno Tournament of Champions and the Clovis West Shootout under his belt. The #43 ranked wrestler in the Class of 2020, Chase is the centerpiece of a strong recruiting class for head coach Roger Chandler at Michigan State.
Next weekend, Saldate and his Gilroy teammates compete at the Five Counties tournament, one of the toughest events in the state.
original photo courtesy of Tony Rotundo; WrestlersAreWarriors.com
Story by SportStars INSIDER, Al Fontes. Follow Al at thecaliforniawrestler.com.