SportStars' Preseason Girls Basketball Rankings: NorCal Top 25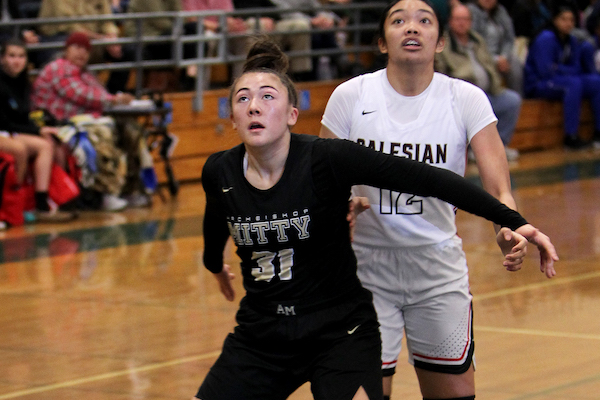 Despite Graduation And Injuries, Archbishop Mitty Opens The 2019-20 Season In The Top Spot In Our NorCal Preseason Girls Basketball Rankings •
Welcome To Our Exclusive Expanded 2019-20 Preseason Girls Basketball Rankings. Records are from 2018-19.
1. Archbishop Mitty-San Jose (25-3)
Yes, it's a cliché, but Archbishop Mitty does not rebuild — it just reloads. Usually, losing the top player in the nation to Stanford (Haley Jones), the top returner (Hunter Hernandez) to an ACL, and the third-leading scorer (Anna McNicholas, along with three other seniors) to graduation means a serious step back. But Sue Phillips has at least five Division I players and a program built to just keep on keepin' on.
2. St. Joseph Notre Dame-Alameda (22-8)
Shawn Hipol has taken the Pilots to five NCS title games in his five years there, and even though two starters graduated, the 10 returners — including Sophie Nilsson, who missed last year with an ACL— are more than enough to keep St. Joseph Notre Dame in the hunt for a third NCS championship.
3. St. Mary's-Stockton (22-9)
Led by 6-2 Amaya Oliver, the famed and ferocious St. Mary's press will destroy the masses and worry the elite. The mix of experience (four seniors) and young talent (watch out for those freshman guards) will keep the Rams in the mix for the NorCal Open title. And St. Mary's, as usual, will play one of the toughest out-of-area schedules around.
4. Bishop O'Dowd-Oakland (24-10)
Malik McCord, like Sue Phillips at Archbishop Mitty, never seems to be fazed by the gaps left by graduation. Even though some key components have moved on, Amaya Bonner and Kennedy Johnson anchor yet another loaded O'Dowd roster. Plus, don't worry about early losses — McCord designs his schedule to test the Dragons so they'll play better in the postseason.
5. Miramonte-Orinda (28-4)
The Matadors haven't been able to get past Bishop O'Dowd the last two years, but with athletic junior Mia Mastrov and sharpshooters Erin Tarasow and Becca Welsh, Miramonte's high-octane offense may have enough firepower to get the job done this time around. But rebounding will be an issue.
6. Heritage-Brentwood (26-5)
When do-everything guard Jordan Sweeney graduated, it looked like Heritage's home in the top 10 had been repossessed, but Milan Tuttle transferred from Sacred Heart Cathedral-S.F. Now the interior sister act of Amanda and Abigail Muse has someone to get them the ball.
7. Cardinal Newman-Santa Rosa (24-5)
Any roster that starts with Anya Choice is going to be prime, and that 75-game North Bay League winning streak is likely to just keep on growing. There might be more challenges this year with a somewhat thinner roster, but Monica Mertle has won 162 games in the last six seasons, so odds are she'll figure it all out.
8. Antelope (31-4)
Thirty-one wins is a whole lot of wins, and with Jzaniya Harriel back to run the show, don't expect much dropoff from Sean Chambers's group. The schedule is daunting, though, with four tournaments — including one of the top brackets in the West Coast Jamboree — plus a couple of showcases. Still, Antelope will roll into postseason battle-tested and ready to do damage.
9. Salesian-Richmond (25-8)
Graduation hit hard in Richmond, as four of the top scorers and four of the top five rebounders have moved on, but the cupboard is far from bare. Juniors Amira Brown and Alexsandra Alvarado are ready for bigger roles, and senior Daylee Dunn is looking to have a breakout season.
_______________________________
GET CONNECTED:
Follow SportStars on Twitter & Instagram | Like us on Facebook | Subscribe!
_______________________________
10. Pinewood-Los Altos Hills (27-4)
There are those who will say this ranking is a gift, just another example of rounding up the usual suspects. However, those who have underestimated Doc Scheppler over the years wind up with egg on their faces and losses on their ledger. Courtni Thompson will lead the way for a small but dangerous lineup that won't back down from anyone.
11. San Ramon Valley-Danville (26-5)
Despite all those wins, San Ramon Valley is something of a mystery team, as the quality of the schedule has not quite matched the quality of the record.
12. Folsom (21-7)
The long and short of it — 5-2 Charity Gallegos and 6-6 Katie Harris — is that Folsom will be good again.
13. Menlo School-Atherton (26-5)
The West Catholic Athletic League dominates the Peninsula most years, but John Paye's Menlo School program has pushed its way into the conversation.
14. Oakland Tech (30-6)
So even though Oakland Tech won the Division IV title, and Oakland Division III, Leroy Hurt's group gets the higher preseason ranking thanks to a tough schedule.
15. Valley Christian-San Jose (17-10)
Youth means inconsistency, but it says here Valley Christian grows up fast in 2019-20.
16. Sacred Heart Cathedral-San Francisco (9-13)
Yes, we can read the record, and yes, we know Sacred Heart Cathedral lost eight of its last ten – but betting against a proud program would be a major mistake.
17. West Campus-Sacramento (16-15)
Three of those losses last year were early forfeits due to an ineligible player so on the court West Campus won 19 games against a challenging schedule. Expect more of the same (except for the forfeits).
18. Sacramento (25-8)
Six seniors graduated, including the top three scorers, but there's still a lot of talent on this roster — as always.
19. California-San Ramon (22-6)
California (which is in San Ramon) and San Ramon Valley (which is in Danville) have played a bunch of instant classics the past couple years, and regardless of the geographic incoherence, the games should be thrillers again.
20. Aptos (23-7)
Bruce Funk, the longtime coach at Foothill in Pleasanton, has taken over at Aptos, and he inherits both a talented roster and high expectations.
21. Oakland (30-5)
Oakland won its last 19 games en route to the state Division III title, but graduation left a mark.
22. Del Oro-Loomis (23-7)
Del Oro was 44 games in the last two years, and there's no reason that the train won't keep rollin'.
23. Sequoia-Redwood City (25-5)
If you love defense, you'll love Sequoia – in the age of the three-point bomber, Sequoia held opponents to 31.7 points a game.
24. Montgomery-Santa Rosa (23-8)
Montgomery has put together an impressive resume in Santa Rosa, but Miramonte and Bishop O'Dowd have prevented postseason glory.
25. Union Mine-El Dorado (23-9)
Scott Gilliland built slowly, but with 51 wins over the last two seasons, Union Mine has quietly become one of the top Division IV programs in the state.