Granada Cross Country: Matador Girls' Finishing Kick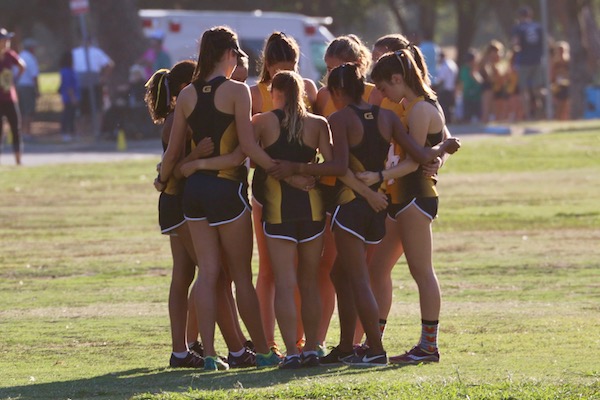 A Nucleus Of Four-Year Seniors Look To Close Their Dominant Granada Cross Country Careers With A Golden Flourish •
Your commitment best be serious. Being part of the girls cross country varsity team at Granada High in Livermore is not for those seeking a leisurely run through the park. 
"I think our team is built around, 'if you are not going to try, why are you here?' type of mentality," said Kalea Bartolotto, one of a core of six seniors who have set the standard for one of the state's premier programs.
"That is what makes us so good," she added. "It's an attitude of 'I am going to be here for the next two hours; I might as well get out of it all that I can. I am not going to slack off.' The coaches have really implemented that into us. If you don't give 110 percent, you are not giving enough."
With a constant flow of talent, commitment and success, the Granada girls have been prolific in collecting North Coast Section championships. The Matadors won NCS Division I team titles from 2010-2012 and have captured the last three in Div. II. A fourth straight section banner on Nov. 20 — delayed due to air quality — would be unprecedented for the program.
But a bigger goal beckons: the CIF state championships at Woodward Park in Fresno on Nov. 24. 
Last year the Granada girls finished third in Div. II, behind state champion Claremont and just two points behind Saugus. The Matadors were 12th in state in 2016, and they were sixth in 2015, when this year's seniors were freshmen.
The seniors are eyeing the ultimate payoff. Four have been there from freshman year: Colleen McCandless, Gracie Dupuis, Kinga Bihari and Bartolotto. Along the way, fellow seniors Savannah Maselli and Isabella Romero joined in.
"A lot of them had run together when they were in middle school," said Noel Mattern, who coaches the Matadors with his brother, Jeremy. "And so they came in, being friends but being competitive with one another. And I think that has been one of their strongest characteristics. They were always pushing each other."
And they are now pushing younger runners. This season is another passing of the torch, and to capitalize on the collective talent, younger and older.
"I feel 'pressure' has a bad connotation to it, but I feel it is pressure in that we have come so far together and spent the last three years together," Bartolotto said. "We have so much potential, with the group of girls we have right now, to do great things. Everyone is expecting and waiting and hoping that we are going to accomplish the goals we set our freshmen year."
Going back to that year (2015), the promise was evident as Bihari was eighth, Bartolotto finished 13th and McCandless was 14th in the NCS Div. II race. At that meet, Colleen's sister Megan won her second straight NCS individual title, capping an exceptional career that saw her in the top four in every NCS race she ran. At state, the elder McCandless was fifth — her second consecutive top-10 CIF finish. All this as that group of freshmen were learning the high school ropes.
"I remember freshman year we were probably really annoying," Colleen McCandless recalled. "I was just so grateful for the wonderful guidance we had from the seniors that year … my sister, and we had two other seniors who were very important. They were really helpful in leading the way and making sure we knew what was going on when they left."
The next season, those freshmen were sophomores, and suddenly cast in the role of leaders. "The next year was kind of rough, Colleen McCandless said. "We were sophomores who were trying to learn and to lead the team. Now I think we've gotten the hang of it."
Bihari added: "We definitely felt like we were thrust into this role of responsibility and leadership that I don't think we were quite ready for as sophomores. But we have (a group) of us who have been here from the beginning. That little group, we all kind of took responsibility."
In the 2016 postseason, the promise began to blossom. At NCS, McCandless was second in Div. II, with Bartolotto fifth and Dupuis sixth as the Matadors edged Monte Vista by a point for the team title. At state that year, Granada was 12th in Div. II, with Bartolotto 31st.
Last year, things really took hold.
"Junior year was definitely the turning point," said Dupuis. " We started learning how to balance running and school. We started running for each other instead of individually."
At NCS in 2017, it was utter domination. McCandless won the the NCS individual Div. II by running a 17:31.8, and Dupuis, Bihari and Bartolotto went 3-4-5. Then came a strong third-place showing at state, with McCandless eighth, Bartolotto 18th and Dupuis 20th.
Their senior year has seen successes and challenges. The first race at Lowell on Sept. 9  showed back-to-school rust. A better performance came at the Woodbridge Invitational. In the top-flight girls sweepstakes division, Granada took third, with Great Oak-Temecula, the dominant Division I team in the state this decade, taking first.
"It was exciting because it was at night," Dupuis said. "It was super crazy because there was over 300 schools there. And we had to wait all day to race. And it was under the lights. They announced us before we ran. There was a marching band at the finish."
Then it was the Stanford Invitational, where in the seeded race, Granada was third, behind Claremont and La Costa Canyon-Carlsbad. 
"The results for Stanford for the girls was not what we were hoping for," Noel Mattern said. "We had several illnesses and withheld a couple of veteran runners that had injuries."
Crystal Springs was a bounce-back effort, as Granada took first in the top girls race, and McCandless and Maselli finished a strong 1-2.  
"After Crystal Springs, I feel like the trajectory is back on path despite still not racing two key veteran runners," Mattern said. "I believe that everything will come together in the championship part of the season just like it is supposed to."
And once again, the veterans are motivating the future leaders for the inevitable transition.
"We love our sophomores and freshmen," McCandless said. "So we know they can step up to the challenge and really compete at the level that we did. And they are wonderful athletes and wonderful people."
And they are learning there are rewards for putting in the hard work.
"It's really fun, and it's really hard. … It's so exhausting sometimes," said sophomore Shae Hill. "But you have just got to keep going because you will get through that part where you feel really tired. And it's really awesome this year because we are all having a really great time. There are so many great girls on our team, so it's really kind of nerve-wracking going into a race because everyone wants to perform. But I think that is what pushes us to do well."  
It's about maintaining that work ethic at a high level.
"I have learned to work hard every day," said Amaiah McIntosh, also a sophomore. "And no matter how I am feeling, I know that I have a team around me and they are always there to support me. They just make me work harder every day."
No letup. It's ingrained in the veteran runners.
"It motivates me when I am in a race and I feel that something is hurting and I have that little voice in my head saying 'I can't do it, I have to slow down,'" Bihari said. "But I have my teammates. I run for them and I am not running for myself. If I don't feel like I can do it, I know my teammates need me and I cannot let them down."