Granite Bay Golf: Diverse, Talented Roster Fuels Girls Powerhouse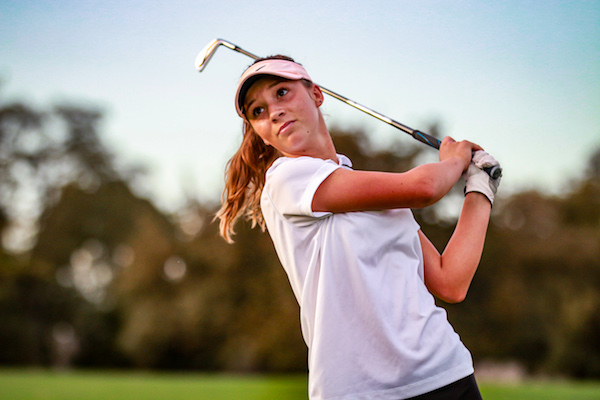 NEW WORLD ORDER: A Young Phenom, Tested Veterans And An International Talent Has Granite Bay Golf Aiming For More Than Just A Fifth Straight SJS Girls Crown •
On Oct. 14, Anika Varna shot a two-under-par 70 across 18 holes to lead Granite Bay Golf to its fifth straight Sierra Foothill League girls title at the Timber Creek Golf Course in Roseville.
It's a stellar achievement for any prep golfer, but Varna, a 15-year-old international superstar, measures success on a global scale. 
Just a week earlier and 7,641.47 miles away (as the birdie flies) at the DLF Golf & Country Club in Gurugram, India, Varna finished with the top amateur score at the Hero Women's Indian Open, a Ladies European Tour event. She was fifth overall with a 3-under par aggregate of 285 across 72 holes (four rounds). Varna was also two-under par (70) on the final day.
The Grizzlies sophomore, who moved to the Granite Bay area last year, is considered to be India's best amateur golfer. She won the All India Junior Girls Championship when she was just 13, has played in competitive golf since she was 8 and represents India's national team throughout the year.
She's also a big reason — along with freshman sensation Ellie Bushnell — why Granite Bay hasn't dropped off the NorCal golf map after three of the program's top golfers moved on to compete at the collegiate level.
_______________________________
GET CONNECTED:
Follow SportStars on Twitter & Instagram | Like us on Facebook | Subscribe!
_______________________________
Granite Bay coach Jason Sitterud said Varna immediately fit in with a program that is gunning for a third consecutive top-5 CIF finish, among other things.
"She just has a good, fun personality," Sitterud said. "I think golf helped her fit in, because she had something in common with the other girls on this team, so they had a common ground to build conversations."
Success also helps.
Though two-time CIF qualifiers Vanessa Richani (Long Beach State), Yena Jang (Pomona College) and Hailey Rietz (Morehead State) are all gone, the Grizzlies return 2018 state veterans Yewon Jang, Hanna Montgomery, Hannah Harrison and Sarah Rietz. They are all capable of sub-80 rounds. Granite Bay even collectively averages under 38 strokes across nine holes in match play.
The group carded a 385 at the Sierra Foothill League Championship tournament at Timber Creek, kickstarting a postseason loaded with promise. The team returns to Timber Creek for the Sac-Joaquin Section Div. I Championships Oct. 21 and looks to become five-time SJS Masters champions the following week at the Reserve at Spanos Park in Stockton. 
Bushnell, who shot one-over-par 73 Oct. 14, has matched Varna most of the season, and ties her 35-stroke average across nine holes. Bushnell shined at the prestigious Poppy Ridge Tournament on Sept. 23, shooting a four-under-par 68 on the par-72 course. Varna (71), Harrison (74), Montgomery (76) and Rietz (82) also contributed to a second-place score of 371. Dougherty Valley-San Ramon, the reigning NorCal champion and CIF runner-up, won the event with a remarkable score of 363.
Bushnell's poise is understandable, considering her pedigree. Months before she enrolled at Granite Bay, Bushnell was second at both the IMG Academy World Championships and Future Champions Golf World Championships (13-14 division). She's only been golfing for four years, but Bushnell is smooth and precise on the links.
"I like the quietness of golf," she explained after a match win over Whitney-Rocklin Oct. 8 at Granite Bay Golf Club. "I like how peaceful and calm it is compared to other sports."
Bushnell admitted the calming effect is directly dependent on her performance.
She completed her round alongside Montgomery, who is looking to improve upon 84-stroke scores that closed out her 2018 campaign. Montgomery has averaged 40 strokes across nine holes this year. She hopes to use her CIF experience to strengthen the team's postseason prowess.
"On the way to tournaments I want to make sure everyone is mentally prepared and ready to put in their best effort," Montgomery said. "I think just going in you need to know that however you do, try to be happy with your shot. Because there is always the next one.  
"You have to stick to your game and do what you know how to do."
Granite Bay should be heavy favorites at the SJS Masters. 
The Grizzlies were 48 strokes better than second-place St. Francis-Sacramento in 2018 and have combined to beat the SJS runner-up by 96 strokes over the last four years. 
The team is still chasing its first NorCal title. Despite scores of 77 (Yewong Jang), 80 (Harrison) and 84 (Montgomery), the squad fell two strokes shy of NorCal champion Dougherty Valley last year. The Grizzlies edged Dougherty Valley in 2017, but finished second to Valley Christian-San Jose.
Granite Bay has also been fourth overall at state for two consecutive years.
"Dougherty Valley is the biggest challenge we have in Northern California and they are always strong," Sitterud said. "We are hoping to close the gap and hopefully win state."
Bolstered by an international star, a 14-year-old phenom and four excellent returners, the Grizzlies could bring home a championship scorecard from NorCal or CIF tournaments. It will take five great scores and a little bit of luck.
No mulligans allowed.