Happy Kids Finish the Healthy Kids Running Series "10Fest" in Orlando
The Healthy Kids Running Series kicked off the first of their "10 Fest" meets as part of their ten year celebration.
The Healthy Kids Running Series (HKRS) is a national, community-based non-profit that provides a fun, inclusive, five-week running series for ages 2-14 designed to get kids active, experience accomplishment and lay the foundation for a healthy lifestyle. HKRS encourages kids to adopt a "Get Up and Go!" attitude.
As you can see by the expression on their faces these kids had an afternoon of competition and fun. Besides the cool t-shirt there were games, entertainment, special guests,  and interactive activities!
HKRS has events all across the country. Information about the next "10 Fest" events can be found here.
Philadelphia, PA – Sunday, May 19 @ Rose Tree Park (Media, PA)
Chicago, IL – Sunday, October 13th @ Kane County Cougars Stadium (Geneva, IL)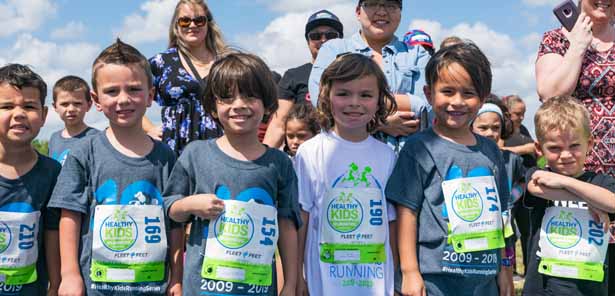 HKRS offers age appropriate running events including the 50 & 75 yard dashes, the 1/4 mile, the 1/2 mile and the one-mile run. Kids compete for a chance receive a trophy in their respective age division at the end of the event.
, , , , ,