Lucas Cook, Lincoln Wrestling | THE TRANSFORMER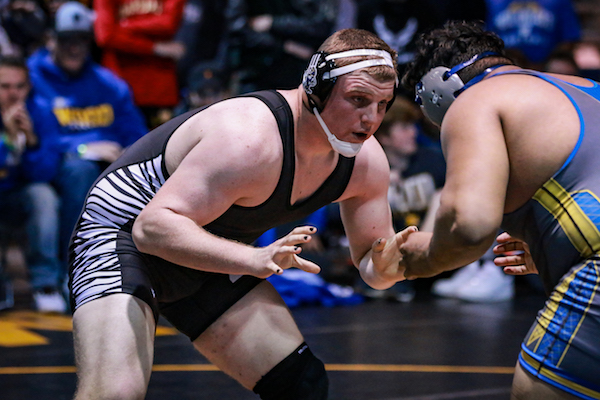 Lincoln Heavyweight And SJS Masters Hopeful Lucas Cook Finds Strength In Faith, Recovery And Transformation •
A wrestling mom never gets the credit she deserves.
Part dietician, manager, agent, publicist, taxi driver and bankroller, she also has to prep her vocal cords for that shrieking "Pin him!!" you can hear from space.
Lucas Cook's mom is a little different — she's only concerned for his well being. Lucas's opponent, that is.
"I'm just thinking, 'Oh Lord, please keep the boy healthy,'" Audrey Cook said, "I get scared for his opponents."
The Lincoln senior doesn't wrestle dirty, he just wrestles mean. It's a byproduct of his new aggression off the mat, transformed after an injury-plagued 2019 postseason and a harrowing battle with illness in the offseason.
_______________________________
CONNECT WITH US:
Follow SportStars on Twitter & Instagram | Like us on Facebook | Subscribe!
_______________________________
Lucas is 30-2 this year, after an undefeated jaunt through the Foothill Valley League tournament and a 3-0 showing at the Sac-Joaquin Section Div. III Tournament. His only season losses were against the No. 1 (Josiah Hill, Bakersfield) and No. 4 (Jonah Schmidtke, Clovis East) ranked wrestlers in the state (according to the California Wrestling Newsletter). Lucas is ranked No. 5 in California, and No. 3 in NorCal by SportStars. He has not wrestled CA No. 2 Nicholas Villarreal (Gilroy) or No. 3 Chris Island (Vacaville), also NorCal's top two.
"I couldn't care less about a state medal, I want a state championship," Lucas Cook said. "I want people to know who I am. And I want people to know how much I have worked. 
"I want my hand raised in front of thousands of people."
It sounds brash, but the glory isn't just for Lucas Cook.
Lucas Cook has always had faith, but he dedicated his life to God this offseason, after a frightening battle with viral Meningitis that left him hospitalized for 18 days. He was also inspired by Kyle Snyder, an NCAA, Olympic and World wrestling champion who has shared his faith with millions.
"I watched this video of Kyle Snyder that made me want to be a better man, and the athlete that God envisioned me to be," Lucas said. "I wear a wooden cross around my neck that my grandma made, and I get a lot of hate for it.
"Some people ask why I believe in that stuff, but I only react with kindness, love and hope that the Lord finds them."
Lucas spreads the Gospel right up to the whistle.
"I'll dominate you for up to six minutes, but after the match I will help you up and pat you on the back," Lucas said. "I think what separates me from a lot of wrestlers is that other wrestlers think you have to be rude to show you are the alpha male.
"For me, it doesn't have to be like that. You can be the man for six minutes and then humble yourself and love your enemies. That's exactly what I do."
That mindset isn't the only thing new about Lucas Cook, who SJS wrestling fans remember for his hulking presence in a dynamite Masters bracket in 2019. Lucas had the unfortunate draw of eventual state champion Michael Jeffus (Turlock) in the tournament quarterfinals, but won three straight matches in consolation before taking fourth and qualifying for state. He won two matches in Bakersfield, before Schmidtke ended his season with a pin.
He wrestled with a broken hand throughout the postseason, came home grossly unsatisfied, and went to work on his transformation. 
Daily workouts and runs helped Lucas drop 45 pounds in just three months. He lost about 12 pounds during a hospital stay that severely weakened him, but he attacked the gym and put on another 15 pounds of muscle. He walks around at 245 now, still 30 pounds lighter than he was last year, but significantly quicker and more skilled.
Lucas moves like a middleweight. He has good shots, works well on bottom and executes a nasty ankle pick that can quickly fold a heavyweight into convenient shapes to pursue a pin.
He dominated a terrific field of heavyweights at the Tim Brown Memorial Invitational at Cal Expo in January. His improvements were shocking for the SJS field to absorb.
"Some people don't recognize me anymore," Lucas said. "I'm not the same heavyweight I was last year."
"A lot of people will approach me and say, 'Wow, your boy looks great,'" Audrey added. "They also tell me how much of a good kid he is.
"That character has got him through a lot."
Audrey is responsible for the diet that has helped transform Lucas into a lean, mean, heavyweight-pinning machine.
"It starts with two and a half to three pounds of chicken," she said. "I will add a heaping of vegetables like Brussels sprouts.
"Basically he eats no white flours, no refined sugars, bread or pastas, and he works out two to three hours at practice, goes to the gym and does his homework. He is very dedicated and he continues to strive to be better every day."
Lucas has long aspired to wrestle for a Division I school. Michigan and Cal Poly-San Luis Obispo were both recruiting him until last month when he committed to Cal Poly.
A successful postseason will do wonders for the narrative of his prep career.
California No. 4 Schmidtke only beat Lucas by a point and No. 1 Hill, also ranked No. 9 in the country by InterMat, beat Lucas just 14-8 after Lucas tossed him and took him down several times.
Training to beat the elite, Lucas spars with former Simpson University wrestler Erik Medina, Jesuit-Sacramento's first-ever CIF medalist. Medina is on the Lincoln staff with Gregory Harlow and Steve Roman.
"I've been Lucas's coach for the past three (years) and wrestling partner on most days," Medina said. "He's what you want all athletes to be as a coach.
"He always would come in asking how to do some random move he watched on YouTube, FloWrestling, or while watching college and freestyle matches. The kid loves the sport and he's a good student as well."
Medina has high expectations for his postseason.
"He was good before this year. But this year is special," Medina said. "He found his switch and flipped it. 
"Lucas has the ability to do more than place at state. He has the ability to win the state meet and that's his goal."
Audrey has less than two weeks to get her shouting voice ready for Rabobank Arena.