Luke Dugger: Davis Golfer Reaches National Stage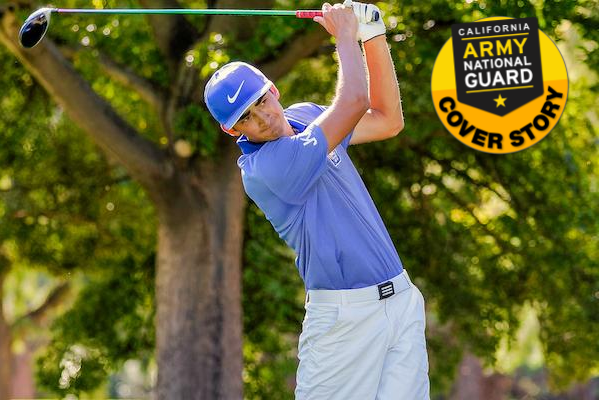 Davis High 2019 Grad Gets A Taste Of The Big Stage After Qualifying For And Competing At The U.S. Junior Amateur Championships In Ohio •
Like many kids, Luke Dugger grew up playing basketball and baseball.
It wasn't until age 13 when he and his friends decided to give a new sport a try. With four of his friends, he picked up a golf club for the first time. That ended up being their best possible decision. 
Charlie Karagosian, William Ziegler, Griffin Long, Matt Haass and Dugger comprised a significant portion of the Davis High golf team over the past four years. Together, they led the program to four straight Masters appearances and three section titles. 
Before the group embarks on a new journey in college this fall, they got together one more time to cheer on their teammate and friend as Luke Dugger qualified to compete at the 72nd U.S. Junior Amateur Golf Championship in Toledo, Ohio, at the historic Inverness Club. 
Beginning July 15, Dugger squared off against 156 of the top junior golfers in the world at this tournament. He qualified with a top finish (five-under par 67) at Yolo Fliers Club. He was one of 156 to compete out of 3,496 total entries. 
This year's competition at the top was as good as ever. Defending champion Michael Thorbjornsen and 2018 runner-up Akshay Bhatia were in the field. It marked just the second time since 2008 that both finalists from the previous year competed. The first two days of competition were stroke play. The top 64 in the field then advanced to a match play tournament. 
"The challenge of playing against the top juniors in the world will be a good experience for me," Dugger said before heading off to Ohio. "And I'm sure the course will be set up really tough, like the U.S. Open, and that will be a good challenge."
The course won this time around. Dugger missed the cut to advance to match play after shooting an 80 on the opening day and an 82 during a weather-delayed second day.
"Yeah, I definitely didn't play how I wanted," Dugger said by phone after his second and final round. "My goal was to make it to match play and go from there, but overall the experience was really awesome."
Dugger recognized at least one face in the crowded field. He was joined by Sacramento-area golfer Matt Sutherland, cousin of PGA Tour Championships professional Kevin Sutherland. Matt Sutherland did make it through stroke play thanks to a 2-under 69 on the second day of play.
Both Dugger and Sutherland spent the end of the second week of July in the air as they flew east. Dugger arrived on July 12 after stops in Chicago and Detroit. He wanted the extra day or two to adjust to the humidity of the Buckeye State. 
On the eve of the tournament, Dugger found a letter in his locker from eight-time major champion Tom Watson. One awaited each of the competitors, and it added to the inspirational motivation the championships provided after each register got a letter signed by eight-time USGA champion Jack Nicklaus. 
Growing up, Dugger was in awe of these legends, and he hoped this would be his turn to perform well in front of a crowd.
"It's exciting, but it's also nerve-racking," Dugger admitted before teeing off in the event. "I've never been on this big of a stage before, but I'm really excited for the challenge of playing a new course and for playing in a tournament out of state."
In the weeks leading up to the tournament, Dugger studied the layout of Inverness online. The demanding course is listed at 7,339 yards. Dugger said it's a typical pro-style course with big roughs and fast greens.
Dugger, who prides himself on his putting, hoped that might be good news. 
"I'm definitely not the longest player off the tee," he admitted. "But it all comes down to putting — that's what I try to practice on the most.
"You can hit a green, be 20 feet away and three-putt, while someone else misses a green but they still hit par with a good putt."
Dugger is fresh off a strong finish to the high school season. Davis High earned its fourth consecutive NorCal berth with a star-studded squad and finished just two strokes short of advancing to state. Behind four key seniors, the Blue Devils registered a 384 at The Reserve at Spanos Park in Stockton for third at the SJS Masters Championship. Dugger had a 79 that day — good for second on the team — and posted a team-best 66 at the Div. III section tournament.
"When I first started playing for Davis, I didn't have a lot of tournament experience," Dugger acknowledged. "While I haven't played in this big of an event, I've played in enough tournaments to feel comfortable."
Dugger was battling a minor back strain heading into the U.S. Junior Amateur. The soon-to-be college freshman tweaked a muscle in his lower back and said he was at 85 percent a week prior to the tournament. 
"It shouldn't be too much of a problem, I hope," he said.
When Dugger returns home to California, he'll eventually pack his bags and attend Holy Names University in Oakland on an athletic scholarship. The Division II program could possibly lead to opportunities to compete on the PGA Tour — a dream Dugger has had for a while.
"I really like Holy Names' facilities; they have a great team and I have a close friend going there, so it should be fun," Dugger said. "Hopefully I can compete in some big tournaments and get more experience under my belt."
Before his PGA Tour dreams even have the chance to become reality, the most important greens of his young playing career were in Ohio. 
"I learned a lot," he concluded after the event. "It was really cool seeing how I matched up against the world's best junior golfers."