NCAA Rookies Tackle the NFL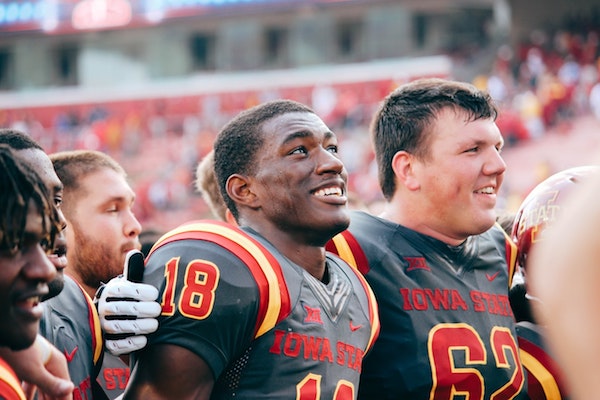 Each year, football pundits stand by as the NFL Draft nears. Those who closely follow the NCAAF understand the Draft as the official graduation ceremony for top players looking to move from university football programs to the big leagues, as the NCAA rookies look tackle the NFL.
Typically, star players don't emerge in their junior or senior year. Most, like those mentioned below, stand out as freshmen and sophomores. From the Crimson Tide to the Buckeyes to the Clemson Tigers, NFL pundits keep their finger on the NCAA pulse by following the NFL Combine prior to the Draft day.
This year's NFL Draft offered few surprises (aside from being entirely virtual). Quarterbacks were swept up by teams looking to jumpstart their odds. And top defensive players went to teams looking to capitalize on a strong offensive line.
Offense: Wide Receivers & Running Backs
Clyde Edwards-Helaire is also garnering plenty of attention, though many have their eye on NCAA running back James Robinson. Robinson was undrafted this year but now starts for the Jacksonville Jaguars. Edwards-Helaire upped his worth with the Chiefs with a rushing touchdown against the Houston Texans in his debut game.
Following his illustrious career at LSU, where he was featured as a key component in American football betting odds from analysts, the player is primed to stake his claim with the Chiefs—especially considering starting running back Damien Williams opted out of the 2020 season.
In terms of wide receivers, there were plenty of choices at the last NFL Draft. So far, Justin Jefferson and CeeDee Lamb have lived up to expectations at their respective teams. Despite a slow start with the Minnesota Vikings, Jefferson has found his pace.
In the last week of September and the first week of October, Jefferson posted 11 catches for 278 yards. So long as he can continue to deliver on post-catch runs, his worth will only grow with the Vikings. 
Lamb has also delivered for the Dallas Cowboys with 21 catches for 309 yards. Though Week 5 of the NFL wasn't king to Lamb's quarterback Dak Prescott, Lamb seems to have the quarterbacks faith after maintaining tight running routes.
Should Prescott make a quick comeback, there's no telling what a dynamic partnership between Lamb and the quarterback could do for the Cowboys' offense.
Offense: Quarterbacks
Though there were four great quarterbacks selected during the NFL Draft between Justin Herbert, Joe Burrow, Tua Tagovailoa, and Jordan Love, only two are seeing regular play in their debut season.
Tagovailoa continues to heal from a hip injury with the Miami Dolphins. And as Love continues his master class beneath Aaron Rodgers with the Green Bay Packers, Herbert and Burrow are off and running.
Burrow continues to look more and more comfortable every week with the Cincinnati Bengals. So far, he's been able to deliver on accuracy while under pressure. Considering the Bengals' struggles to build an offense, Burrow seems to have found a long-term team.
Leading the Pack
Meanwhile, Herbert is leading the LA Chargers with startling accuracy despite the pressure of becoming a franchise's starting QB within weeks. As uncertainty continues to follow Tyrod Taylor, Herbert can certainly stake his claim as a long-term starter. 
Top Defensive Rookies
NCAA Rookies Tackle the NFL. Antoine Winfield Jr. continues to impress as one of the league's most promising safeties in recent years. During his collegiate career, Winfield became known for his strong instincts. As one of the most important facets of athleticism, the role of instincts on a defense can't be understated.
Given his place on the Tampa Bay Buccaneers, Winfield is in a prime position to take off with a winning franchise—assuming Brady and Gronk can handle their responsibilities with the offense.
Another top defensive player from this year's draft was Chase Young. Though Young is currently riding the bench for the Washington Football Team with a groin injury, he'll continue to be watched rookie following his return to the gridiron.
In his first two games, he averaged 2.5 sacks. Though only out with a moderate strain, it seems the Washington Football Team is treating the injury with utmost caution. In early October, he returned to practice, though Young fans are still waiting to hear when the player will get the green light for game day.
Feature image courtesy Emma Dau@daugirl