SportStars NorCal Baseball Rankings | Top 20, March 10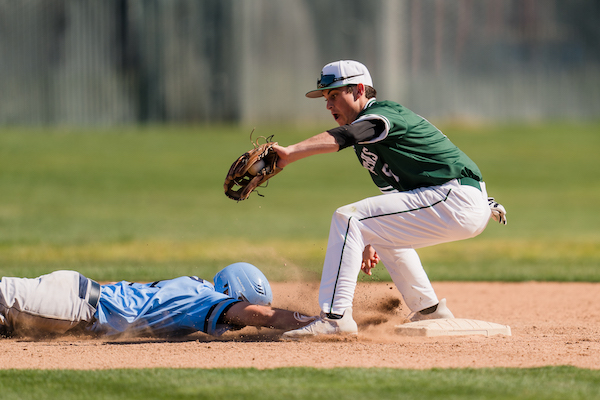 March 10: Preseason No. 1 De La Salle Still Tops The NorCal Baseball Rankings With The First Two-Plus Weeks In The Books •
NorCal Baseball Rankings Records through 3/9; Preseason rank in parenthesis
1. (1)  —  De La Salle-Concord   2-0
2. (3)   

↑

   Jesuit-Carmichael   1-0
3. (5)   

↑

   Heritage-Brentwood   3-0
4. (7)   

↑

   Archbishop Mitty-San Jose   4-0
5. (2)  
↓

  Valley Christian-San Jose   3-3
6. (4)  
↓

  Turlock   3-2
7. (6)  
↓

  Vacaville   1-1-1
8. (8)  —  Acalanes-Lafayette   2-0-1
9. (9)  —  Oakmont-Roseville   2-0-1
10. (11)   

↑

   Folsom  3-0
11. (17)   

↑

   Foothill-Pleasanton   3-0
12. (12)  —  Franklin-Elk Grove   3-1
13. (NR)   

↑

   Clayton Valley-Concord   3-1-1
14. (18)   ↑   Palo Alto   5-1
15. (13)  
↓

  Los Gatos   3-1
16. (10)  
↓

  St. Francis-Mountain View   2-1
17. (NR)   ↑   Oak Ridge-El Dorado Hills   2-0
18. (14)  
↓

  Lodi   1-1
19. (16)  
↓

  Cardinal Newman-Santa Rosa   2-1
20. (20)  —  Campolindo-Moraga   3-0
DROPPED OUT:
No. 15 Serra-San Mateo and No. 19 San Ramon Valley-Danville
5 TEAMS KNOCKING (alphabetically):
Elk Grove (1-2), St. Mary's-Stockton (2-0), San Benito-Hollister (2-0), San Ramon Valley-Danville (2-2) and Vintage-Napa (5-0).
FAST BREAKDOWN
De La Salle didn't beat any ranked teams in its first two wins, but it took care of business against a pair of solid programs: Bellarmine-San Jose and Elk Grove. Those wins put the Spartans winning streak at 30 games. 
Their last loss came on March 2 of last season, a 3-2 defeat to St. Francis-Mountain View. The Lancers, at No. 16, will be the De La Salle's first ranked opponent of the season when they travel to Concord on March 10. Two days later, the Spartans travel to Jesuit-Carmichael for our first No. 1 vs. No. 2 matchup of the season.
_______________________________
CONNECT WITH US:
Follow SportStars on Twitter & Instagram | Like us on Facebook | Subscribe!
_______________________________
Our preseason No. 2, Valley Christian-San Jose, fell three spots to No. 5 after splitting its first six games of the season. The Warriors' first two losses were to SoCal powers Foothill-Santa Ana and Orange Lutheran, but the third was a 5-2 decision against new-No. 4 Archbishop Mitty-San Jose. 
Just two new teams join the Top 20 this week. Clayton Valley-Concord — basically the last cut from the Preseason Top 20 — plays its way in to a debut at No. 13 thanks to wins over previous No. 19 San Ramon Valley-Danville and current No. 7 Vacaville (down one spot from No. 6). Oak Ridge-El Dorado Hills debuts at No. 17 after a 2-0 start that included a win over then-No. 16 Cardinal Newman-Santa Rosa.
PICTURED AT TOP: No. 1 De La Salle infielder, Caleb Chance. Photo by Jean-Paul Toshiro.