SportStars NorCal Boys Basketball Rankings | Top 20, March 3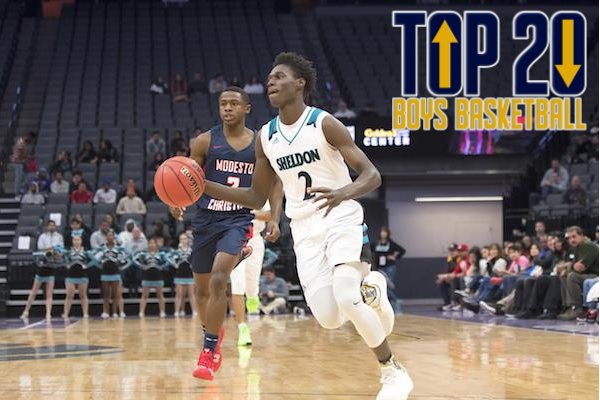 March 3: Mitty Wins CCS Open Title To Maintain Spot At No. 1 In Our NorCal Boys Basketball Rankings As We Move To Season's Final Two Weeks  •
NorCal Boys Basketball Rankings Records through 2/29; Previous rank in parenthesis
1. (1)  —  Archbishop Mitty-San Jose   23-4
2. (3)   

↑

   Bishop O'Dowd-Oakland   22-7
3. (5)   

↑

   Sheldon-Sacramento   27-5
4. (2)  
↓

  Dublin   23-6
5. (6)   

↑

   Bellarmine-San Jose   23-4
6. (5)  
↓

  Archbishop Riordan-S.F.   21-5
7. (7)  —  Capital Christian-Sacramento   24-8
8. (9)   

↑

   Salesian-Richmond  23-6
9. (10)   

↑

   Campolindo-Moraga   22-6
10. (12)   

↑

   De La Salle-Concord   22-7
11. (8)  
↓

  Dougherty Valley-San Ramon   22-6
12. (NR)   ↑   Grant-Sacramento   25-5
13. (NR)   ↑   Menlo-Atherton-Atherton   22-4
14. (16)   

↑

   Serra-San Mateo   18-8
15. (19)   ↑   Branson-Ross   29-2
16. (NR)   ↑   Granada-Livermore   24-6
17. (NR)   ↑   Vanden-Fairfield   26-6
18. (18)  —  Rocklin   25-6
19. (15)  
↓

  Modesto Christian   19-9
20. (17)  
↓

  San Leandro   19-8
DROPPED OUT:
No. 11 Oakland Tech, No. 13 Folsom, No. 14 Lincoln-Stockton and No. 20 San Ramon Valley-Danville
5 TEAMS KNOCKING (alphabetically):
De Anza-Richmond (22-9), Jesuit-Carmichael (20-8), San Ramon Valley-Danville (20-9), St. Mary's-Stockton (23-9) and St. Patrick-St. Vincent-Vallejo (21-10).
FAST BREAKDOWN
After two weeks of section playoffs, the only new team to the Top 10 was De La Salle. The Spartans jumped two spots to No. 10 after winning the North Coast Section Div. I title. Central Coast Section Open Division champions, Archbishop Mitty, and Sac-Joaquin Section Div. I runners-up, Capital Christian are the only Top 10 teams to be in the same spot they were two weeks ago. For Mitty, it's No. 1 and for Capital Christian — which lost its section final to then No. 5 Sheldon 49-46 — it's No. 7.
Bishop O'Dowd, which is now 17-0 against NorCal opponents this season, moves into the No. 2 spot. Because of CIF Open Division seedings (which don't exactly reflect our rankings), we'll have a No. 1 vs. No. 2 showdown of Mitty and the Dragons in an Open Div. semifinal on Saturday, March 7. 
_______________________________
CONNECT WITH US:
Follow SportStars on Twitter & Instagram | Like us on Facebook | Subscribe!
_______________________________  
Four new teams join the fold this week, including SJS Div. II champion Grant-Sacramento (No. 12) and SJS Div. III champion Vanden-Fairfield (No. 17).
PICTURED AT TOP: No. 3 Sheldon senior guard, Xavion Brown. Photo by James K. Leash.