SportStars NorCal Girls Basketball Rankings | Top 20, March 3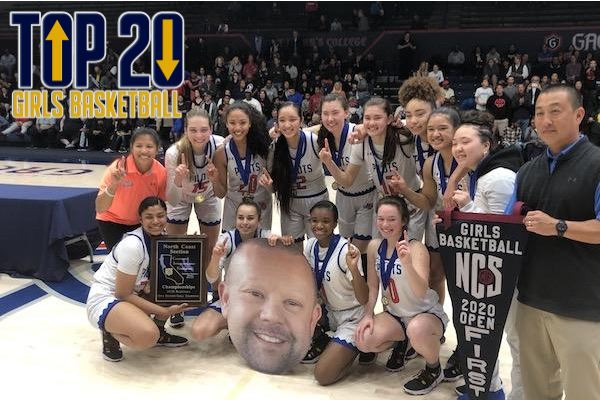 March 3: With Just Five Teams In CIF Open Field, The Div. I Bracket Is Full Of Showdowns Featuring Teams From NorCal Girls Basketball Rankings
NorCal Girls Basketball Rankings
Records through 2/29; Previous rank in parenthesis
1. (1)  —  Archbishop Mitty-San Jose   24-3
2. (6)   

↑   

St. Joseph Notre Dame-Alameda   24-7
3. (4)   

↑   

St. Mary's-Stockton   21-4
4. (5)   

↑   

Cardinal Newman-Santa Rosa   28-4
5. (2)    
↓

   Salesian-Richmond   25-4
6. (3)    
↓

   Bishop O'Dowd-Oakland   20-7
7. (7)  —  Miramonte-Orinda   22-5
8. (8)  —  Antelope   29-3
9. (9)  —  Pinewood-Los Altos Hills   23-4
10. (16)   

↑   

Oak Ridge-El Dorado Hills   24-6
11. (15)   

↑   

Oakland Tech   21-8
12. (14)   

↑   

Heritage-Brentwood   21-6
13. (12)    
↓

   Menlo School-Atherton   20-6
14. (17)   

↑   

San Ramon Valley-Danville   26-4
15. (13)    
↓

   McClatchy-Sacramento   26-4
16. (NR)   

↑   

San Leandro   24-6
17. (18)   

↑   

Del Oro-Loomis   22-10
18. (11)    
↓

   American-Fremont   27-2
19. (10)    
↓

   Laguna Creek-Elk Grove   27-3
20. (NR)   

↑   

Alameda   24-5
DROPPED OUT:
No. 19 Placer-Auburn and No. 20 Lick-Wilmerding-S.F.
5 TEAMS KNOCKING (alphabetically):
Aptos (25-4), Christian Brothers-Sacramento (24-8), Merced (27-4), Presentation-San Jose (19-8) and St. Mary's-Berkeley (23-7)
FAST

BREAK

DOWN

With the surprising decision to only include five teams in the Northern California Open Division – one of them from Clovis – all of a sudden the NorCal Division I bracket looks a lot like this top 20.

Archbishop Mitty, of course, is the top seed in the Open, with St. Joseph Notre Dame second and Clovis West-Fresno (from the Central Section) third. Cardinal Newman, in what seems to be an annual tradition, gets one of the toughest draws from the committee, and will travel to St. Mary's-Stockton in the first round. St. Mary's, though, lost starting freshman guard Brooklyn Perry to an ACL, and may not be quite as daunting as earlier in the year.

_______________________________
CONNECT WITH US:
Follow SportStars on Twitter & Instagram | Like us on Facebook | Subscribe!
_______________________________

Division I, though, is filled with similar brutal first-round matchups, as there's no mercy to be found anywhere. San Ramon Valley, the NCS Division I winner, will host Antelope, a team many thought would wind up in the Open, in what could be a first-round classic. Even a game like the six-11 matchup between Heritage and McClatchy could turn out to be a nail-biter.

Oakland Tech, a state champion last year in Division IV, is the top seed in Division II this year, with Clovis, Del Oro and Laguna Creek rounding out the first four, while Menlo-Atherton is number one and St. Mary's-Berkeley number two in Division III.

Colfax tops the Division IV bracket, West Valley-Cottonwood is the favorite in Division V and Laytonville leads the way in Division VI.

All the winners, except in Division VI, will advance to the state championship games March 13 and 14 at Golden 1 in Sacramento.

PICTURED ABOVE: No. 2 St. Joseph Notre Dame-Alameda celebrates its NCS Open Div. title. Chace Bryson photo.