Paradise Girls Basketball: Resilient Bobcats Finding Footing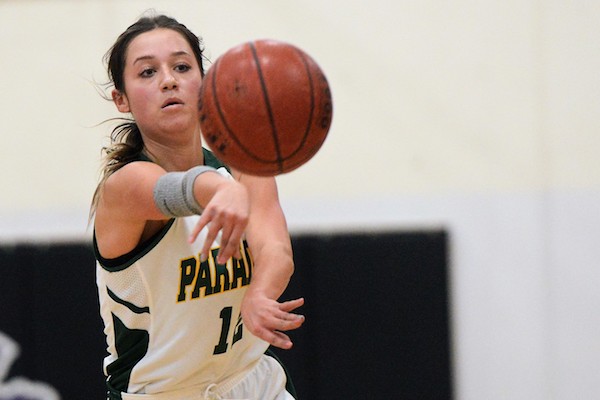 One Year After A Wildfire Destroyed Its Town, A Still-Healing Paradise Girls Basketball Team Makes Gratifying Visit To West Coast Jamboree
On a quiet November night in 2018, David Jackson sat down to watch the Golden State Warriors telecast.
It wasn't just any regular night on Warriors Ground though. The team was playing host to countless Camp Fire refugees from Paradise and its surrounding communities. That included the Paradise High basketball teams. 
Jackson, founder and current board member of the West Coast Jamboree girls basketball tournament — a massive, multi-division event that sprawls throughout the East Bay and turns 20 years old this December, quickly picked up the phone.
Harold Abend, a Jamboree tournament director, was on the other end of the call. 
"He called me and said, 'Harold, we need to get Paradise into the tournament and pay their way," Abend said.
_______________________________
CONNECT WITH US:
Follow SportStars on Twitter & Instagram | Like us on Facebook | Subscribe!
_______________________________
The tournament was less than a month away. Abend quickly reached out, but an admirable sentiment met a cold, brutal reality. Less than two months since nearly 90 percent of their hometown was reduced to ash, Paradise coaches and players weren't even sure if they'd be able to play the games already on their schedule. 
Most weren't even sure where they might be living by season's end.
• • •
Sheila Craft aspired to coach Paradise girls basketball since before she'd even graduated from the high school in 1992. Back when she starred for the Bobcats as Sheila Peppas. 
Paradise named her its varsity coach in April 2018. By tryouts that November, Craft had doubled the number of girls in the program to 44. She and her staff had full rosters at all three levels. 
The teams got through exactly one day of practice. 
"All but three, maybe four girls lost their homes," Craft said, noting that she and all but one of her coaches lost their homes as well. "It was such a whirlwind. … We had 44 girls in the program. Then the fire happened and it dropped to 18 or 19 depending on who could show up."
The Bobcats' entire program ended up being one 16-player varsity team of mostly freshmen and sophomores. The roster was eventually down to 14 by their last game.
Practice for that team was a luxury. Craft and players pinballed between five different facilities in the Chico area. More than a few times they'd show up to a facility that had been double-booked and not get to practice at all. Home games were played at Butte College.
The team won four games. Considering the circumstances, it's arguably the most impressive four-win season in state history. 
• • •
Time passes, but struggle and pain never stray too far. 
The school returned to its own campus at the beginning of the academic year in August. It's enrollment was approximately half of what it had been before the fire. The national spotlight returned briefly to showcase the football program's first home game back on campus. Many of those news outlets celebrated it as a "return to normalcy." 
But normalcy isn't the right word. 
Paradise is a commuter school now. Craft's 12-player varsity roster this season includes just two players who still live in the homes they had before the fire. Those two players live in Magalia, a community approximately five miles north of Paradise that was affected by the fire but to a lesser degree. The rest of the roster is scattered across the North Valley, from as close as Chico (15 miles) to as far as Biggs (31 miles). 
Some families have found their own places. Some still crowd into the homes of friends or relatives. 
"None of their lives are normal," Craft said. Her family of six used its renters insurance sum for a down payment on a house in Magalia. They moved in last February. "They're all struggling in their own ways. Survivor's guilt is a real thing. We don't hang our heads, but we all have our bad days. Anybody who hasn't been there can never understand."
• • •
On Dec. 3 of this year, nineteen months after being hired to head the girls basketball program, Craft finally coached her first varsity game inside the Paradise gymnasium. 
And on Dec. 27, the Bobcats will face Cornerstone Christian-Antioch in the opening round of the West Coast Jamboree's Topaz Division. The trip will cost them nothing. 
After Craft had made it clear that a 2018 Jamboree visit wouldn't be possible, Abend and Jackson hatched a new plan.
"I called David and said, that with a year to make it happen, why not try to find a sponsor that will not just cover their entry fee but all their expenses?," Abend said. "We found a corporate sponsor, who wishes to remain anonymous, but has agreed to sponsor the team and recently wrote a check for just under $7,000."
Paradise won just one of its first five games, but it probably needs to be graded on a serious curve. 
"We're now basically in our second season where no girl has her own basketball hoop anymore," Craft said. "We didn't get to teach a lot last season."
Craft's overall philosophy has changed as a result.
"My goal when I took on the job was to build a program, but that focus has changed," the coach said. "It's not that I don't want to build up a program, but I want to get girls excited to want to play basketball. That's my goal for this group." 
Even that might take some time. But it will be time well spent.
• • •
Rheann Colwell is one of three seniors on this year's roster, but the only one who played for last season's team. 
"We needed those first few games just to see where we were," Colwell said. "It was a good experience. Everyone noticed at least one thing that another person did and offered positive feedback and encouragement. We're going to get better."
Malorie Limbaugh and Emma Pillsbury are the other two seniors on the squad. Craft calls Limbaugh her "wild card," and Pillsbury a "born leader." The rest of the team is comprised of juniors with the exception of one freshman, Baylee Hovey. 
The junior class features twin post players Alysa and Kylee Winebarger, point guard Emma Lawrie and off guard Sophia Scribner. At 5-foot-10, post Gabbie Vannucci is likely the tallest of the Bobcats. Elise Luevano, Lexie Giusti and Mattie Rowney round out the roster.
The entire ensemble encourages Craft. She's excited at what it can do as it gets more time on the court together, both in games and in regularly scheduled practices. 
Time off the court together will be just as important — something the West Coast Jamboree experience will undoubtedly provide.
"It's going to be a lot of fun," Colwell said. "We're going to be able to bond more. We're going to find some inside jokes and have a chance to connect with each other. There's a lot of us who haven't ever really visited the Bay Area before, so it'll be a true new experience."
Craft is as competitive as any varsity coach, but even she knows winning won't be the end goal on this trip. 
"I don't care if we win. I won't care if we don't score any points at all," she said. "I'll just be so excited for us to be together and experience something like that for four days. I feel like this is something that the girls are just blessed to get to have."