See Heavy Weights Compete in Labor Day Scottish Games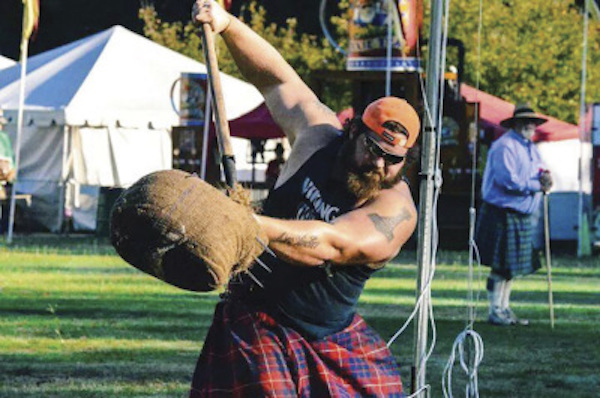 The Caledonian Club of San Francisco is treating you this Labor Day Weekend to something heavy. The 153rd edition of the Scottish Highland Gathering and Games features the world's top pro and amateur Heavy Event athletes! You've seen them on the Scottish Games channel, where immensely big men toss telephone poles the size of a VW Beetle, like they were baseball bats. And play games like the "Putting of the Stone" where they toss ginormous smooth rocks like a Zeto fastball (ok, pun intended!).
Your interests lie in more docile entertainment you say? No worries, Bonny Scotland never disappoints at these games – and gatherings!
Marketing and Communications Chair for the Caledonian Club, Floyd Busby says, "You're in for a real treat! This 153rd iteration of the Scottish Highland Gathering has it all."
The Games in Pleasanton are considered among the most prestigious in the world and many years are the site of the World Championships.
And that includes 35 pipe bands from the US and Canada including the 3rd Marine Air Wing Band in a concert with the LA Scots pipe band."
Then there's the whole river dance side… four stages feature traditional and celtic rock and the Western US Open Highland dancing championships!
Oh, but Mr. Busby says there's still more! "Living history features include Mary Queen of Scots, Highland Warriors, Roman Legions and Viking invaders.
The Celtic Heritage stages include Scottish Country dancing, fiddling, harping, and Ballard and Gaelic singing.
And we have 100 clans represented this year in our Glen of the Clans. There's even children's clans."
For the sporting types, you're gonna love what they've cooked up for you.
Here then are the Scottish Games!
Five-A-Side Soccer; 8 semi-pro teams
The "Kilted Mile", Run the 1-mile Alameda track in yer Kilt!
Rugby &
Shinty
, like field hockey 
Sheep dog trials
Birds of Prey & Falconry
Highland Cattle, Clydesdale team
British Autos & Cycles
A dart tournament
Archery in which you can participate
and best of al, Scottish whisky tastings!
Video trailer of some classic sights and sounds we can all look forward to at the Scottish Games at Alameda County Fairgrounds in Pleasanton on Labor Day Weekend, September 1-2, 2018
In the heavy event sports competition, each athlete is required to compete in eight events and must do this twice, once on Saturday and again on Sunday.
The overall winner in each class is determined by their aggregate score.
Individual event winners are also determined by individual scores within each class.
Read about the Caledonian Club, the Scottish Games, their prestige and history on their website www.thescottishgames.com
Get to the Alameda County Fairgrounds in Pleasanton this Labor Day weekend. Reserve tickets today before they sell out: Get Tickets