First Pitch: Sun And Games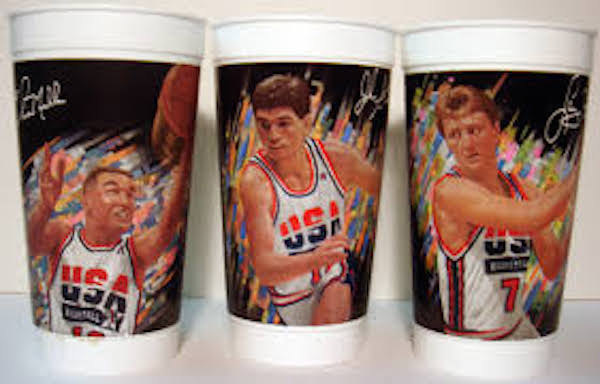 Despite a weird affinity for curling, I've always been more of a Summer Olympics guy.
Certainly part of it has to do with the region I grew up. Lots of sun. Not a ton of winter sports to experiment in beyond the occasional ski trip to Mt. Lassen (when it was still open) or Mt. Shasta. Primarily, though, the summer games contained sports that I played or had experience with. And being able to relate to the incredible performances I was watching, obviously, made it more attractive.
Furthermore, the number of sports icons and dramatic moments provided by the Summer Olympics during my most formative years as sports fan were seemingly off the charts.
There was, of course, the original Dream Team in 1992. Raise your hand if you collected the special edition cups from McDonalds. When my family and I moved this past winter, I came across the seven I had collected. I discarded six but the Michael Jordan cup got to make the move. Then in 1996, there was sprinter Michael Johnson and his gold shoes as well as Kerri Strug's gritty, golden vault.
Those two Olympics sucked me in and I've been a junkie ever since. But the London Games in 2012 added an entirely new level of excitement for me. Those were the first Summer Games where I personally had met and interviewed some of the athletes I was watching.
In just the second month of SportStars' existence, myself and photographer paid a visit to the home of then De La Salle-Concord diver, Kristian Ipsen, to watch him train in his backyard. So watching him secure a bronze medal in the 3-meter synchronized diving was beyond neat. There was also Monte Vista-Danville's Maggie Steffens, who I spent an afternoon at Blackhawk Plaza with when the magazine named her its first SportStars Female Athlete of the Year (the only East Bay publication to do that, by the way). All Maggie went on to do was set the Women's Water Polo Olympic record for total goals scored in a tournament, be named MVP and lead the American to a gold medal.
Ipsen and Steffens are both part of Team USA once again, as well as about 30 more athletes who have graduated from high schools covered by SportStars. And while some of them clearly graduated before we were around, we're still excited to watch them compete. We know some of you are as well.
Later in this issue we've put together a list of those athletes, so that you can know to keep an eye out for them as you watch. Some of the events probably aren't likely to make the primetime telecasts, but we checked with your bosses and they said it's totally OK for you to stream the Greco-Roman wrestling matches, rugby competition and various rowing heats at work. (They did ask that you refrain from "U-S-A" chants in your cubicle, however.)
Wherever you're watching, enjoy. And here's hoping one of our own NorCal athletes can do their part to lead impressionable young sports fans to gain a passion for Olympic competition.
First Pitch by Chace Bryson