USTA Tennis Sectionals Slam into Roseville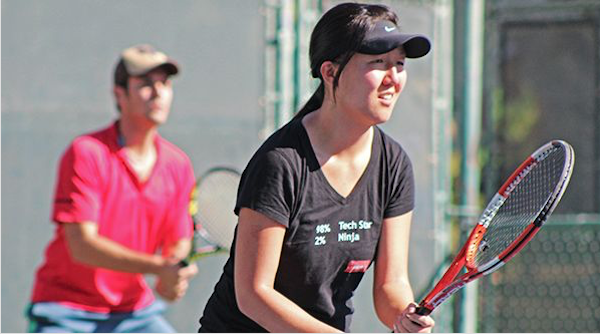 Johnson Ranch Racquet Club takes center court again on Oct. 12-13 for the 2018 Mixed 18 & Over USTA Sectional Championships.
Top tennis players from throughout Northern will be competing in levels 6.0 up to 10.0.
Matches start at 8:30 a.m. each day of competition and there is no fee for spectators. So come check out the action! Johnson Ranch Racquet Club is located at 2600 Eureka Road in Roseville.
USTA Tennis Sectionals
This year's event has drawn the top teams from throughout Northern California. The teams, which represent various clubs, parks, recreational departments and organizations, which have won their local leagues and are now competing for a chance to represent the USTA Northern California Section at the USTA League National Championships, happening November 9-11, 2018, in Mobile, AL. 
According to Lynn Losande, USTA's Adult League Manager, "73 teams will be competing over the weekend and well over 800+ players."
The season took place June 25 – September 16. Local league playoffs spanned the last weekend of September and first weekend of October.
USTA League was established 37 years ago to provide adult recreational tennis players throughout the country the opportunity to compete against players of similar ability levels.
Players participate on teams in a league format, which is administered by the USTA through its 17 sections.
USTA League groups players by using six NTRP levels.
Levels range from 2.5 (entry) to 5.0 (advanced) and is open to any USTA member 18 years of age or older.
USTA League, the United States' largest recreational tennis league, helps hundreds of thousands of participants get on the court, have a good time and step up their game.
Take part in the fun for an unmatched team experience!
For more information about USTA NorCal adult leagues, visit usta.com/playasamember/adultleagues.
For information on our partners at Placer Valley Tourism, (PVT) is made up for the 23 hotels in Roseville, Rocklin and Lincoln, California.
PVT recruits and supports hundreds of annual events with grants, marketing, volunteers and other services as needed. To learn more about how PVT can help bring your event here, visit www.playplacer.com or call 916-773-5400.