UC Elite 16 Wins First Trip to Jr. Nationals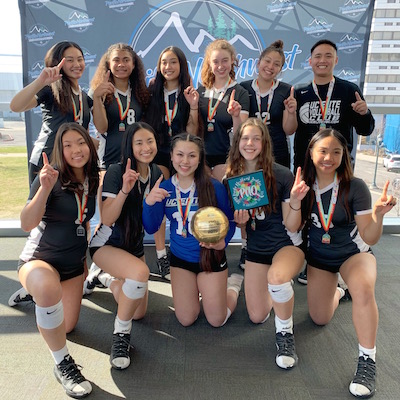 Precisely the spike that was needed! UC ELITE Volleyball Club of Union City and Hayward secured a national spot with a Pacific Northwest Qualifier win this weekend in Spokane. It's the teams first bid to the Jr. Nationals since its 2015 inception.
According to head volleyball coach, Matt Guzman (also James Logan VB coach), "this achievement might be the first bid to come out of our local area — the (Union City, Fremont, Hayward) Tri-City."
Guzman's roster consists only of local girls from the Tri-City and neighboring high schools.
The Road to Jr. Nationals is Paved with a 10-0 Record!
Team UC ELITE 16 Matt finished undefeated and won the 16 American Division at the 2019 Pacific Northwest Qualifier in Spokane, WA. Earning a national bid to the 2019 USA Volleyball Junior National Championships in Indianapolis, IN.
First national bid in club history since girls club establishment in 2015.
Tournament: 2019 Pacific Northwest Qualifier
Division: 16 American
Club Name: UC ELITE Volleyball Club
Team Name: UC ELITE 16 Matt
Head Coach: Matt Guzman
Record: 10-0
Gold Bracket Wins:
ITVC 16 Baden (WA) (1st round), Surfside 16 PV Legends (SoCal) (Quarterfinals), Texas Legacy 16 Elite (TX) (Semifinals), W Revolution 16 Mizuno (TX) (Championship match).
Roster:
Head Coach: Matt Guzman (James Logan)
– 35 Alex Gloria (James Logan)
– Ylana Barrozo (James Logan)
– Angelina Estrada
– Kyra Vickery (American HS)
–   Kendal Kibanoff (Moreau Catholic
– Bianca Punzalan (Moreau Catholic)
– Breanna Evans (Newark Memorial)
– Enya Mistry (Irvington HS)
– Nellie Stevenson (San Leandro HS)
– Kaitlyn Chihaoui (Castro Valley HS)
– Anika Gantumur (Alameda HS)
Top Player Performances in Championships Match:
–  #35 Alex Gloria (James Logan) 13 Kills, 11 Digs
–  #14 Ylana Barrozo (James Logan) 10 Assist, 7 Digs
–  #12 Angelina Estrada (James Logan) 8 Kills, 4 Digs, 1 Ace
–  #18 Kendal Kibanoff (Moreau Catholic) 7 Digs, 9 Assists
– #10 Kyra Vickery (American HS) 6 Kills