UC Merced Jr. Anthony Tyler makes program history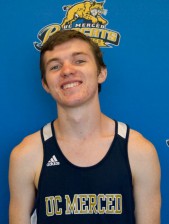 The University of California, Merced competed today in the NAIA National Championships.
The men's and women's cross country teams had four runners compete at the Fort Vancouver National Historic Site in Washington. Junior Anthony Tyler made program history as he became the first Cross Country All-American, running the 8k race in a program record time of 25:23. His stellar mark placed him 29th out of 328 total runners and beat the program's previous record time by eleven seconds.
The other three runners were freshman Blake Miller, junior Karina Martinez and senior Sara Zaldana.