US Running Review: Alaska State XC Championships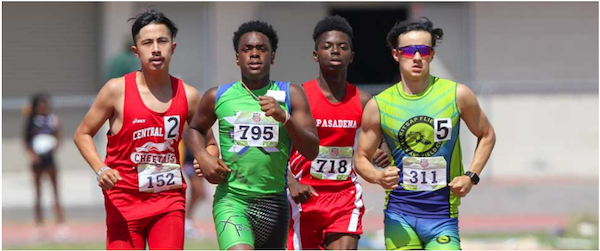 XC Roundup Week of 10/10/2020
This was the biggest news in quite awhile, as Alaska managed to hold its annual State Championships XC Meet despite the issues with the Corona virus. They ran on the Bartlett course and as expected Tristan Merchant ran away from the Division 2 field with a course record of 14:51. Here's our US Running race-by-race review.
The Anchorage Christian flash triumphed by over a minute and a half over second-place finisher David Sliwenski of Grace Christian School, who had the consolation of leading his team to a facile victory by sweeping the next four places.
Alexander Maurer of Service claimed the D1 title with his time of 15:24. Michael Earnhart of Chugiak finished second in 15:51 and Daniel Abramowicz of West Valley (Fairbanks) followed in 3rd with a time of 16:01.
Naomi Bailey of West Valley dominated the girls'  D1 race with a fine 17:56 time with Ava Earl of South Anchorage took second in 18:32. Coaches often harp about the importance of running in a tight pack and the Juneau Douglas gals used that tactic in a fine  display. For although their  first runner Skyler Tuckwood was 'only' 16th (19:46), she was backed by her teammates Annika Schwartz (19:49) and Iris White (19:52) who swept the next two places.
_______________________________
#SPORTSTARSNOW
GET the FREE "SportStars NOW" app today.
Follow SportStars on Twitter & Instagram| Like us on Facebook | Subscribe!
_______________________________
More Alaska State XC Championships
Rayna Tuckwood followed close behind in 21st and Mckenna McNutt sealed the deal with her 24th place effort for a convincing team triumph.
Jayna Boonstra of Kenai Central clocked 19:38  to top D2 with Megan Nelson of Grace Christian earning second with 19:46. Aileen Lester of Newhalen clocked 21:11 to score a ten-second victory over Teagan Rude, a freshman from Glenallen and Bryanna Gerlach, second in this event last year, was third with 22:01. Kael Gerlach won in the Boys D3 race with a time of 17:14.
West Ottawa Girls Invite   – 10-10   Mi
Abby Vanderkooi of Muskegon Western Michigan Christian continued her dominant running with her third victory and second time under seventeen minutes with her mark of 16:59.  Her course-record time gave her a minute-margin-plus over Arianna Olson of Holland West Ottawa, who was timed in 18:13.
Central Jersey Shootout   – 10-10    NJ
Marco Langon of Bridgewater Raritan defeated Vidhur Polam of S. Brunswick by two seconds with his time of 15:43. Caroline Schlef of Metuchen topped the gals with 19:28.
Big North  – Division C  Batch  10- 5   NJ
Angelina Perez of Lakeland Regional won again this week in her second week back with a time of 16:56. That time was only fifteen seconds slower than the boys' winner Owen Horevay of Lakeland.
Back to the Mountain Invite   –  10-10    NJ
Runners returned to action at Garrett Mountain in Woodlawn Park and Angelina Perez clocked 17:52 to win by almost a minute over Emma McGill of Voorhees, who ran 18:40 in Pod 1.
Jack Tavalione of Voorhees led all the guys with his time of 15:35. Aidan Carroll of Glen Rock placed second  with 16:32.
Cougar Invitational   10-19    NJ
Matt Bogdan of Colts Neck edged Jackson Barna of Ridge by a second to score here with 15:24. Chris DeSousa of CBA was third in 15:30 and Will Pinto of Ridge placed 4th  with 15:46.  Lily Shapiro of Colts neck clocked 18:07 to defeat Sarah Naticchia of Haddonfield by eleven seconds.
NCRunners Elite Invitational  10-10   –   NC
Christian Landis of Providence Day School edged Murphy Smith by four seconds with his time of 15:42. Ryan Motondo finished third with 15:54.
In the girls' race, it was the 'Sister Act' of Carmen and Vanessa Alder going 1 – 2  in their race. The senior Carmen ran a swift 17:11 and Franklin Elite freshman Vanessa was timed in 18:03. Carly Wilkes took third in 18:15.
Medina XC Festival    10-10    OH
Ryan Champa of Woodridge triumphed with a time of 15:50 and fittingly-named Blaze Fichter of Hoover chased him in 16:13. Julia Isham of Strongsville topped the gals with 18:44.
Stow Bulldog invite    1010   – OH
Firestone's Clay Peets ran 16:11 to win easily and Tommy Naiman of Tallmadge was 2nd with 16:32. Jayla Atkinson of Stow – Monroe led the girls with 18:57 winning by over a minute.
Bay Rocket Invitational    101-   OH
Ellie Irwin of Westlake nipped Stephanie Nivellini, her teammate, by a second with the winning time of 19:40. Will Warren of Bay clocked 16:20 for the victory with Stephen Faltay of Keystone running 16:28 for second.
Utah 5A & 6A Divisional Races    10-9
2019 Foot Locker National Finalist Creed Thompson had the fastest time of the day with his mark of 15:10, as he won Section B of the 6A race. Nate Jaster of American Fork came in  2nd with 15:15, a second ahead of  third-place runner Seth Walgren of Skyridge. Jaron Hartshorn of Lone Peak finished 4th with 15:27 and Samuel Nelson of AF took 5th in 15:39. Creed Thompson of Skyridge ran 15:40 for 6th place.
Section A Recap
Mike Moffat of Westlake was victorious in Section A of 6A with 15:35 and Daniel Larson of Davis annexed 2nd with 15:46.
Dalton Mortensen of Bountiful scored in the Section A 5A race with his 15:22 clocking. Anthony Davies of Hillcrest earned 2nd in 15:40. Third went to Luke Douglas of Timpanogos in 15:42 and Bronson Dameron of Timp added a 4th in 15:44.
Logan Knight of Orem took 5A – B with 15:48 and Logan Garnica of Springville was 2nd with 15:52.
Eliza Arrington of Lone Park was swiftest of the girls with her time of 17:44 in Section B – 6A race and Avalon Mecham of American Fork was 2nd with 17:53.
Reagan Gardner of Lone Peak finished 3rd in  18:21. Addi Bruening of Harriman topped 6A   Section B with 16:21 to nip Emma Thornley of Layton by a second. Carlee Hanson won Section B in 5A with her 17:56 and Sarah Galbraith of Springville was a distant second in 18:28. Jaroldeen Oveson of Timpview ran 18:21 in 5A – A  with 18:21.
Utah Region 9 Championships  10-10
Caila Odekirk of Hurricane was impressive here and won by almost a full minute with her time of 17:49. Sarah Ellis of Crimson Cliffs placed second in 18:45.
Joshua Armstrong of Hurricane edged Logan Peel of Cedar by a second with his time of 15:36.  Third went to Carson Helmer of Desert hills in 15:45 and Carson Wall of DH finished 4th in 15:54.
Pole Green Reverse      10-10      VA
Brogan Griffin of Aldis topped the guys with 15:48 and Lindsey Hester of Midlothian led the gals with 19:11.
CAA Conference Meet      10-10    NC
Rocky Hansen of Christ won in 16:03 and Caroline Barton of Carolina Day School triumphed against the gals with 20:01.
Naperville Twilight Invite    10-9    IL
Nicholas Dovalovsky of Neuqua Valley ran a blistering time of 14:44, yet only edged Micah Wilson of St. Charles East by two seconds. Ryan Schreiner of Wheaton North was third in 15:06  with Luke Schildmeyer of St. Charles was 4th in 15:07 and Zack Loomis, his teammate, followed in 15:08.
Naperville Central runners Brandon Kemp and Arthur Graham placed 6th and 7th  respectively with times of 15:09 and 15:10.
The girls' race had a quality field too and Katrina Schlenker of Batavia scored the victory with her mark of 17:09. Maggie Gamboa of Naperville North took 2nd in 17:17  and Samantha Poglitsch of Wheaton Warrenville South earned 3rd with  17:23.
Lucy Westlake led a Naperville sweep of the next  four places with her 4th place time of 17:37.   Audrey Mendrys (17:41), Campbell Petersen (17:44) and Sophie Golobitsh (17:55) followed her into the chute.
Bob Conley Invitational      10-8     ID
Will Dixon of Madison won in Pocatello with a time of 15:37 and Mitchell Athay of Idaho Falls clocked 15L51 for second. Shane Gard of Pocatello took third in 16:02. Alivia Johnson of Bonneville scored in the girls A  race with 18:33 and Nelah Roberts of Skyline was 2nd in 18:47.
Boise Trinagular     10-10       ID
The Idaho girls appear to have a new female star on freshman in Allie Bruce of Boise Senior, who won on the challenging Eagle island State Park course in 17:53. She led her team to a sweep of the top seven places with Rosina Machu placing 2nd in 18:15. The Boise guys swept the top five places as Noe Kemper topped the field with 16:42.
Colorado  5A  Region  1      –  10-9
Parker Wolfe of Cherry Creek continued his winning ways with a  victory in a record time of 15:22.  Caden Smith of Cherokee Trail finished second with 16:17. Riley Stewart of Cherry Creek easily scored against the girls with her time of 17:55. Cameron McConnell of  Cherokee Trail followed in 2nd in 18:22.
Colorado 5A Region  2      –  10-9
Jacob White of Dakota Ridge won on the Littleton course with 15:49 and Ty Garrett of Valor Christian was 2nd in 15:54. Harrison Witt led a sweep of the next three places for the victorious Mountain Vista team with his third place mark of 16:10. Valor Christian runners Taylor Whitfield (18:40) and Brooke Wilson (18:43) went 1 – 2  in the lady's race.
Colorado  4A  Region  3           10-8
Niwot runners Zane Bergen (16:03) and Graydon Raub (16:06) led the guys in Denver. Mia Prok led a Niwot sweep of the top three places in the girls race with her time of 18:13. Lucca Fulkerson (18:27) and Madison Shults (18:58) followed her across the finish line.
Colorado 4A Region  2           10-9
Bethany Michalak of Air Academy remained undefeated by winning her fifth race of the year with her time of 17:51. Audrey Surage of Lewis-Palmer secured 2nd with 19:06. Scott Prieve of Palmer dominated the field winning easily with his mark of 15:57. Zinabu Engstrom of Coronado ran 16:20 to take second.
South Suburban Conference   10-10    MN
Anna Fenske scored convincingly here with a fine 17:46. Her freshman sister Mariah finished second in 18:32 and their Farmington teammate Mackenzy Lippold added to a top-three sweep with 18:59.
Gabe Smit of prior lake ran 16:17 to win her and Brennen Peterson of Rosemount clocked 16:27.
Suburban East Conference  Championship   10-7   MN
Analee Weaver of Stillwater romped here with her time of 17:15. She had a margin of well over a minute. Ethan Vargas of Stillwater prevailed by a second over Joseph Lee of Roseville Area with his time of 15:55. Daniel Vanacker of Forest lake was 3rd in 16:09.
Onalaska Invitational      10-10    –   WI
Kora Malecek of Onalaska had a  gap of over a minute here for an easy victory in 17:49 and her teammates swept the next four places as well. Andrew Skemp of Aquinas took honors among the boys with 16:43.
Classic 8 Conference Championship    10-10   WI
Patrick Wills of Waukesha North topped the bill here in 15:33 and Joel Wolf of Mukwonago ran 15:53 for second. Kylie Finger of Oconomowoc won the girls' race in 18:48.
WDA Championship   –   10-10    ND
Sean Korsmo of Bismarck won with a time of 15:26 with Brady Yoder of Dickinson earning second with 15:35. Ben Anteau of Jamestown followed in 3rd with 15:37 and Mason Kindel of Century finished in 15:59.
Meghan Ford of Jamestown won handily with her mark of 17:40. Jaelyn Ogle of Watford City ran 18 flat for second.
Billings Meet at Amend Park       10-8     MT
Stirling Marshall of Bozeman won convincingly with his time of 15:39. Mac palmer of Great Falls annexed 2nd in 15:59 nipping Gavin Budge of Skyview by a second. Natalie Nicholas of Bozeman had the best time of the girls with 18:10.
Coach T Invitational    10-10      TX
Evan Caswell of Coppell ran 15:15 to earn a victory by fourteen seconds over Greyson Gravitt of Lewisville Marcus. Jacob Ricks of Flower Mound timed 15:29 for third and Jerial Algerian-marque of Lewisville Hebron clocked 15:37 in 4th. Antonio Flororus of Southlake Carroll ran 15:43 to nip Brayden Kennedy of Flower Mound by a second.
Natalie Cook of Flower Mound pulled away from Austin Owen of Lewisville Marcus to triumph with a time of 17:48, as Owen followed in 17:54. Emma Curry of Waxahachie came in third with 18:15.
GMC  Invitational   10-10      WI
Joshua Truchon of West Allis  Hale won handily here, as he clocked 15:13  to have a margin over a minute. Julia Neustedter was the girl's winner with 19:33.
Tully Quadrangular    10-10     NY
This is of note as Brooke Rauber of Tully finally got in a XC meet this fall and she won easily with a time of 18:11. The  second-place runner was well back with a time of 18:11.
Michael McMahon of Christina Brothers Academy (Syracuse) was the only runner to break seventeen minutes with his time of  16:56.
University School Invite    10-10    OH
They ran the daunting Hill at Forest hill Park in Cleveland, so times are understandably slower here but Griffin Walsh of US gave a good account for himself with a fine time of  16:18 and DeAndre Hall of Shaker came in second with 18:33.
Mia Compton-Engle of Shaker clocked 18:33 to triumph among the girls. Second went to Amy Weybrecht of Gilmour, who ran 18:49.
Story by SportStars INSIDERs at Youth Runner Magazine. Follow YRM at https://www.youthrunner.com/