US Running Review: Wyoming State Championship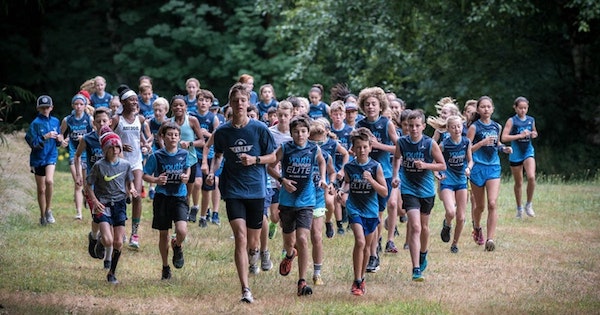 US Running Review week ending October 24th, 2020
With the Utah State track and field meet being held mid-week and covered separately, the US Running Review focuses on the big meet for the week was the Wyoming State meet, which was held on Friday. Sydney Thorvaldson of Rawlins dominated the 3A Division by winning handily in a record time of 16:59. Her time not only improved on her record of 17:32 run last fall but would have placed fourth in this year's boys' race. It's unfortunate that she will not be able to prove her mettle at Foot Locker, as have greats in the past. Elena Jensen of Lyman ran 19:34 to claim second. Noteworthy is the improvement over last year when she finished 13th with a time of 20:53. Riley Smith of Cody placed third in 20:02 to lead Cody to a repeat team title.
Peter Visser of Star Valley repeated as 3A champion with his time of 15:48. Sam Kistemann of Lander Valley secured second in 16:31 and led his team to the team title as well. Kaleb Simonson, also from Lander Valley, placed third in 16:37.
Montana State Meet 10-23
Colter Purcell of Hamilton had the fastest time over the Kalispell course when he won the Class A race with a time of 16:17. Colter Kirkland, also from Hamilton, was a distant second with 16:40 and Brant Heiner of Ronan placed third with 16:46. Bryson Rogers of Hardin edged Tanner Reed of Hamilton by a second to finish 4th in 18:47. Stirling Marshall of Bozeman ran 16:35 to triumph in the AA race with Tanner Klumph of Sentinel taking second in 16:46. His team, however, was victorious in a tight team race with 59 points with Hellgate finishing 2nd with 67 and Bozeman 3rd with 69 points. Ignatius Fitzgerald of Helligate placed third in 16:53.
Brynnli Poulson of Hamilton secured the Class A title in 19:02 and was followed by Andria Mourich of Laurel, who ran 19:5. Hannah Sempf secured third with 20:00. Kensey May of Hellgate took honors in Class AA with 19:21. Helena's Kylie Hartnett ran 19:26 for 2nd and Abby Kendrick of Hellgate earned 3rd with 19:34. Sage Brooks, also from Hellgate, took 4th in 19:43. Bozeman runners Natalie Nicholas (19"51) and Hayley Burns (19:55) placed 5th and 6th to help the team nip Hellgate 43 to 47 for the team title.
_______________________________
SportStars NOW
Get the New App in the Apple Store & Google Play
_______________________________
US Running Review: Nebraska State Meet 10-23
They ran in Kearney on Friday and Carson Noecker of Hartington recorded the fast time of the day as he grabbed the laurels in the Class B race in 15:22. Mason Sindelar of Pierce ran 15:53 to take second. Liem Chot of Lincoln N. Star topped in Class A with 15:37 and Gabe Hinriche of Elkhorn South placed 2nd in 15:43. Sam Kirchner of Millard West nipped Evan Caudy of North Platte for third but shared the time of 15:51. Isaac Richards of Skutt Catholic ran 16:22 to win the Class B race. Payton Davids of Aquinas Catholic won Class D in 16:41.
Stella Miner, a freshman from Marian, triumphed in Class A with her time of 18:11 and Brianna Rinn of Lincoln Southwest was not far back with 18:15. Third went to Kaylie Crews of Papillon in 18:31. Madison Seiler of Gering won the Class B race with 18:55. Alexus Sindelar of Pierre won Class C with 19:18 and Jordan Arens of Crofton topped Class D with 19:06.
North Dakota State XC Meet    10-24
Sean Kosmo of Bismarck was victorious in Class A with a winning mark of 15:28. Jacob Knodle of West Fargo Sheyenne earned 2nd in 15:33 and Benn Anteau of Jamestown came in 3rd with 15:34. Brady Yoder of Dickinson clocked 15:38, while Mason Kindle led Century to the team title with his 5th place finish in 15:54.  Brian Miller of Kindred edged Noah Rolfe of Stanley Community by a second in Class B with his 16:14.
Meghan Ford of Jamestown ran away with the Class A girls' crown with her17:59 and was followed by Jaelyn Ogle of Watford City, who ran 18:38. Peyton Gette of Kindred earned a victory of thee seconds over Norah Entzi with her time of 19:11. 
South Dakota State XC Meet    10-24
Josh Martin of Aberdeen Central and Britton Elkin of Brandon Valley battled in Class AA with Martin earning a three-second victory in 15:55. Cody Larson of Warner topped the Class B division with 15:54 and Cody Farland of St. Thomas More won in Class A with 16:15.
Alea Hardie had the fastest female time, when she led Class AA in 17:58 with Katie Castelli of Sioux Falls, her teammate, following in 18:24. Mia Wentzi of Brandon Valley earned 3rd with 18:28. The other girl's champions were Abby Cutler of Hill City (19:16) and Hallie Person of South Central Cooperative School (19:24)
_______________________________
STAY CONNECTED:
Follow SportStars on Twitter & Instagram | Like us on Facebook | Subscribe!
_______________________________
US Running Review: Idaho District 3 5A Championship 10-23
Nathan Green of Borah ran the Eagle Island State Park course in 15:41 as he prepares to defend his State title. Hayden Bostrom of Timberline annexed second in 15:56 and Marcus Heemeyer ran 15:59 for third and was followed by his teammate Zac Pollock, who ran 16:19
Lizzie Dildane was a surprising winner last year but this year she enters as the probable favorite especially after her fine clocking of 17:59. That said Boise freshman Allie Bruce was a strong second here with her time of 18:04. She is supported by a strong team that includes third-place finisher Rosina Macha (18:26). Rilyn Stevens of Mountain View placed fourth in 18:40. Boise runners Annika Zuschlag and Lydia Nance finished fifth (18:43) and sixth (18:48) respectively. The Boise gals have a fine pack that includes Andrea Cernuda (8th – 18:52) and Jamie Hamlin (10th – 19:04) and will be tough to beat at State. 
Garrett Invite  10-24   NJ
They were back at Garrett mountain for the third time this fall and Megan Dursema posted the fastest girls' time of the day when she won Pod 4 in 20:23 for Mahwah. Leanna Johnston of Immaculate Heart claimed Od 1 in 20:28 and was followed closely by Maya Wilkins of Randolph with 20:30.  Violet Ross of Montclair placed 3rd with 10:39. Kayla Sullivan triumphed in Pod 2 with 20:52 and Gabriella Pagono of Pope John XXIII won Pod 3 in 21:06.
The boys' Pod 1 saw the fasted times of the day with Brian Pedretti of North Hunterdon winning in 16:27. Close behind was Dan Pedretti, his brother, with 16:33 and Nathan Hajel of Roxbury took third in 16:54. That time won Pod 3 for Nathan Armstrong of Pompton Lakes and Ryan Pena of Wayne Valley claimed Pod 4 in 16:45 with a four-second margin over Kieran Brennan of Pope John XXIII and Evan Morrow of Hasbrouck topped Pod 2 with 17:38.
Colts Invite 10-21  – NJ
They ran at Holmdel finally this year, so times must be considered in terms of the challenging course but Jackson Varna of Ridge ran a fine 15:50. Vidhur Plam of South Brunswick placed second in 15:58 and Matt Bogdan of Colts Neck took third in 16:03 giving him just a second to spare over Chris DeSousa of CBA, which won the boys' team title. Lilly Shapiro of Colts Neck topped the gals with 18:42 and Sarah Natiicchia of Haddonfield placed second in 18:57. Haddonfield girls swept the next two places as well to help the team to triumph. 
Ohio Division 1 – District 1 Championship 10-24
Marc Baroncini of Perrysburg won by over half a minute in 15:46 at Findley. Emma Steingass of Sylvania Northview topped the gals with 18:49.  
LCCC Lorain District – Division 1 – 10-25
Luke Ondracek of Walsh Jesuit won with 16:53 and Julia Isham of Strongsville scored in the girls' race with 19:51.
NEO Glen Oak District  Div 1 – 10-24
Nathan Moore of Uniontown Lake won handily in 15:27 and Bobby Ganser of Louisville was 2nd in 15:56. He just nipped Tommy Rice of Canton Glen Oak, who shared the time. Jayla Atkinson of Stow Monroe Falls won the girls' race by two seconds in 18:27, as Alex Bauer of Uniontown lake was right behind her.
Madison District  Div 1 – 10-24
Just a hundredth of a second separated 1 and 2 with Dennis Princic of Kenston getting the nod over Matt Kelly of St. Ignatius. The winning time was 16:00.00. Not far back was Sean Uhrah of St. Ignatius with 16:02. Savannah Dennison of Mentor won the girls' race with 18:32 with Andrea Nunn of Chardon taking 2nd in 18:39.  
OHSAA Southwest District Div 10-24
Ells Lambert of Turpin triumphed in 18:26 and Alyssa Hammond of Oak Hills took 2nd in 18:33. Sara Doughman of Kings was 3rd in 18:37 and Eva Hensley of Oak Hills placed 4th in 18:39.  The Boys' B Race was fast and Tatum Ford of Bellbrook ran 15:35 to defeat Connor Ewert of Beavercreek by a second. Kiefer Bell of Talawanda came in third with 15:48. Nathan Mountain of St Xavier won Division A with 14:55 and hid teammate Connor Bohrer finished 2nd in 15:27. James Schmidt of Oak Hills placed 3rd in 15:35. 
OHSAA at Hillyard Darby Div 1 – 10-24
Owen Karas of St Charles had the fastest time here when he won Division 3 in 15:37. Liam Shaughnessy of Dublin Coffman ran 15:59 for second.  Sean Carney of Hillyard Darby topped D2 with 15:42. Connor Ackley of Hillyard Davidson led the way in D1 with 15:22 with Victor Orsinelli of new Albany taking 2nd in 15:51. Third went to Nick Puhl of Davidson in 15:58.
Hillyard Davidson girls swept the top three places in D1 with Caitlyn Jones leading the way in 18:31. Dillon Sweetman (18:34) and Alyssa Mason (18:52) added 2nd and 3rd. Alyssa Shope of Gahanna Lincoln scored in D3 with her time of 18:31. Cam Wheeler of Watkins Memorial clocked 18:57 for 2nd and Aubrey Steiner of Upper Arlington took third in 18:58. Section 2 was won by Cambri Mushrush of new Philadelphia in 18:56 with Carina Napoleon of Thomas Worthington 2nd in 18:59. 
Michigan Pre-Regional    10-24
Abby Vanderkooi continues to breeze through the season and competition and won this meet by over two minutes. The Foot Locker alumnus makes us wish there was at least a Regional race and her time of 17:35 sure makes us wishful. Layla Martin of Kent City paced second in 19:42on a course only one other female runner broke twenty minutes. 
There was sure no runaway in the guys' race as Andrew Hardy of Stanton Central and Kaden Rainer of Montague rushed to the finish with both running versions of 17:38. Hardy got the nod by 3/10s of a second and Samuel Martini of Kent City placed third in 17:56. 
Indiana Semi-State Meets   10-24
The competitor in me just loves Indiana, which does not bother with silly divisions and lets the best individuals compete with the best from around the state. This weekend was the prelude with four "Semi-state" qualifying teams and runners for the prime time prom of State next week. Here are the highlights from each.
IHSAA Semi-State at Shelbyville
Kole Mathison may only be a sophomore but he is running like a senior. The Carmel star remained undefeated by clocking 15:18 to earn a victory by five seconds over Will Jefferson, who ran 15:23. Paul Stam of Indianapolis Cardinal Ritter took 3rd with 15:37 and Jesus Garcia of Zionsville Community was 4th in 15:39. Travis Hickner of Noblesville came in 5th with 15:42 and Krishna Thirunavukkarasu of Brebeuf Jesuit ran 15:49. Brebeuf got the nod over Carmel 68 to 75.
Annie Christie of Carmel assessed a victory and also led her team to the title as well with her time of 17:59. GretchenFarley and Sophia Kennedy of park Tudor secured the next two places with the shared time of 18:07.
IHSAA Semi-State at New Haven
Izaiah Steury of Angola chalked up a nine-second triumph here with his time of 15:25. Mariano Retzloff of Penn was 2nd in 15:34 and Karsten Schlegel of Fort Wayne was a second back. Spencer Carpenter from Westview placed 4th with 15:42 and Will Clark was 5th in 48 for Fishers.
Zoe Dufufus of Fort Wayne Carroll got the girls' win in 17:53 with Nicki Southerland of Felta finishing second in 18:04. Shelby Christman came in third with 18:15.
IHSAA Semi-State at New Prairie US Running Review
Lucas Guera of Highland won handily here in 15:26 with Quinton Bock of Crown Point following in 16:09. Karina James was the girls' winner with 18:08 and Bailey Ranta of Chesterton took 2nd in 18:32. 
IHSAA Semi-State at Brown County
Camden Marshall of Corydon edged Reese Kilbarger—Stumpff of Columbus North by a second with the time of 15:30. Abe Eckman finished third in 15:41 for Jasper and Nolan Bailey of Bloomington North took 4th in 15:45. Andy Stohr of Columbus North was a second back in 5th and Spenser Wolf of Forest park claimed 6th in 15:45 as well. The girls' winner here was Mackenzie Barnett (18:13) of Columbus North, which won the team title.
XC 7 on 7 Invitational 10-24 NJ
This race in Thompson Park in Jamesville, NJ saw Jack Tavaglione of Vorhees record the fastest time, when he the first division in 16:11 Matthew Gonzalez of East Brunswick followed him into the chute in 16:36 and Kieran Donnelly of Old Bridge earned third in 16:45. Harry Carter of Princeton won D2 in 16:52.  
Emma McGill of Vorhees won the girls' D1 in 19:01 with Eleni Alverez of St Thomas Aquinas placed 2nd in 19:46. Emily McCann of Princeton Day School topped D2 in 20:43.
US Running Review Milton Invitational 10-24    NY
This meet in the Hudson Valley saw Aidan Gemme of Hastings earn a twenty-second victory over Rishi Young of Horace Greeley in 15:45. Isolde McMannus of Hendrick Hudson led the gals with 19:04.   
Phoenix Classic Showdown 10-23 AZ
Desert Vista girls went 1 – 2 Lauren Ping scored with 17:25 and was followed by Katie Sigerud in 17:59. Mia Hall of Flagstaff finished third with 18:20. Stormy Wallace won a division of unattached runners with a fine17:27 and had a margin of a minute over second place.
Xander Black of Brophy College prep earned a ten-second triumph over Max Davis of Flagstaff with 15:38. Terence Keyes of Gilbert secured third with 15:49 and Elijah Poelman of Highland took 4th in 18:03. Vincent Loftus topped the unattached runners with 15:42.
Seminole Athletic Conference 10-22  Fl
Caroline Wells of Winter Springs dominated here winning by over a minute with a mark of 17:16. Aiden Arnold of Winter Springs ran 16:04 to annex the boys' title.
Story by SportStars INSIDERs at Youth Runner Magazine. Follow YRM at https://www.youthrunner.com/