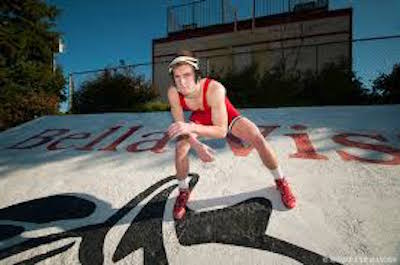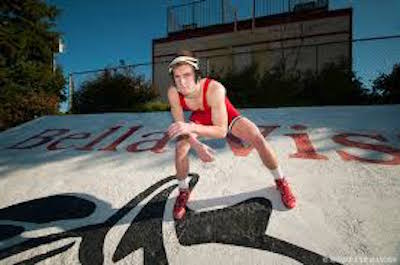 Pound For Pound: The top-ranked wrestler in the state at 152 pounds, Shayne Tucker is ready to rumbleBy JIM McCUE | Senior Contributor; Photo...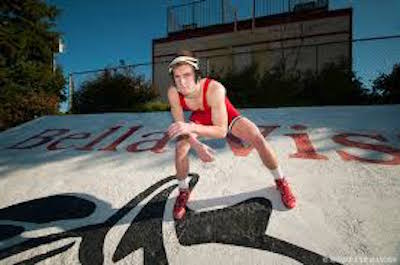 Pound For Pound: The top-ranked wrestler in the state at 152 pounds, Shayne Tucker is ready to rumbleBy JIM McCUE | Senior Contributor; Photo Sharp-eyeimages.com
Have singlet, will travel. Bella Vista senior Shayne Tucker has logged thousands of miles during a long wrestling career that started at age five. His high school travels will soon end, but the state's No. 1-ranked wrestler at 152 pounds has his sights set on one final road trip down Highway 99 to Bakersfield this March.
Tucker hopes to return home from the Central Valley then with a state title and a clear vision of the path to college competition. In the meantime, he will draw upon his past experiences on the road and on the mat to pave the path that he believes he can travel.
As a junior, Tucker ran into a detour on his road to a state championship when his season ended with a narrow 4-3 loss to College Park's Brian Sergi in the 138-pound final. While the defeat was heartbreaking—Tucker had beaten Sergi earlier in the 2011-12 season—he is determined to use it as motivation to complete the journey in 2013.
"Dropping that match and taking second only makes me want it more," Tucker said of winning a state title this year. "That will help me stay focused and avoid senioritis or anything else that could keep me from winning."
In pursuit of a CIF State Championship, Tucker has hit the road early in the 2012-13 season to prepare for the best that the state has to offer. In December, he travelled to Ohio to compete at the Walsh Ironman national tournament and finished fourth against some of the best wrestlers in the country. Shayne was seeded eighth at 152s, and exceeded expectations with an impressive effort.
Tucker followed up the Ironman tournament, one of the toughest national events offered during the wrestling season, with California's top tournament, the Doc Buchanan Invitational in Clovis. At the "Doc B" event, Tucker lived up to his top state ranking with a second-place finish, losing only to Oregon's Reed Van Anrooy 5-3 in the championship match.
Traveling to face top competition is a regular routine for Tucker and his Bella Vista teammates. Head coach Michael Lee, who is in his 22nd year leading the Broncos after wrestling at the Fair Oaks campus in the 1980s, is a firm believer in going to great lengths to expose his wrestlers to the best competition.
"We go all over to find the best competition," Lee said. "The Ironman is probably the toughest in-season national tournament and the Doc B is the toughest in the state. We want to go where we can face the best."
These high-profile events provide the competition and atmosphere that Tucker and his teammates need to thrive at the Sac-Joaqin Section Masters and CIF tournament. While the Broncos might suffer defeat at the hands of some of the best grapplers in the state and nation, they view it as an opportunity to prepare for what matters most to them—the final competitions in the postseason.
"The experience at the Ironman and Doc B is big," Tucker said of facing fierce competition. "The Ironman is the biggest event I have been at and the environment and atmosphere were great."
"I go out to win every time, but those experiences are only going to get me better. Facing top wrestlers whenever I can will help at state."
National events like the Ironman and summer freestyle tournaments also give top wrestlers like Tucker exposure to collegiate programs looking to replenish their rosters each year. With just 9.5 scholarships to fill 10 collegiate weight divisions, though, the competition for a full ride is often more difficult than facing a nationally-ranked opponent.
Tucker has dreamed of wrestling for Oklahoma, his longtime favorite college, but he understands that program fit and depth in weight class take a front seat to simple love of a program. While bigger sports like football afford more scholarship opportunities to top recruits, wrestlers are often faced with fewer choices. Fortunately for Tucker, there are a good deal of options for him to determine the best fit.
"I have been talking to lots of schools and took an official visit to North Dakota State," he said of the recruiting process. "My dream school is Oklahoma, but I will be looking at a lot of programs (including Michigan State, Virginia Tech, and Arizona State) and taking some more trips."
College will have to wait for Tucker while he makes a final run at the league, division, section, and state levels of competition. Bella Vista has won three Capital Athletic League titles in Tucker's first three seasons at the school, and a fourth league crown is expected for the Broncos.
With Tucker and teammate Victor Trujillo (126 pounds) both ranked in the top two in their respective weight classes, the Broncos were ranked the No. 9 team in California in the preseason. Lee hopes that up to five wrestlers on the team can qualify for the state tournament to give the program a shot at a top 10 or 15 team finish in Bakersfield.
"If I have my best team and we are healthy, then we are hard to beat," Lee said of his team's prospects at the section and state levels. "If the team mentally believes in themselves, then we can go far."
Tucker is obviously the Broncos' No. 1 wrestler and, according to Lee, ranks among the best that the program has ever had. Past Bronco greats include state champions Ken Gaudreau, Tony Kitchen, Mark Loomis, Lynn Mason, Tracy Yeates, and California's first three-time state champion David Lee.
"I think that Shayne is every bit as good as (the program's past greats)," the coach said. "In terms of past greatness in the program, he stands right with them."
Tucker's greatness is a product of exceptional athleticism and technical wrestling ability. Lee says that his current star is strong in all positions—top, bottom, and neutral—and opponents have to be at their very best to beat Tucker.
"Shayne does not lose matches," Lee said. "He thinks well on the mat and stays calm throughout every match. He never loses his composure or focus."
Shayne attributes his athleticism and success to his father, Mark, who is an assistant coach at Bella Vista and has been Shayne's coach, mentor, and role model since his youth. 
It was Mark, a former baseball star at San Juan High School, who inherited the Junior Broncos Wrestling Club and built it into the California Extreme Wrestling Club that feeds the Bella Vista program today. Upon finding out that he was taking over the club, Mark Tucker bought a 13-volume set of VHS tapes to learn the Granby System to teach and coach wrestling to his sons, nephews, and other interested local athletes.
The elder Tucker, who has been the Lead Pastor at the New Life Community Church in Fair Oaks for 20 years, would take his boys to tournaments throughout California and beyond to give them the chance to compete and learn against top youth programs.
"We would load them up and leave on Friday right after school and drive all evening and night to Oregon," he said. "The kids would wrestle in the tournament all day Saturday, and we would head home so that I could get up early Sunday after a few hours of sleep and get to church on time."
That family connection with wrestling grew and lived on through Shayne and his brothers and cousins. As a sophomore, Shayne's Bella Vista teammates included older brother Colton and cousins Grant and Landon Burkhalter, who were all seniors in 2010-11.
Relatives still follow Shayne in his wrestling pursuits as Tucker had a large cheering section at last year's state final inside Rabobank Arena in Bakersfield. And, as the stakes get higher, Mark Tucker expects that the size of the Tucker crew at state will also grow.
"We expect an even bigger contingent this year," he said of Shayne's cheering section at state. "The family and friends want to see Shayne in his last shot to get a state title."
A state championship would be a first for the Tucker family, so Shayne is excited to have the opportunity to share the experience under the spotlight in the middle of the arena with close relatives and friends.
"All eyes are on you and it feels almost like you are in slow motion," Shayne said of the state finals setup. "It is great how they do the finals. It makes it real special."
And nothing would be more special to Tucker than to earn a state championship medal at the end of the long road.