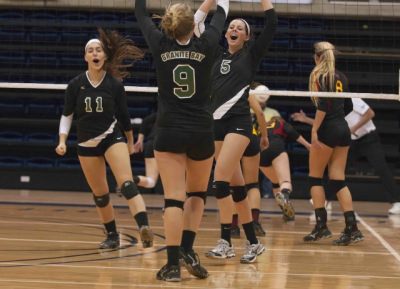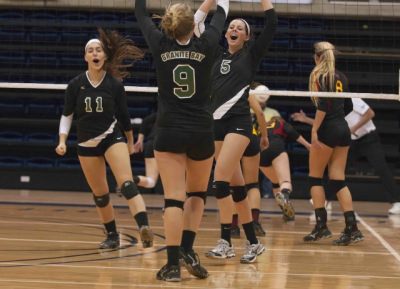 With a 45-0 record, Granite Bay stated a case as one the state's most dominant teams ever. It would be difficult to call it...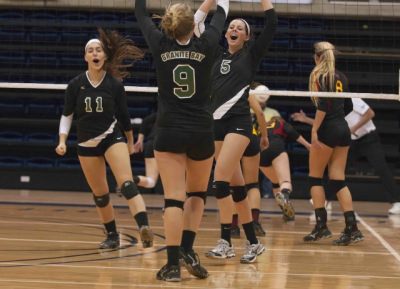 With a 45-0 record, Granite Bay stated a case as one the state's most dominant teams ever.
It would be difficult to call it a surprise. There was a feeling in early August that something special was brewing in the Granite Bay girls volleyball program.
The Grizzlies returned a bulk of the team that finished second to St. Francis-Sacramento in the Sac-Joaquin Section and California Interscholastic Federation Northern Regional Division I finals.
With the return of a trio of super seniors in Taylor Nelson, Maddy Deters and Nicolette Pinkney, the anticipation was building. So was the target on the team.
Above the Hype
"They know and we don't have to remind them," Granite Bay first-year coach Tricia Plummer said before the season began. "We've told them that every team wants to be the team to beat Granite Bay. I think we've been hyped a lot and they are excited about that. But they know they have to work hard to ensure they keep it up."
It all started with a SJS Foundation Game exhibition victory over St. Francis on Sept. 3. The Grizzlies were 0-3 in 2012 against the Troubadours and Nelson said that was the moment she knew this team was something special.
_______________________________
CONNECT WITH US:
Follow SportStars on Twitter & Instagram | Like us on Facebook | Subscribe!
_______________________________
  "That was a make-or-break game for us," Nelson said. "Ending last season with a loss to St. Francis and then getting to play them the first game of the season was a great way to start and see where we were.
"We knew how much potential we had and how great the season could be."
Granite Bay avenged the losses to St. Francis three more times, including sweeps in the section and NorCal finals, advancing to the state championship for the first time in program history.
The Grizzlies took another step towards realizing its special potential on Oct. 15 in Stockton. In the Stockton Classic final, Granite Bay defeated national-power Archbishop Mitty-San Jose. That same Mitty team won the Div. II state title on Dec. 7, one hour before Granite Bay took the court to battle Los Alamitos in the Div. I state championship.
For Deters, who along with Nelson, is a four-year varsity player for Granite Bay, the idea that this team could be special didn't come until the days leading up to the CIF State Championship match at Santiago Canyon College in Orange.
"I knew that we had a strong team and I knew we could do anything," Deters said. "But I wasn't sure until after we beat St. Francis in the (NorCal) finals. Once we were in (Orange) and having a good time as a team, I knew that we would win state. I knew it right then."
Granite Bay Grizzlies Volleyball Above the Hype
The Grizzlies came into the finals with a 44-0 record and had dropped just five of 115 sets played this season.
Against Los Alamitos and Washington-bound outside hitter Crissy Jones, the Grizzlies got off to a 25-22 start in the first set. But playing just 22 miles from their own campus, the Griffins were bolstered by a pro-Los Alamitos crowd that rattled the Grizzlies for the first time all season. The Griffins tied the match with a commanding 25-14 second set.
"We were nervous in that second game, being on their side with all of their fans," Deters said. "But we knew we had to focus."
The Grizzlies regrouped behind the big three and stormed back with straight set wins in the final two frames to beat Los Alamitos 3-1.
"It still hasn't sunk in. That moment after the last play was one of the greatest feelings ever," Deters said. "I am so glad we ended it like this."
Added Pinkney: "It means so much to me. This whole journey has been amazing. We all put our heart and soul into this match."
Nelson had a game-high 44 assists in the finals. Her precision passing and deceptive strength at the net (192 kills this season), along with her 3.92 GPA and work within the community were recognized as she was honored with the Gatorade California Volleyball Player of the Year award on Dec. 12.
A week later, Nelson was named The Sacramento Bee Player of the Year.
"I am really proud of her," Granite Bay coach Tricia Plummer said. "She has worked hard. It's nice to see this recognition when you put your heart and your soul into the sport."
Nelson will graduate early and enroll at Cal Poly on Jan. 5. The family heritage in San Luis Obispo goes back to her parents. Her father, Rick, was a baseball player for the Mustangs. Her mother, Vera, was a standout volleyball player and is currently the women's volleyball coach at Sierra College in nearby Rocklin.
"It's been amazing,"
Vera Nelson said. "It's great to see all of her hard work pay off. She's put in and the things she's sacrificed to get here is an inspiration to others. Cal Poly is really lucky to have her."
The 45 wins are the most in state history for an undefeated season according to Cal-Hi Sports. Only 10 other teams have finished with a perfect record, giving this Granite Bay squad great reason to make an argument as the best team to come out of Sacramento and possibly the greatest season in state history.
Plummer said she realized something was building at a point late in the season when she noticed the Grizzlies were on a streak of 67 consecutive set wins.
"I didn't know how to lose with these girls," Plummer said. "I think it means more to me that they got what they were looking for. I'm just so happy."
By TREVOR HORN | Contributor