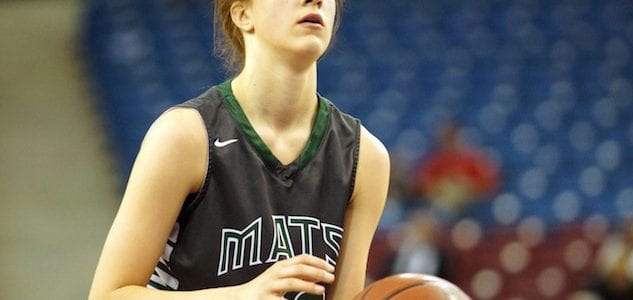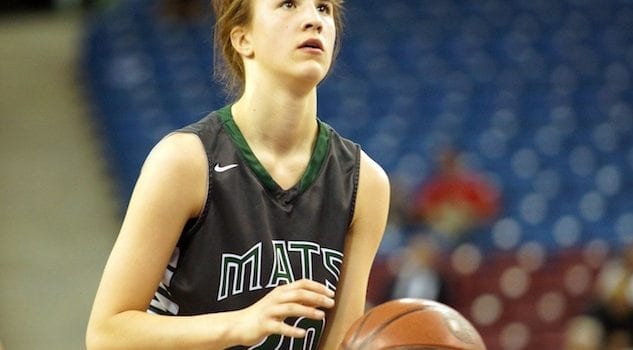 Miramonte's Sabrina Ionescu Wore A Team USA Jersey Once Again This Summer, Adding To An Already Stacked Resume • This story was originally published...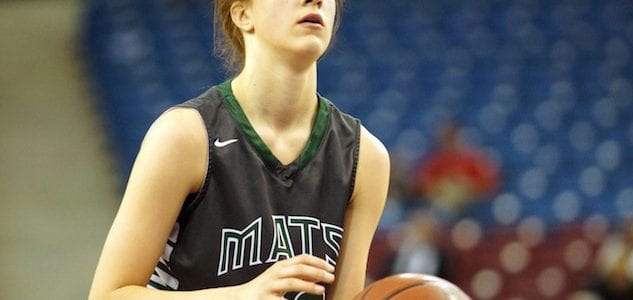 Miramonte's Sabrina Ionescu Wore A Team USA Jersey Once Again This Summer, Adding To An Already Stacked Resume •
This story was originally published in July 2014.
Blinded by the light of professional sports – and of course, the money on the men's side – it's easy to overlook USA Basketball.
Of course, it's considered an honor, but what does it really mean to make a USA Basketball team? After all, the games are played in the summer, and are drowned out by everything from Wimbledon to the World Cup. And the big events, the age group world championships, are usually played far away and are pretty much ignored by the media and the casual fan.
But stop a minute and consider the USA Basketball Under-17 team — featuring Miramonte's Sabrina Ionescu — who has been playing in the Czech Republic for the past two weeks.
Unlike men's basketball, the biggest dates on the women's basketball calendars are international competitions. The Olympics and the World Championships are the most important events on the planet, and the players know this.
The USA Basketball U-17 team draws from younger players, and there are a whole lot of them around the country. There are a whole lot of them at the End of the Trail in Oregon this week, and at tournaments in Northern California every summer weekend.
_______________________________
STAY CONNECTED:
Follow SportStars on Twitter & Instagram| Like us on Facebook | Subscribe!
_______________________________
Ionescu, though, will not be in Oregon with the Cal Stars, her local club team. She will not be playing in L.A., or even Las Vegas. She's otherwise occupied. As one of the 12 best 16- and 17-year-old female basketball players in the United States, she's playing for a world title in Pilsen in the Czech Republic.
Ionescu lives in Walnut Creek and goes to high school at Miramonte-Orinada. Those who pay close attention to girls' basketball know who she is, but up until now, she's played in the shadow of Gabby Green, Mikayla Cowling, Mariya Moore, Kelli Hayes and Natalie Romeo on the local scene. When top players are mentioned, the 5-foor-11 Ionescu, who will be a junior this year, has been an afterthought.
But of the players mentioned above, only Green has represented her country overseas, and Green didn't make the cut on her first trip to Colorado Springs, where tryouts for USA Basketball are held.
Ionescu did. For its female youth teams, USA Basketball holds open tryouts. About 35 players are invited, and they are the presumptive favorites to make the final 12-person roster. The other hundred or so who pay a small fee and make the trip (on their own dime) are there for the experience, mostly, and to be able to say they played with Katie Lou Samuelson or Asia Durr or the other acknowledged young stars.
"My coach told me to go," says Ionescu, "so I went. I didn't know anything going in, or what to expect, so I just played."
As observers watched over the four-day process in 2013, Ionescu emerged from the pack. The selection committee cuts players, from 145 to 90, from 90 to 40, from 40 to 12. At the end of last year's tryouts, Ionescu was on the team instead of many more highly touted girls. Those 12 players headed to Cancun, where they rolled over competition from this hemisphere and qualified for this year's World Championships.
But USA Basketball is about competition, and just because a particular group of 12 girls got America to the World Championships doesn't mean that same 12 get to play in the World Championships. So this May, there was another round of open tryouts.
Naturally, Ionescu was one of the select invitees, but this time, even though she played well, she didn't make the final cut. Te'a Cooper, who had been a very surprising cut in 2013, came back determined to make the top 12 this year, and did so. Kennedy Burke, a Southern California player, came out of nowhere to claim as spot as well.
There was some consolation, though, as Ionescu was named an alternate. "We always have replacement players in mind," explains Carol Callan, USA Basketball's Women's National Team Director, "and this year we had an injury on the last day of practice, so we brought in Sabrina."
"It was awesome that USA Basketball brought Sabrina in," says U-17 coach Sue Phillips, who is familiar to NorCal fans as the hugely successful coach at Archbishop Mitty-San Jose – especially since Cooper became ill at the last minute at training camp and couldn't go to the Czech Republic.
In fact, Ionescu had her plane tickets in hand, and was packing to go home when she got word that Cooper wouldn't be able to play. "It was very much a surprise," says Ionescu, who now will go to Europe for the first time ever – a trip that means even more to her given her parents' roots in Romania.
Last year, Ionescu started every game, but in the practice games for the World Championships, she's come off the bench. "What makes Sabrina valuable is her consistency, her ability to make reads, and her ability to knock down shots," says Phillips. "She brings tremendous energy and intensity, she attacks the rim aggressively, finds the open player, hits the open three and defends effectively in the open court."
All of that, of course, is not news to those who have seen her play with the Cal Stars or Miramonte. The Cal Stars lost in the finals of the most prestigious club tournament last year (the Nike Nationals), and Miramonte went 30-2 last year before losing to Mariya Moore and Salesian in the NorCal Open Division playoffs. On a team with five seniors, Ionescu was the star, but she knows her role will change this coming season, just as it already has this summer with the Cal Stars. "I need to do more," she says. "I have to take on more of a leadership role" – which isn't that easy for a person who doesn't usually talk a lot.
"We need leadership," says Kelly Sopak, her coach at Miramonte. "Can Sabrina step on the floor and make everyone better without making a shot or making a pass? Mariya Moore made kids better just by being there, just by her presence, and we need that from Sabrina.
"She doesn't like to lose, and she hasn't lost a lot."
Sopak doesn't expect a 30-2 record, and Ionescu will be tested if the Matadors stumble, as the pressure will be on her, and the expectations will be high.
"Will she be able to pick herself and her teammates up off the mat and play well?"
Of course, that's asking a lot, as Ionescu will be expected to score, rebound, hand out assists and defend at the highest level. But remember, there are only 12 girls in the entire country who went to the Czech Republic, and Ionescu was one of them. She's a special talent, an elite player, and on track for more media-friendly honors such as the McDonald's All-American Game and national recognition.
And barring the unexpected, she's also on track to be one of the best players to ever come out of Northern California.
VIDEO BY Pass Tha Ball