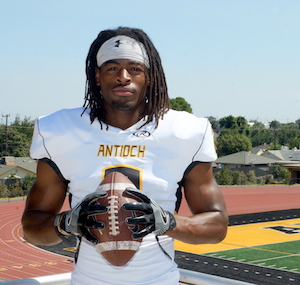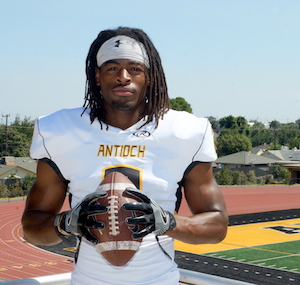 No amount of hype or defensive players could slow Antioch's Najee Harris In the aftermath of potentially the best football game played between two...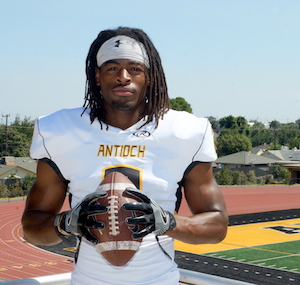 No amount of hype or defensive players could slow Antioch's Najee Harris
In the aftermath of potentially the best football game played between two East Bay high schools in all of 2015, Foothill-Pleasanton coach Matt Sweeney spoke to reporters following his team's 55-54 North Coast Section Division I semifinal victory over host Antioch.
Sweeney's Falcons were victorious due in large part because they were able to stop Antioch star running back Najee Harris just inches from the goal line on a two-point conversion attempt with 1:03 left to play.
It was about the only thing the University of Alabama-commit was unable to accomplish that night while rushing for 390 yards, six touchdowns and a pair of two-point runs.
In his postgame comments, Sweeney may have best summed up Najee Harris' 2015 season in two simple sentences.
"The thing I like most about him is that he's 100 percent committed to Antioch football," Sweeney said in obvious admiration.
"Players like him can get caught up looking ahead to bigger things, but he's giving every ounce of his effort to this team, and I think that's awesome."
And what happens when the nation's No. 1-ranked junior running back pours every ounce of his talent and effort into his football team?
A lot of really good things. He rushed for 2,744 yards, 36 touchdowns and 33 two-point conversions as he helped lead a long-since-dominant program back to glory.
Antioch would win its first league title since 1984 and complete its first undefeated regular season sine 1977.
It was a season to solidify all the hype and was deserving of the many postseason accolades, which included Cal-Hi Sports' Mr. State Football, San Francisco Chronicle Metro Player of the Year and the SportStars NorCal Player of the Year.
"I can't imagine coaching against this kid," Antioch coach John Lucido said after a 54-14 win over Rancho Cotate-Rohnert Park in mid-September.
It was a game which Harris rushed for 224 yards — in just one and a half quarters.  "You spend all week trying to stop him, and sometimes you have him and then he breaks a few tackles and does his thing. It's got to be frustrating."
Sweeney's quote rings particularly true in describing Harris' selfless nature — an attribute as equally impressive as his skill of breaking tackles.
Harris is quiet, unassuming and deflects praise — often to heap it upon others.
After racking up 224 yards in the first 18 minutes of the Rancho Cotate game, Harris was more than happy to take a backseat while his teammates tacked on to the large lead.
"That's what I like most," Harris said that night immediately after signing a young admirer's jersey.
"I always tell myself that I'm trying to give it all I've got until the second half, so I don't have to play the rest. So other people behind me get to play. I like it when I'm out. Other people probably don't, but I like it when I'm out because I get to rest for the next game and the other players behind me get a change to prove themselves."
That attitude paid major dividends as Antioch had several big playmakers by the end of the season, and were every bit Foothill's equal in the playoff showdown. Now Harris and the non-seniors from the 2015 Panthers will have eight months to grind, thinking about falling one-inch short of a trip to the NCS championship game.
What will 100 percent of Najee Harris look like for Antioch in 2016? There's a lot of East Bay coaches who don't want to find out.