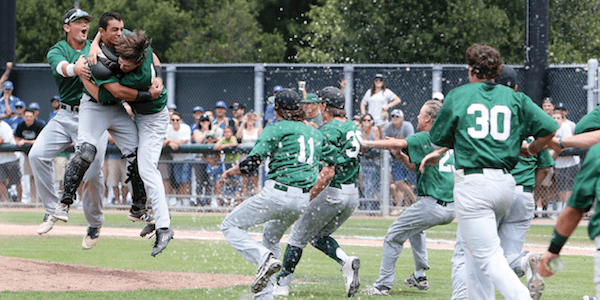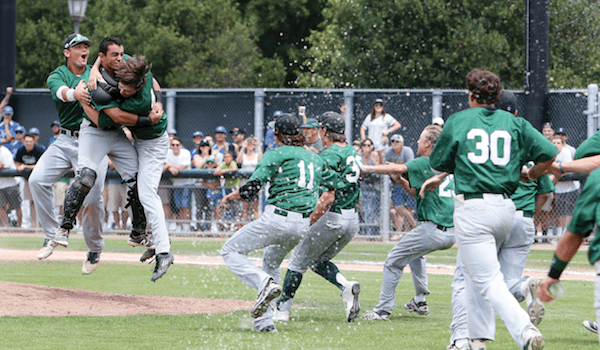 Sorting Out NorCal Best Baseball League De La Salle high school baseball team charges the mound to celebrate its 2016 North Coast Section Div....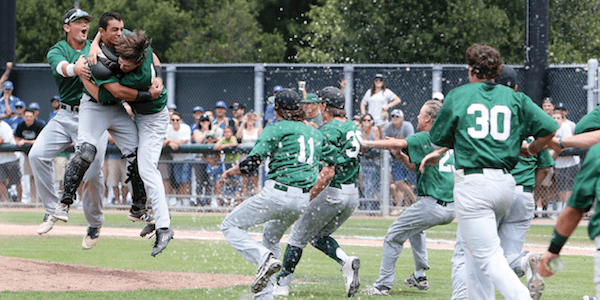 Sorting Out NorCal Best Baseball League
De La Salle high school baseball team charges the mound to celebrate its 2016 North Coast Section Div. I title. The East Bay Athletic League has won five of the seven Div. I title since 2010.
The EBAL also claimed the 2016 Div II title thank to Livermore. Dennis Lee photo.
What is the best league is always a fun debate in any sport for any area of the state, so what about baseball for Northern California?
Assuming we're talking about Northern California as primarily the Central Coast Section, North Coast Section and Sac-Joaquin and not the Central Section. The prime candidates usually would be the West Catholic Athletic League of the CCS, the East Bay Athletic League of the NCS and the Delta League of the SJS.
All three of those have multiple schools that have won section titles in recent years, have multiple schools that have finished very high in the state rankings and have multiple schools which have had players named all-state first team and/or taken high in the MLB Draft.
It's also hard to believe but in most seasons teams from those three leagues have tended to play each other in nonleague games or in tournaments.
De La Salle of the EBAL
Examples include De La Salle of the EBAL playing Bellarmine and Serra of the WCAL. As well as Jesuit and Elk Grove of the Delta by April 1. While the Spartans won all of those games. That doesn't mean anyone can argue with certainty which league is the best.
As with many of these best league debates, it's often simply a year-to-year comparison of who beat who. And then you have to wait to see which teams get hot at the end in section playoffs.
If it looks like the Delta League might be the best in one year.
For example, none of that means anything if the Delta teams in the SJS all get upset in the playoffs.
Domination Factor To Consider
There's also a length of domination factor to consider. Which is where the WCAL starts to put distance from the other two. If you were to frame the question as to which league is the best this season, then it's a matter of looking at results.
If you say which league is the best considering this season and back 20 years, 30 years, even 50 or 60 years. Then it's no contest. The WCAL, in fact, probably can claim to be the best league in the nation for baseball all-time. It's clearly the best in California all-time.
The WCAL just happens to include several schools not just that have been strong for the past 30 or 40 years.
But, a few that have great baseball traditions that stretch more than 100 years into the past. Especially, with Sacred Heart Cathedral (formerly just Sacred Heart) of San Francisco.
The Irish have two MLB Hall of Famers among their alumni. Also, those two are outfielder Harry Heilmann and shortstop Joe Cronin, who were MLB stars in the early 20th century.
In more recent years, the WCAL has had some of the winningest coaches in Northern California history. Which, when you think about it is hard to do since they had to play each other two or three times every year.
That list includes Bill Hutton of Archbishop Mitty, Chris Bradford of St. Francis (who has come out of retirement in a pinch to coach this year's team), Gary Cunningham of Bellarmine and John Diatte of Valley Christian.
All-Time Lineup
Of course, an all-time lineup of best players who have ever been in the WCAL. Also, it is tough for any league anywhere to beat.
That list includes Barry Bonds, Jim Fregosi and Gregg Jefferies of Serra, Pat Burrell, Mark Canha and Kevin Frandsen of Bellarmine, Eric Byrnes, Daniel Descalso and Daniel Nava of St. Francis, Chris Codiroli and Mitch Haniger of Archbishop Mitty, Charlie Silvera of St. Ignatius and others from Sacred Heart like Jim Gentile and Frank Bertaina.
The EBAL now has a Hall of Famer as well in pitcher Randy Johnson of Livermore. Plus, there's been more recent emerging MLB stars like Brandon Crawford of Foothill and Stephen Piscotty of Amador Valley.
Jesuit's best MLB player of recent years has been pitcher J.P. Howell, but some of Elk Grove's best could still be coming up. Including 2014 and 2017 first-round MLB draft picks Derek Hill and Dylan Carlson.
All three are great leagues. But, as a history buff, if you had to pick one, count me as a vote for the WCAL.
Mark Tennis is the co-founder of Cal-Hi Sports, and publisher of CalHiSports.com.
Contact him at markjtennis@gmail.com and follow him on Twitter, @CalHiSports.