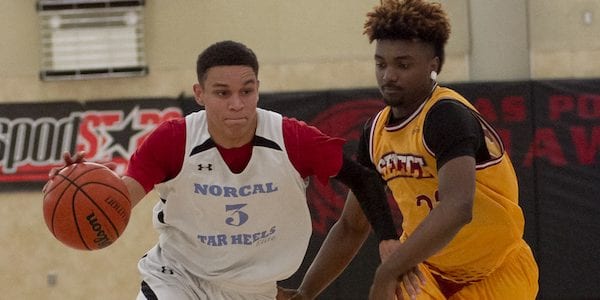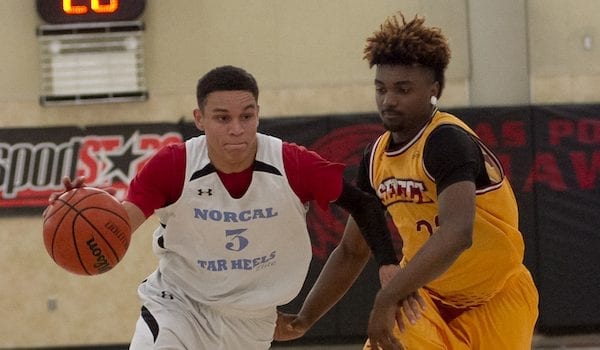 NorCal Tar Heels AAU Program Closes First Season With Statement Win At New Showcase Event • Story by MIKE WOOD | Photos BERRY EVANS...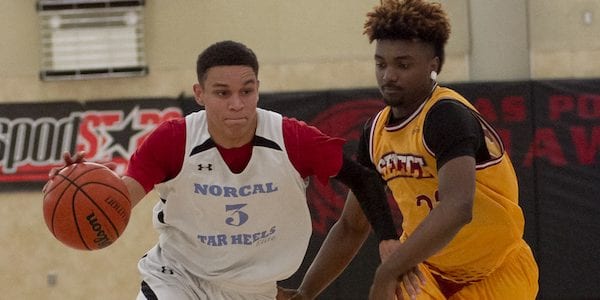 NorCal Tar Heels AAU Program Closes First Season With Statement Win At New Showcase Event •
Story by MIKE WOOD | Photos BERRY EVANS III
Success doesn't often come easily for a fledgling basketball team. But the startup NorCal Tar Heels AAU program already is getting some.
At the NorCal Sports TV End of Summer AAU Head 2 Head Showcase, the Tar Heels under-16 team shined in the spotlight. On Aug. 5, day one of the two-day event, they defeated the Oakland Soldiers 86-69 at Las Positas College in Livermore. 
The program, comprised of athletes from the Stockton and Lodi area, is just five months old. And what makes it more impressive is how they handled the Soldiers.
Yes, the Soldiers program that once counted a young LeBron James as a member. And Leon Powe and Kendrick Perkins as well. It's a long list, quite lopsided in comparison to the Tar Heels' very brief history. But the NorCal team may be on its way to starting a strong reputation of its own.
"This was important, coming out here and performing like we did, because it let us know where we sit as a program," said coach and founder of the program Anthony Bell.
In a similar vein, this summer event was a starting point as well. NorCalSportsTV also initiated its All-Star Games at Las Positas in April and the NorCal Asian-American All-Star Games at Cal State East Bay in Hayward in June. The organization aims to make the late-summer showcase a staple as well.
NorCal Sports TV CEO Dion Aye said he saw a chance to let AAU teams take a local bow before school resumes. Typically the AAU season ends with a flurry of tournaments in Las Vegas.
With the End of Summer Showcase, he wanted to give the focus to one game at a time.
"We wanted a regulation-style feel; one game goes on at a time," Aye said. "And the players get media experience with post-game interviews and press conferences."
The aim was to depart from what Aye had noticed in the past when he was live-streaming tournament games.
"I noticed it wasn't very fan-friendly; lots of games were going on in the same place. It was difficult to live-stream," he said. "We wanted to get something together where the community could know when and where a certain team was playing."
This inaugural event also included 16-U teams Team Select (mainly from East Contra Costa County), Berkeley Bears, Stanco Stampede (Modesto area), 17-U teams YBA (from Sacramento to Fresno), Seaside's Finest, Team Superstar Green (from central Contra Costa county), Stanco Stampede, Team Rampage (Vallejo), 15-U teams Bay Area Mambas (from Berkeley to Modesto), Oakland Soldiers, Splash City (mainly San Francisco) and Team Xover (Alameda and San Leandro), and girls 17-U teams Oakland Soldiers and East Bay Xplosion.
Citing a lack of club basketball opportunities in the Stockton area, Bell put together a team of players from Lincoln, Edison, St. Mary's, Weston Ranch and Brookside Christian in Stockton and Lodi High. He said the program is going to expand to age groups as young as 8-and-under.
Though the Tar Heels led early against the Soldiers, the high-flying athleticism of the Soldiers was on display in the second quarter, and the Tar Heels trailed 45-36 at halftime.
"I was a little worried because we were missing four players," said Bell, who is also the coach at Brookside Christian. "But we rallied with the eight players we had."
The Soldiers also were without players, including Salesian standout twins Jovon and Jadan McClanahan. And after the Sacramento Magic cancelled at the last minute due to a lack of available players, the Soldiers admirably agreed to play in a second game immediately after their game with the Tarheels.
Thanks to the steady play led by SportStars Player of the Game Jaylin Reed from Lodi, the Tar Heels took control. Reed finished with 30 points, four steals and five rebounds, and Ezekiel Holman with 22 points and seven rebounds. The Soldiers were paced by El Cerrito's Kamari Smith with 24 points and seven rebounds.
"I think we played aggressive," said Reed, who will be a junior at Lodi High this fall. "We just kept it up through the whole game, even when they made their little runs. We fought through it."
In an earlier game in 17-U action, YBA took a 77-65 win over Seaside. Adam Orr of Ponderosa-Shingle Springs (28 points, including six 3-pointers) and Kai Huntsberry of Placer-Auburn (19 points, 11-of-15 free throws) shared Player of the Game honors.
"My teammates got me some open shots so that made it easy," said Orr, who is in his fifth year with YBA (Youth Basketball Academy).
Huntsberry experienced an unexpected taste of life in the Bay Area: getting caught in traffic. Arriving at the end of the first quarter, he still contributed heavily to the win. YBA could ill afford to be any more short-handed, with just six playing on Saturday.
"When I got here, we were down, and it looked like we didn't have enough energy," Huntsberry said. "Our teammate, Blake (Greeslee, of East Union-Manteca) did a real good job of picking the energy up and hustling, and we all just picked up on it."
Showcase games are being streamed at www.norcalsportstv.com.