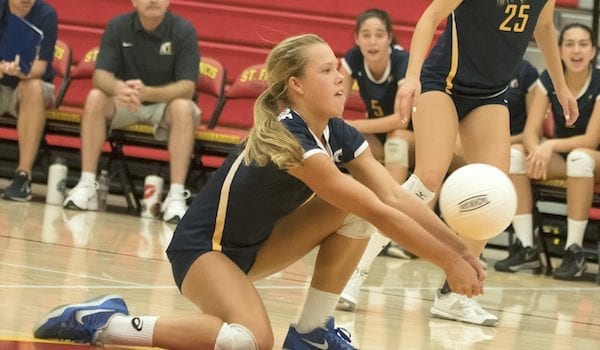 With A Talented Back Row, Oak Ridge Takes A Defense-Wins-Championship Approach • Story By IKE DODSON | Photos By JAMES K. LEASH Madison Shields...
With A Talented Back Row, Oak Ridge Takes A Defense-Wins-Championship Approach •
Story By IKE DODSON | Photos By JAMES K. LEASH
Madison Shields could dig her way to China.
The savvy senior libero on the Oak Ridge High-El Dorado Hills 
volleyball team is one of the top defensive specialists in the Sac-Joaquin Section and was a big reason why the Trojans went 37-9 a year ago.
In 2016, her heroic digs in the back row lifted Oak Ridge to an undefeated Sierra Foothill League championship, a semifinal appearance in the SJS Division I playoffs and 3-1 push through the California Interscholastic Federation Div. 1 State Volleyball Championships.
"Madison reads the game better than any player I have ever coached," Oak Ridge coach Patrick Sanders said. "There are times in practice when coaches are hitting balls and we think we have her fooled, but she goes and still digs balls that no one else in the gym could ever get close to.
"With her, everything seems to wind up in the air."
Shields, 5 feet, 5 inches a year ago, grew 2 inches in the offseason and will take a volleyball scholarship to Pepperdine University next fall.
"If she were 6 inches taller, she would be an All-American athlete," Sanders said. "She has incredible work ethic and plays unbelievable defense. "
The Trojans were NorCal Div. I runner-ups behind Menlo-Atherton last year, ending seventh in the SportStars NorCal Top 20 and 28th in the CalHiSports.com state rankings.
This is a new-look squad in 2017.
The team graduated SFL co-MVP Kassie McGill and fellow all-leaguers Jenna Miller and Cam Collie. McGill is now a right-side hitter for UC Riverside while Miller sets for Sonoma State. Collie is already No. 3 in kills for Hawaii Pacific after eight collegiate matches.
The three were enormous leaders on one of the deepest rosters in school history, a squad that enjoyed its best season since 2008 (41-4). Overall, Oak Ridge is 371-127 since 2004.
"We had 17 girls on our varsity team last year, which is a huge number," Sanders said. "Many of our starters this year gained some valuable experience last year playing behind Kassie, Jenna and Cam.
"While we haven't quite settled on a particular lineup yet, we expect contributions from all 13 girls but, in particular, our seniors."
The seniors: Shields, Emily Gillingham (outside hitter), Grace Wegmann (setter), Madison Hurst (opposite hitter), Maddie LaMont (outside hitter) and Emily Fagundes (defensive specialist).
Gillingham was a fellow all-league pick and, along with Shields, represents the bulk of Oak Ridge's experience on the varsity court. The two have enjoyed a 72-12 campaign for Sanders.
"After graduating eight seniors, it's important to maintain some continuity," Sanders said. "(Shields and Gillingham) have been contributing members of our varsity team the last two years and have experienced tremendous success in our program.
"It's their turn to be senior leaders and set the tone for practice. Their work ethic and expectations of others will be a big factor in our success this year."
This won't be an all-senior showcase. Hitter Gracie Rowland, a star of the Northern California Volleyball Club, will make a big impact at some point this season. The three-year varsity junior was the only freshman on Sanders' 2015 varsity squad and made major contributions to last year's run deep into the state playoffs.
She was listed among 20 "Names 2 Watch" in the first SportStars edition of the fall, but rolled her ankle in the Trojans' season-opening loss to fellow NorCal runner-up, St. Francis-Sacramento, Aug. 30. The Troubadours are positioned atop SJS power rankings this season.
"(Rowland) is working her way back from injury," Sanders said. "We expect big things from her as she continues to grow and refine her game.
"Whether she plays outside hitter or opposite for us, we expect her to be a force offensively."
While Rowland, Gillingham, Hurst and LaMont hunt for kills at the edge, and lanky blockers Tate Duane and Natalia Andrus patrol the net, the brawn of Oak Ridge's lineup will come from the back row.
"While we're not the most physically imposing team, we definitely pride ourselves on defense," Sanders said. "We definitely play our best when we're serving tough and winning the serve/receive game within the game.
"I hope our defense continues to improve and become something we're known for. Nobody likes to play teams that dig everything and make it difficult to get kills."
Sanders trusts that the offense responsible for just 56 points against St. Francis will get rolling as the season progresses. It hasn't been a problem in recent history. The Trojans have won 191 of their last 234 sets.
"Offensively, we continue to grow as many of the girls haven't played much together," Sanders said. "As our setters and hitters become more comfortable with each other, I expect to see continued improvement in this area."
Sanders was the SFL Coach of the Year in 2016. The Trojans lost only five sets on an undefeated run against section stalwarts like Del Oro-Loomis, Rocklin and Granite Bay. The SFL's big four, including Oak Ridge, won 106 matches last year.
All four teams reached the state playoffs last year and Granite Bay and Rocklin played each other in the Div. II section championships in 2015. Granite Bay is just four years removed from a state championship season that landed the Grizzlies third on MaxPreps Xcellent 25 national rankings.
"The SFL is one of the toughest leagues in the section, if not the toughest, on an annual basis," Sanders said. "I'd expect this year to continue that tradition."
Rocklin, Granite Bay and Del Oro return three starters apiece from 2016.
"While we've had some success in the SFL the last few years, the league title always seems to go through Rocklin," Sanders said.
"Coach Dave Muscarella does a fantastic job with his girls there. While he wouldn't say it, they've been first or second in league every year for the last 13 years.
"I've heard that Granite Bay and Del Oro both have amazing teams as well."
The Trojans host elite state talent Sept. 30 at the Christine Craft Memorial Varsity Tourney, and wrap up the first half of SFL play Oct. 2 against visiting Rocklin.
By then, coach Sanders hopes his offense will catch up with his hard-digging defense, even if it's in China.
"We're excited about this group of girls and hope this season will be a positive memory for them for years to come," Sanders said. "They're a great group and a ton of fun to coach."