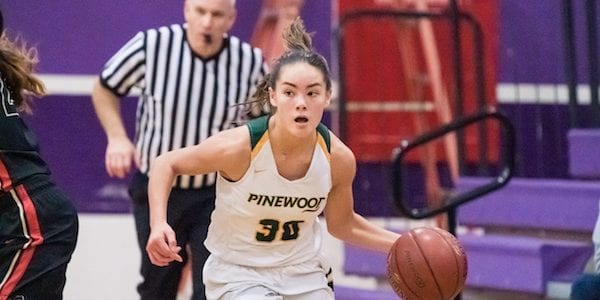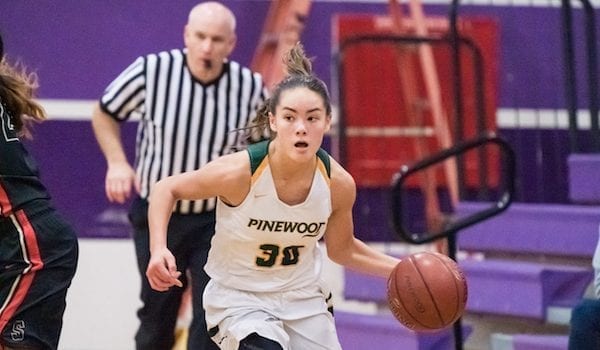 With Its Usual Shooting Prowess, Underrated Defense And An Excess Of Confidence, Pinewood Girls Basketball Cruised To A West Coast Jamboree Platinum Title •...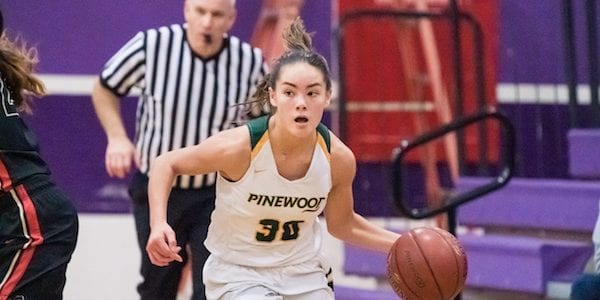 With Its Usual Shooting Prowess, Underrated Defense And An Excess Of Confidence, Pinewood Girls Basketball Cruised To A West Coast Jamboree Platinum Title •
Doc Scheppler is in his 24th season coaching the Pinewood High girls basketball program.
His Panthers teams have won a staggering six state titles during that stretch. But none of the girls on the 2018-19 team — a handful which have played for Scheppler since their freshman seasons — have hoisted a state title plaque.
But they've watched other teams do so — as recently as last March. Pinewood reached its first CIF Open Division final but watched Windward-L.A. celebrate after a 58-47 loss at Golden 1 Center in Sacramento.
Now, fueled by that memory and a desire to cement their part in Panthers lore, seniors Hannah Jump, Klara Astrom and Kaitlyn Leung are leading a team on a mission.
Heading into the second week of January, this Panthers team had already broken new ground for the immensely successful program. Pinewood occupied the top spot in the Cal-Hi Sports state basketball rankings for the first time. Right below them at No. 2? Who else, Windward.
The Panthers took a 12-0 record into a Jan. 9 nonleague showdown with state-No. 9 Carondelet-Concord. And while the Panthers may have to wait to see if they can enact revenge over Windward in March, the team's 10th win of the season (and final win of 2018) brought some vengeance of its own.
Salesian-Richmond was one of just two NorCal teams to get the best of Pinewood last season. The Pride edged the Panthers 53-51 on their home floor in early December of 2017. Fifty-four weeks later the teams met again in the Platinum Division championship of the West Coast Jamboree at College Park High in Pleasant Hill.
The Panthers were coming off back-to-back victories in which they allowed a mere 64 total points to their opponents. On the offensive end, they averaged more than 61 points in wins over Alemany-Mission Hills and Sacramento High.
While an offensive clinic got them to the championship, Pinewood had to rely on its defense to bring home the trophy. Salesian is another Top 10 state-ranked team, built around 6-foot-5, USC-bound center Angel Jackson. The Pride thrives on holding opponents well below their normal offensive outputs. Opponents average less than 45 points per game against Salesian.
The Panthers used a 2-3 zone in attempt to slow down Jackson. The pace would favor Salesian as a defensive battle led to the Panthers claiming just a 20-19 halftime advantage.
But Pinewood just needed to find a little of its swagger.
"I want my team to know they are great," Scheppler said. "Its OK to show some swag sometimes and know how good you are."
The Stanford-bound Jump, Pinewood's top recruit, struggled with her outside shot on her way to just six points. However, Leung and sophomore Annika Decker combined for 25 points. Decker finished with 13 points, four rebounds and four assists and the Panthers held off Salesian for a 47-37 victory.
"We never gave up," Decker said after the win. "We knew our shots would fall eventually, and we just couldn't get too down on ourselves and had to rely on our defense."
Jump did finish with team-high six rebounds and was honored with the Platinum Division's Scoop Jackson MVP Award. Leung added four steals to her 12 points.
"People assume that we are an offensive team because of our 3-point abilities, but basketball people know our defense is solid," Scheppler said.
High intensity games are nothing new to this group. Despite a perfect record through its first 12 games, Scheppler knows there is still room for improvement. 
"The girls and I know that we are never going to be the biggest team on the court," the coach said. "But the girls know that size is not an excuse for getting out-hustled."
He acknowledges that length and height are an advantage in the game of basketball, but wants his teams to know skill, effort and playing with synergy wins games.
Also, confidence. And that little bit of swagger.