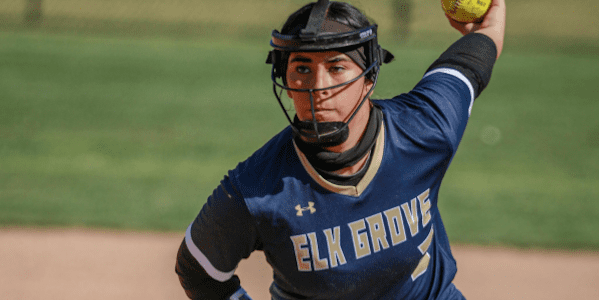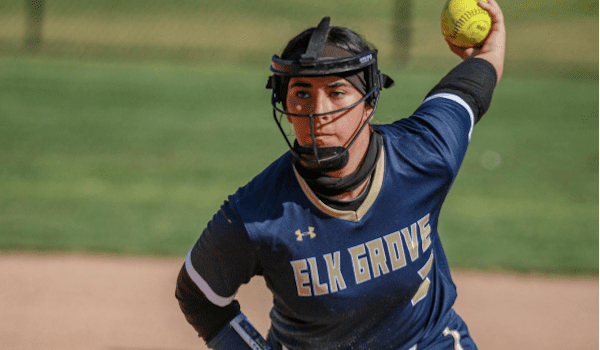 Aissa Silva Has Some Of The Best Pitching Stats In The State For A Talented Elk Grove Softball Team Chasing A Delta League Crown...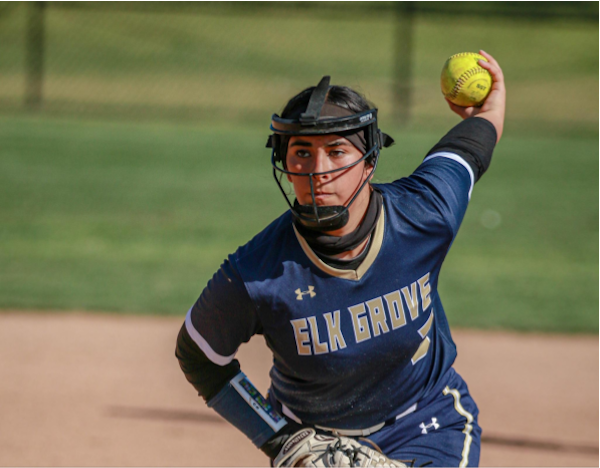 Aissa Silva Has Some Of The Best Pitching Stats In The State For A Talented Elk Grove Softball Team Chasing A Delta League Crown
UPDATED May 10, 2021
A road trip is only as good as its playlist. Elk Grove softball parents Erin and Manuel Silva prefer 2000s R&B.
The pair sing shamelessly alongside their daughter Aissa Silva each weekend on six-hour treks to travel softball practices and games in Los Angeles.
"Each trip is a jam session with them," Aissa said. "We sing pretty much everything together."
Aissa may not have flawless vocal tone inside the family minivan/mobile karaoke machine, but she has perfect pitch.
As of May 11, she led California prep pitchers with 195 strikeouts. She's also one of only two pitchers in the state with at least 100 innings pitched and an earned run average under 1.00.
Aissa's ERA is a dazzling 0.41.
"She goes at hitters, and she's not afraid of anyone," six-year Elk Grove softball coach Amanda Buck said. "She wants the ball in her hand."
Aissa also likes to finish the job.
Aissa has walked only 23 hitters this year, and hit only five. She's given up just 54 hits in 120.1 innings. To make it to first base against Aissa, you have to truly earn it.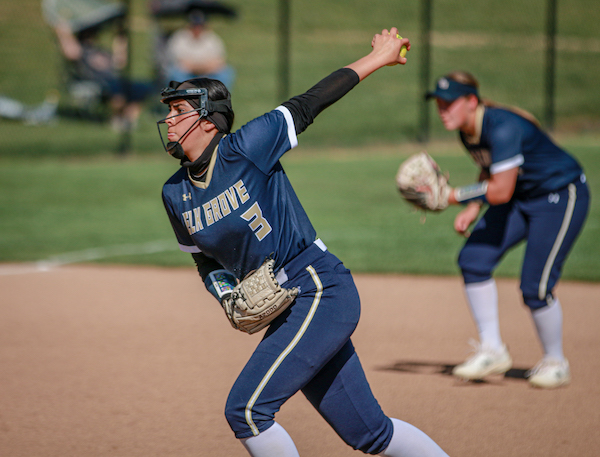 "Nothing rattles her," Buck said. "She has a lot of confidence in her defense, but she wants to strike everybody out."
And she's only getting better.
Aissa is the only sophomore in the U.S. with an ERA under .50 after 100 innings pitched. She's thrown two no-hitters this year, and was one error away from a perfect game against Christian Brothers-Sacramento. College coaches can't talk to her yet, but she said she would like to play in the Pac-12. With five PAC-12 teams in the NCAA top 25 (No. 2 UCLA, No. 5 Washington, No. 8 Oregon, No. 9 Arizona and No. 12 Arizona State) she has some elite options.
And she's on the collegiate radar, thanks to those southern commutes.
Aissa plays for one of the top travel programs in the state, six-time national champions SoCal Athletics 18U Richardson.
"The 18U tournaments down there are where you will find the best competition," Buck said. "There are some powerhouse teams down there and her 18U experience has made her better."
Aissa's process starts between innings.
"While I am warming up, I am also watching the hitters take their swings," she explained. "Are they dipping (their barrel)? Is it going up? What are they doing with their feet?
"I look for a key point, like what they look like in motion, which pitch they have fouled off, and if I was them, which pitch would I not want thrown at me."
Buck's team has thrived with Aissa in the circle.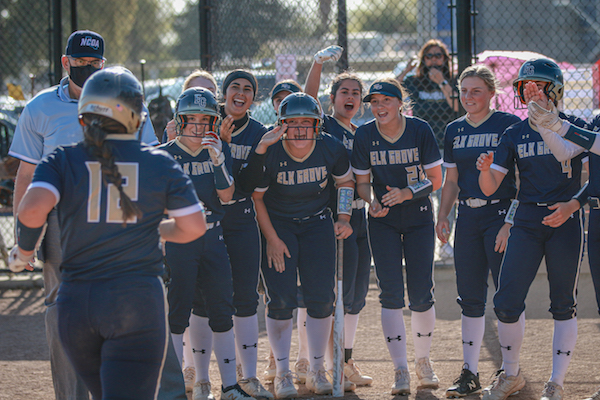 Elk Grove was 18-4 through May 6 and ranked No. 7 in the SportStars NorCal Top 20 rankings with wins over Del Oro-Loomis (13-2), Lincoln-Lincoln (11-4), St. Francis-Sacramento (10-3) and Roseville (11-4).
Aissa had lost only two games heading into the second week of May: 1-0 to NorCal's No. 2 team, and 5-2 in nine innings to league rival Sheldon-Elk Grove (No. 6). The Huskies are 10-8, but six of those losses came via forfeit after a reported misstep involving the transfer of a student athlete. Since getting tagged with those losses, Sheldon has won eight straight games.
The Elk Grove-Sheldon rivalry matters even more this year, since COVID-19 precautions have forced the Sac-Joaquin Section to cancel its spring postseasons.
Ultimately, the Delta League championship is the year's top prize.
"Our motivation this year is to win the league," Buck said. "We have a tough league, and you can't take any games off."
COVID-19 ended the 2020 season after just a few games, but since 2000, 22 Delta League squads have reached the SJS Div. I softball finals. Sheldon won the SJS nine times across that span, while Elk Grove reached seven title games and won twice. The Huskies are 3-0 against Elk Grove in championship appearances over that stretch.
The Herd had no shortage of confidence heading into the 2021 rematch with Sheldon on May 11.
"Sheldon is a great team, but we battled in this past game and I think we are ready for the next one," Elk Grove shortstop Kate Wolf said. "I think this team is just awesome, and with Aissa behind us, we can do anything."
Wolf, one of the top hitters in the SJS, contributes plenty on her own.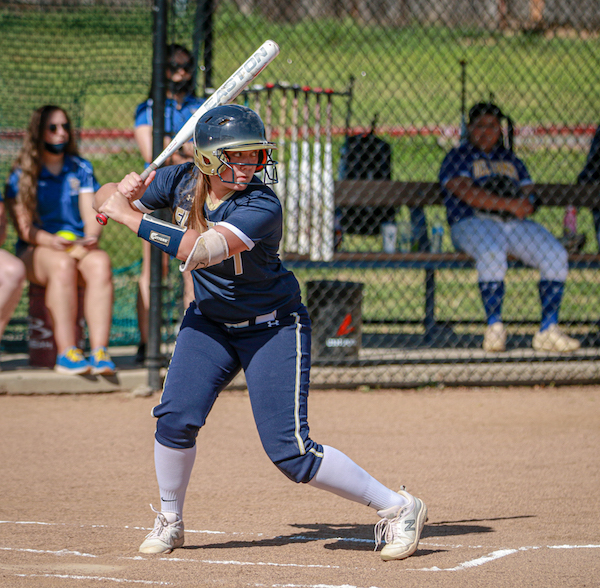 Through 22 games, she was hitting .413 with 26 hits, 15 RBIs, six doubles, two triples and two home runs.
She smashed her first of the season against Del Campo-Fair Oaks on March 31, just one at-bat after slugging teammate Brooklynn Pettis went yard.
And though she shines at the plate, Wolf is perhaps even better at improving team morale. She is the unquestioned leader of fun.
"Kate is just so great to coach because she loves being out there," Buck said. "She is the first to get everyone comfortable, she's the loudest one and the biggest cheerleader."
Wolf and Pettis both play for the LTG Lions travel team. Wolf will attend Wagner College in New York on a softball scholarship.
The fun is likely coming with her.
"She is such a positive and great person," Aissa said. "She's always there for you, if you are ever down, she will make you smile no matter what."
Pettis hit .493 with 36 hits, 35 RBI, 10 doubles, five home runs and a grand slam over her first 22 games. The catcher leads the SJS in runs batted in and is committed to play softball at Boise State.
"Brooklynn is solid all the way around and her mental game is so calm," Buck said. "She leads this team and brings everybody together to focus on what we need to accomplish.
"She also has a cannon behind the plate. Very few people try to run on her."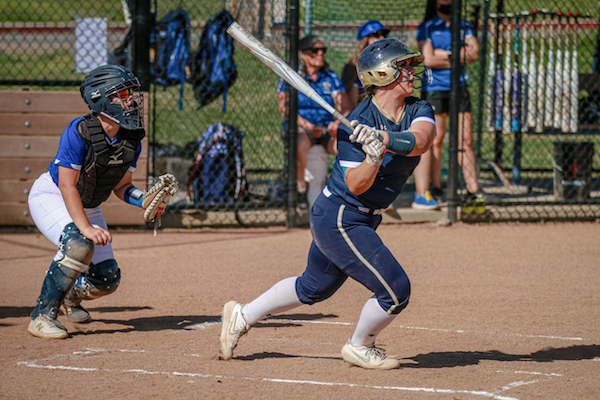 "Brooklyn and I work together, like 'You get on, I get on,'" Wolf said. "We are impact hitters who want to create something in the lineup and produce runs."
Aissa helps her own cause by hitting .302 with 19 hits, 10 RBI, six doubles and a home run.
Buck has encouraged her to rest her arm and let someone hit for her, but Aissa is far too competitive to sit out half an inning.
"Hitting is super important," Aissa said. "I like being able to help myself and help my team in any way."
Like any good singer, it's just a matter of staying in harmony.