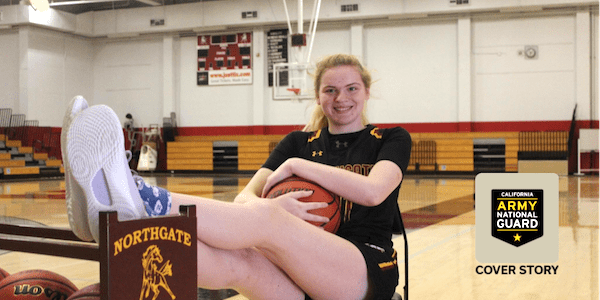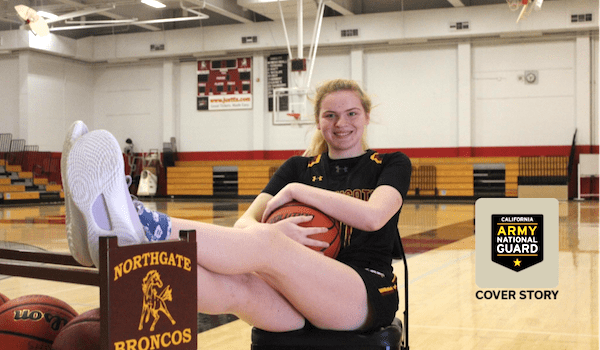 Between A Knee Injury And The Pandemic, Tegan Gaines Went More Than 500 Days Between Basketball Games — Now She's Making Up For Lost...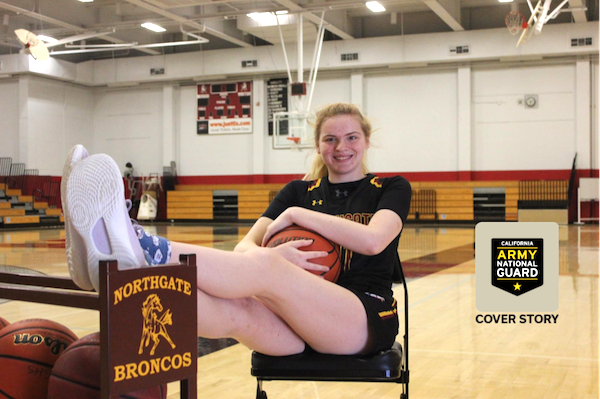 Between A Knee Injury And The Pandemic, Tegan Gaines Went More Than 500 Days Between Basketball Games — Now She's Making Up For Lost Time By Leading A Young And Hungry Northgate Team •
Northgate High girls basketball coach Jim Croy got chills recalling the moment.
It was mid-April. The Broncos were in just their third full practice preparing for the quickly-cobbled-together spring season in the wake of the COVID-19 shutdowns.
Croy's varsity team was scrimmaging against the junior varsity when a loose ball began bounding toward the sideline.
"I think 99 percent of the population would've let the ball just roll out of bounds," the four-year Broncos coach said.
Tegan Gaines is part of the other one percent.
With a large brace protecting her surgically repaired left knee, and having just been cleared for full basketball activity a few months earlier, the 5-foot-10 junior dove head first toward the ball and crashed into the coaches sitting courtside.
_______________________________
CONNECT WITH US:
Follow SportStars on Twitter & Instagram | Like us on Facebook | Subscribe!
_______________________________
"She wanted to test herself," Croy said. "'Can I still do it?' … Then she got right up and said, 'I'm good.'"
As it turns out, Gaines can still do it. And after 17 months without the sport she fell in love with as a first grader, she wants to do it as often as possible.
On November 23, 2019, Northgate was hosting De Anza for its season-opener. Gaines was beginning her sophomore year excited to build on a freshman season in which she earned 2nd Team All-Diablo Athletic League honors. But that plan got halted less than four minutes into the opening quarter.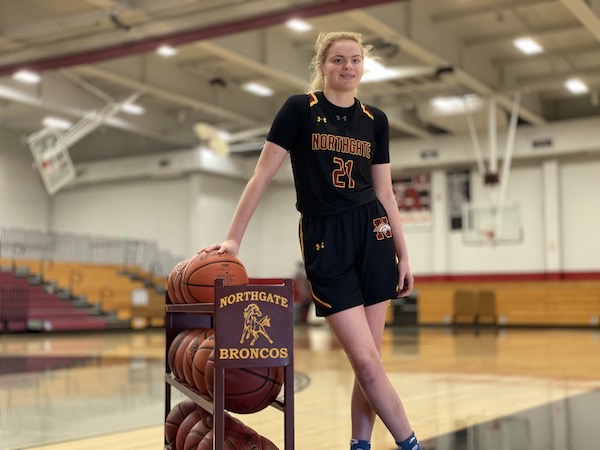 "I was going up for a layup on the right side of the basket and the defender hit the inside of my left knee," Gaines said.
Torn ACL. Partially torn meniscus. Season over.
"We all felt her pain," Croy said. "Tegan was here two days after her surgery. She refused to not come to practice. She wanted to be here. It's in her blood. She knew what she wanted, and that was to be back out on the court. She worked her butt off through physical therapy."
Gaines' twin brother Reece, a soccer player at Northgate, marveled at her dedication toward the rehab process.
"As soon as the surgery was over she wanted to do as much physical therapy as possible," he said.
Tegan Gaines attended every practice and game of Northgate's 2019-20 season that ended with a first-round playoff loss to Newark Memorial on Feb. 18. One full year later, the pandemic looked as though it might keep every Northgate athlete sidelined through the end of the school year — especially those who played indoor sports. Tegan had all but convinced herself that her junior year would be wiped out as well.
"I had completely accepted that we weren't having a season," she said. "I was already like, 'I'm over it.' Then once we figured out we were going to be able to play, I was really excited. It felt like finding something we weren't supposed to have."
If you thought Gaines wasn't going to be prepared for her surprise season, then you haven't been paying attention.
Even before she was medically cleared for all basketball activity, Gaines was training individually at Elevate Basketball and Performance Training in Concord — sometimes twice a day. Beginning in the fall, she and her teammates held practice twice a week on the school's outdoor courts. Which probably wasn't the most sound decision by her, considering she was rehabbing a knee injury. 
Croy wasn't surprised by any of it. He's coached Tegan since she first dribbled a basketball.
Croy's daughter Jaley is the same age as Gaines and they began playing together as first graders in the Walnut Creek Youth Association. Jim Croy coached those teams up through fourth grade when they jumped to CYO competition for St. John Vianney and eventually to AAU for Elevate Basketball.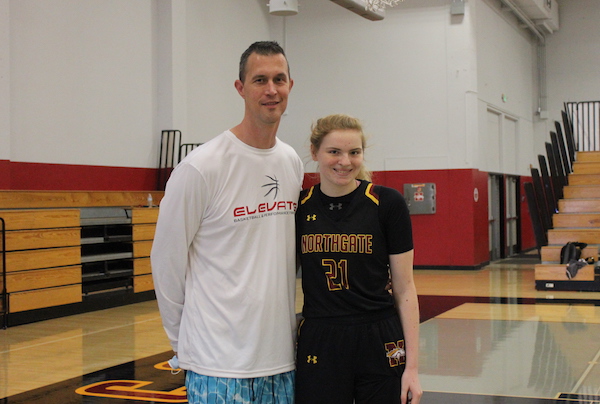 "I knew early on that Tegan had the potential to be pretty special," Jim Croy said. "Growing up in a household with two brothers she established herself as a tough individual at a very early age.
"She also just showed a real early love for the game. Something beyond what some of the other girls wanted. She had the ability and desire to want to get better in all facets of the game."
So after waiting an astounding 509 days between putting on a Northgate Broncos uniform and taking the floor, Gaines was ready to showcase that all-around game against visiting Concord on April 17. With that head-first dive in practice out of the way, she knew she didn't have to hold back.
Gaines terrorized Concord at both ends of the floor. Starring in Northgate's defensive press, she accumulated 11 steals before halftime.
With the Broncos leading comfortably midway through the second half, Croy subbed Gaines out of the game.
"I just happened to go check with our scorekeeper and stats person because I was curious if she had a triple double," the coach said. "They said, 'Well she has a triple double. She's actually two rebounds away from a quadruple double.'"
Word of that got to Gaines on the bench.
"I begged him to put me back in," Gaines said with a laugh. "But I thought it was just for a triple double, not a quadruple."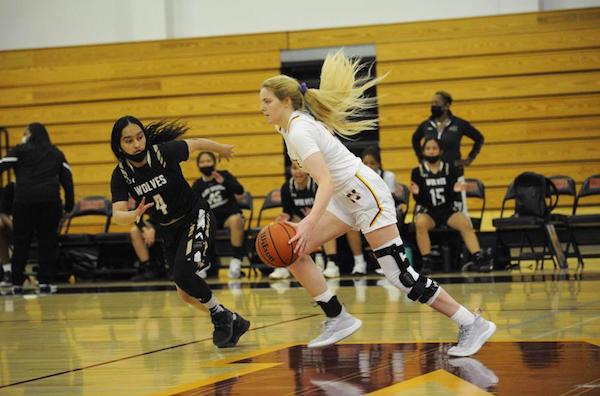 Maybe Croy doesn't give in during a more normal season setting, but considering all Gaines had been through, it was a no-brainer.
"We got her back in, she got her two rebounds, and we exited her immediately."
Tegan's final stat line that night: 20 points, 11 steals, 10 rebounds and 10 assists.
"It was great to see her just go at it," Northgate's lone senior, Livvy Hiatt, said of Tegan's performance. "We definitely realized what we were missing when she was out."
Reece Gaines certainly knows his sister's work ethic and competitive drive, but even he was caught off guard.
"I thought for her first game she was going to have like 10 points and five rebounds," he said. "But no, she goes out and there and posts a quadruple double."
Tegan hasn't slowed down since. Through Northgate's first eight games she's averaging a double-double of 19.3 points and 10.6 rebounds, both of which lead the team. She also leads the Broncos in assists (2.9 per game), steals (3.8) and blocks (1.0).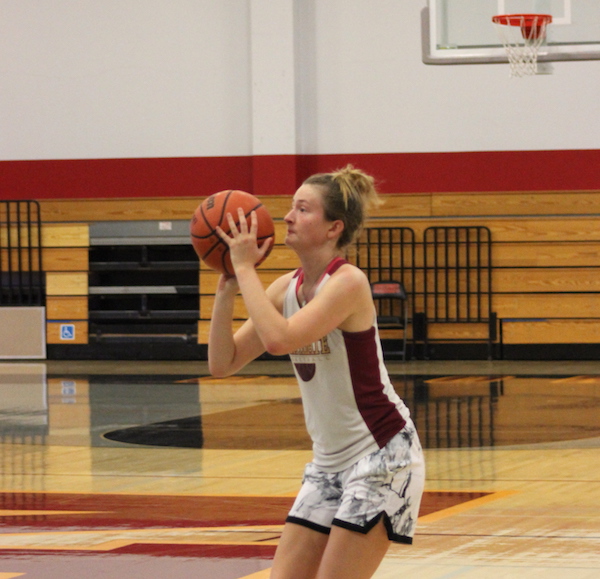 Meanwhile, the Broncos started the season 7-1 and have shown themselves to be much more than just a one-player show.
Jaley Croy averaged 11.3 points and 7.5 rebounds over those first eight games. Junior Kristin Saunders and sophomore Tade Scheid were both averaging over six points per game.
"You can just tell they like each other," Jim Croy said of the team. "They want the others to succeed around them. There's not a selfish bone in anybody's body. … It's the things outside the X's and O's — can you find a reason to fight for your sister? Are you willing to make the extra pass, dive on the floor, take a charge? This group likes each other. They're willing to do that, and whether they're on the floor or on the bench, they're all-in on what we're doing."
With the season coming together so quickly and no playoffs, Croy and his girls took a practical approach to this spring.
"A league title would be phenomenal, but our league is really tough," Croy said. "There's some awesome coaches and some great teams with a lot of tradition and history. We really wanted to come in and just make our mark. Let it be known that we're a legitimate program and that we're going to continue to get better. Just be competitive every night.
"Basically, we just said, 'Let's go make some noise.'"
For Tegan and her teammates, it's noise that's never been so much fun to make.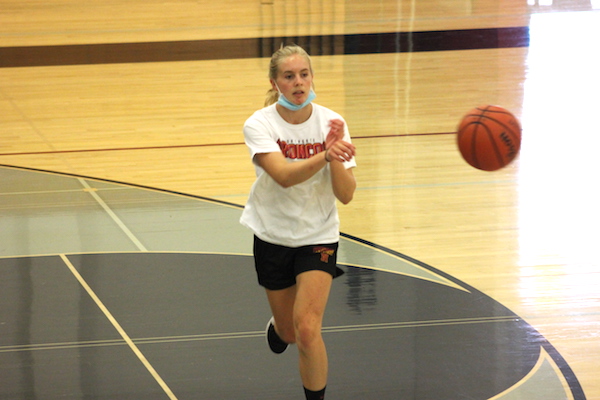 "I'm over the moon," Hiatt said. "I come home every day and write in my journal, 'I love basketball so much!' … It's seriously the best thing that could've happened this year."
Can they keep it up? Time will tell. As long as Gaines can suit up, she'll make sure the effort is there.
"I think it boils down to just believing in ourselves," she said.
If you're in the diving range of Tegan Gaines, take cover.