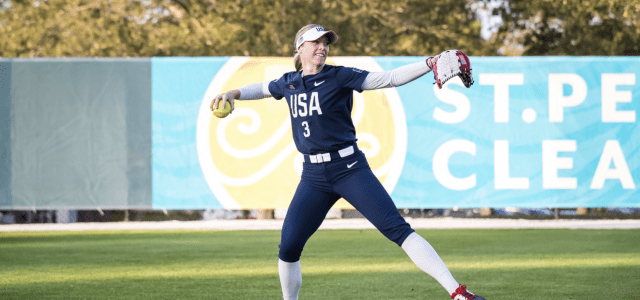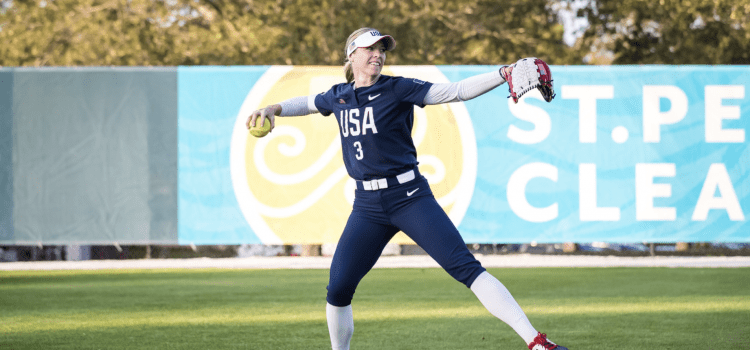 Five NorCal Products Make Up One-Third Of The USA Softball Women's National Team, Which Faces A Now-Or-Never Shot At Redemption In Tokyo • TOP...

Five NorCal Products Make Up One-Third Of The USA Softball Women's National Team, Which Faces A Now-Or-Never Shot At Redemption In Tokyo •
TOP PHOTO: Pitcher/Infielder Ally Carda, Pleasant Grove-Elk Grove '11
UPDATED: July 26, 2021, 1pm
The USA Softball team's quest to reclaim Olympic glory has more California roots than General Sherman.
Between the active and replacement players, 13 of the 18 members of Team USA's Olympic Softball Team are California natives. Five of the 10 Californians in the running for Fukushima Azuma Stadium lineups at the 2020 Tokyo Games hail from NorCal.
They are "hella" good. And they're now one win from a gold medal, and ending a 13-year wait for redemption. Team USA will face the host nation in the Gold Medal Game at 4 a.m. Pacific Time on Tuesday, July 27.
Ali Aguilar (Casa Roble-Orangevale alum), Monica Abbott (North Salinas), Valerie Arioto (Foothill-Pleasanton), Ally Carda (Pleasant Grove-Elk Grove) and Bubba Nickles (Merced) combine for 34 international medals and 12 NCAA All-America honors.
They bring serious prestige to a roster that has been 13 years in the making, after softball was dropped from the Olympic schedule after the 2008 Olympic Games.
Since Team USA was upset by Japan 3-1 in the 2008 finals (Beijing), only one player on the current roster (Texas native Cat Osterman) has claimed Olympic gold (2004 games in Athens). Only one other player (Abbott) remains from Beijing.
_______________________________
CONNECT WITH US:
Follow SportStars on Twitter & Instagram | Like us on Facebook | Subscribe!
_______________________________
The 13-year delay presents an incredible opportunity for Team USA, as international softballers are only guaranteed one more shot at an Olympic medal. Since softball is overwhelmingly popular in host Japan, the International Olympic Committee accepted a proposal to add softball to the program. The sport won't be back for the 2024 Paris games, but could make a return for 2028 in Los Angeles.
It's why the roster selection for Tokyo was so significant.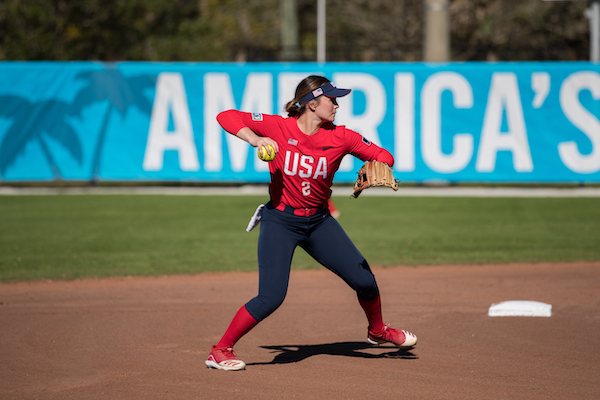 "This is a really special group," Team USA coach Ken Eriksen said on teamusa.org. "Its greatest strength is that you have good people. You have unselfish people. You have people who bought into a system that realize there's only one captain of the ship and that everybody else is going to row along the lines of keeping the ship in the right direction as a collaborative effort.
I think the softball community, let alone the U.S. sports fan community, is going to be pretty proud of this group."
That has certainly been the case as the USA Softball team completed the round robin portion of the tournament a perfect 5-0 behind dominant pitching and clutch hitting. The Americans opened the tournament with consecutive shutouts of Italy, Canada and Mexico, and then closed round robin play with back-to-back walk-off wins over Australia and Japan. 
Japan is the clear top rival. After stunning Team USA in 2008, Japan beat the Americans in back-to-back World Baseball Softball Confederation World Championship finals in 2012 (2-1) and 2014 (4-1). Team USA returned the favor in 2016 (7-3) and 2018 (7-6 in 10 innings), and the two teams have met in every WBSC final since 2002.
Team USA will be the home team in Tuesday's gold medal showdown thanks to Kelsey Stewart's walk-off home run in the bottom of the seventh of Sunday's 2-1 win over Japan. The Americans trailed 1-0 and were without a hit until a sixth-inning rally led to a two-out, game-tying hit by Arioto.
To return to gold, Team USA may have to string together hits against one of the world's top aces, 38-year-old Japanese legend Yukiko Ueno. Ueno threw the first-ever perfect game in Olympic competition, and pitched a complete game victory over Team USA in the Beijing finals.
Ueno was not used in Sunday's game against the United States. The U.S. players instead faced 30-year-old phenom Yamato Fujita, softball's Shohei Ohtani. Fujita, a star pitcher and slugger, tossed a close loss for Japan in a 4-3 semifinal against Team USA in the 2018 WBSC semifinals. A day later, she belted two home runs off U.S. pitchers in the gold medal game Team USA won 7-6 in extra innings — which Stewart also ended in walk-off fashion, singling off Ueno to plate Michelle Moultrie for the winning run.
Most of Team USA's 2018 world championship roster is in Tokyo, including the fastest softball pitcher of all time, according to Guinness. Abbott's 77 mph heave during a 2012 National Pro Fastpitch game in Kannapolis, North Carolina, is the fastest ever recorded.
Motivation to avenge the finals defeat she got tagged with in Beijing could turn up the heat as well.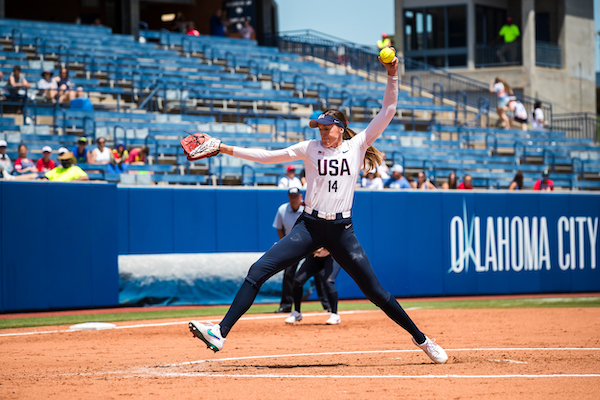 "I was the youngest player that year, so I definitely remember a lot about it," Abbott told the Japan Times during pre-Olympic coverage. "I also feel like I've grown a lot since then.
"The Olympics are something that stick with you for a long period of time and stick with the world for a long period of time.
"So if I don't remember it, everyone else reminds me of it."
Abbott was outright dominant during the round robin format in Tokyo. She appeared in all five games and allowed just four hits while striking out 26 over 18 innings. She picked up three wins and two saves in those outings, the third win coming in relief against Japan after Carda made her Olympic debut and struck out nine over five innings. Osterman has the team's other two wins.
"I think we're pretty loose right now," Abbott told the Japan Times in the same pre-tournament interview. "I would say we have a good balance. I think at times we have to check ourselves. Like, just relax, it's still a game, the bases are still 60 feet, all those sort of things. At the end of the day it's still the same thing you've been doing since you were 12 years old."
Aguilar and Arioto also represented NorCal during the 2018 World Championships, combining for 16 hits, 10 runs, 10 RBIs, two home runs and 10 walks during that tournament. Both have also had big hits in Tokyo.
Aguilar's two-run, third-inning single provided Team USA's only runs in its 2-0 win over Mexico. In addition to her game-tying knock against Japan, Arioto also broke up a no-hitter with the team's first hit of the tournament in the fifth inning against Italy. She scored the first run of that game as well.
Arioto's former prep coaches raved about her work ethic on Monday's SportStories podcast.
She was a dynamic pitcher at Foothill and Cal, but her bat did the most talking.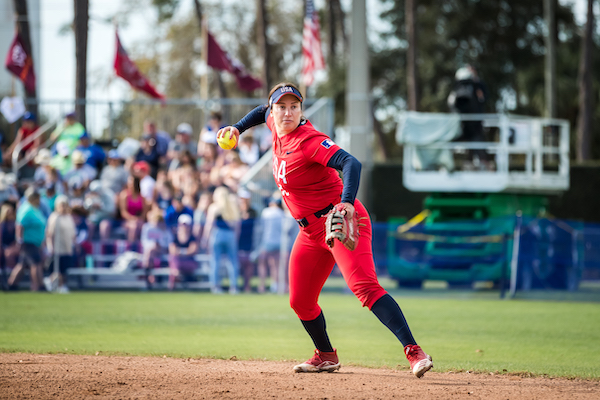 "At the end of the day, best hitter I've ever seen, without a doubt," former Falcons coach Scott Kabrich said. "I pitch to the girls every day and she was the reason I started pitching behind the net.
"She did some amazing things … hitting balls over the fence in our practice facility, into the houses."
For players like Abbott and Arioto, Tokyo is likely the last dance for gold. By the time Americans work softball into the 2028 schedule in Los Angeles, Abbott will be 43 years old. Arioto will be 39.
The youngest player on USA Softball's active roster, Nickles, 23, could be one of the team veterans in seven years. She and Pacifica grad Dejah Mulipola (Arizona) are the only two players on Team USA still holding a roster spot on a college program. Nickles has a little bit of bragging rights, considering her UCLA squad won the 2019 College Women's World Series.
She's probably the player most likely to record a Tik Tok dance in between games in Tokyo.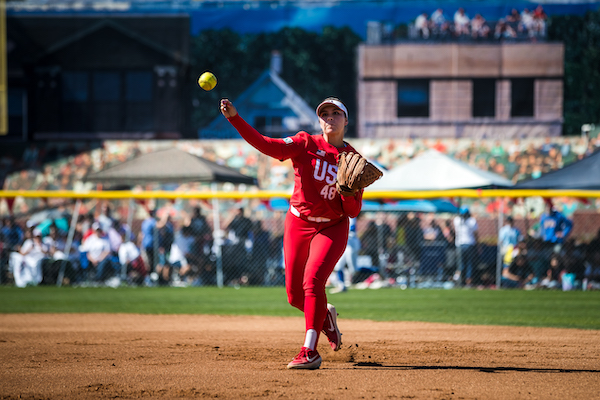 "I want to bring positive vibes and a lot of good energy and spirit and just a lot of fun," Nickels said on "Road to Tokyo" by D1 Softball. "Of course we want that gold medal. Of course we want to shoot for the best possible outcome, but at the end of the day we are out here having fun and growing together.
"Isn't that cool?"
A golden Tuesday morning may just make it 'hella' cool.
THE NORCAL FIVE
Ali Aguilar
POSITION: Infield
AGE: 25
HOMETOWN: Orangevale
HIGH SCHOOL: Casa Roble-Orangevale
COLLEGE: Washington
CLUB TEAM: All-American Sports Academy 18 Gold
NOTABLES: Two-time WBSC Women's World Championship Gold Medalist; Two-time Pan American Games Gold Medalist; Two-time NCAA All-American; Three-time All-Pac-12 First Team; 2017 NCAA College World Series semifinalist; .352 NCAA career batting average; Two-time Sac-Joaquin Section Div. II champion at Casa Roble
Monica Abbott
POSITION: Pitcher
AGE: 35
HOMETOWN: Salinas
HIGH SCHOOL: North Salinas
COLLEGE: Tennessee
CLUB TEAM: Salinas Storm
NOTABLES: 2008 Olympic Silver Medalist; Three-time WBSC World Championship Gold Medalist; 2007 ESPY Finalist for Best Female Collegiate Athlete; NCAA career record holder in wins (189), strikeouts (2,440) and shutouts (112); Four-time NCAA All-American; 2007 NCAA College World Series runner-up; First ever three-time SEC Pitcher of the Year; Three-time Central Coast Section Div. I champion at North Salinas
Valerie Arioto
POSITION: Infield
AGE: 32
HOMETOWN: Pleasanton
HIGH SCHOOL: Foothill-Pleasanton
COLLEGE: California
CLUB TEAM: Sorcerer Softball
NOTABLES: Two-time WBSC World Championship Gold Medalist; Three-time Pan American Games Gold Medalist; Four-time World Cup of Softball Gold Medalist; Three-time NCAA All-American; Three-time All-Pac-12 First Team; 2012 Pac-12 MVP; .333 NCAA career batting average; 31 NCAA home runs; 41 NCAA stolen bases; Second all-time in NCAA walks; 2007 North Coast Section champion at Foothill
Ally Carda
POSITION: Pitcher/Infield
AGE: 28
HOMETOWN: Elk Grove
HIGH SCHOOL: Pleasant Grove-Elk Grove
COLLEGE: UCLA
CLUB TEAM: Lady Magic
NOTABLES: WBSC Women's World Championship Gold Medalist; Pan American Championship Gold Medalist; Back-to-back Pac-12 Player of the Year; Two-time NCAA All-American; Three-time Pac-12 First Team; 728 NCAA strikeouts; 87 NCAA wins; 21 NCAA shutouts; .353 NCAA batting average; 39 NCAA home runs; 2009 Div. I Sac-Joaquin Section champion at Pleasant Grove
Bubba Nickles
POSITION: Utility
AGE: 23
HOMETOWN: Merced
HIGH SCHOOL: Merced
COLLEGE: UCLA
CLUB TEAM: All-American Sports Academy
NOTABLES: Two-time WBSC Junior Women's World Championship Gold Medalist; NCAA All-American; All-Pac-12 First Team; 2019 NCAA College Women's World Series champion; Four-time NCAA College Women's World Series Top Five; NCAA College Women's World Series All-Tournament Team; .357 NCAA career batting average; 42 NCAA home runs; .538 batting average her junior and senior seasons at Merced