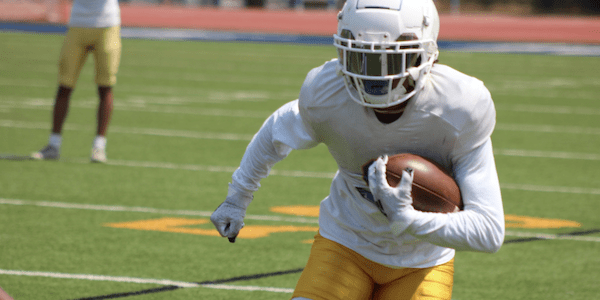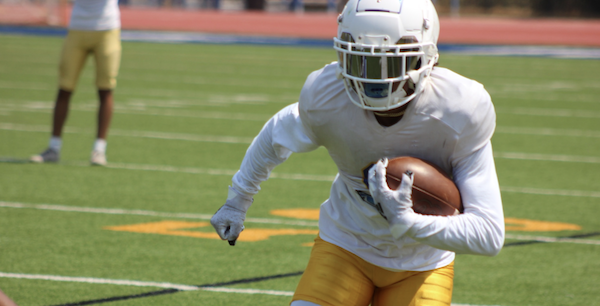 Few Programs Understand The Fragility Of The Present As Well As Serra Football — And The Padres Are More Than Ready To Make The...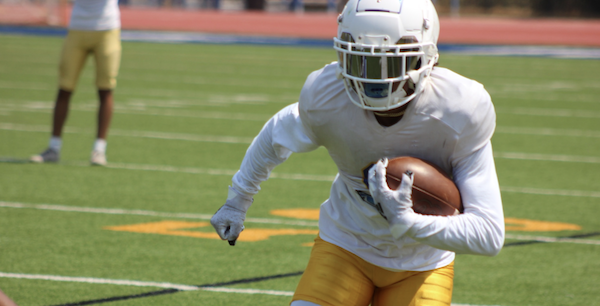 Few Programs Understand The Fragility Of The Present As Well As Serra Football — And The Padres Are More Than Ready To Make The Most Of Their First Fall Season Since 2019 •
A full slate of fall football is most welcome at Serra High in San Mateo. The Padres are eager for the challenge of the mighty West Catholic Athletic League and a potential postseason run.
In December 2019, the last time Serra could take part in any playoffs, the Padres played for a state championship. It was their third State Bowl game in four seasons.
That's quite a standard to live up to.
Like all teams coming back to fall action after a half-season in the spring, past expectations seem a lot to ask.
"I think that is the biggest challenge for us," Serra coach Patrick Walsh said. "You have preseason rankings which mean nothing on where we are in December; there's managing press clippings that don't help. Clearly we have talent on the team, but sometimes that can backfire when work ethic doesn't match the talent."
We'll break it gently to Walsh that Serra is the No. 4 ranked team in SportStars' NorCal preseason rankings, coming after a sterling 5-0 record against WCAL teams in the spring resumption. Given the uncertain COVID-19 pandemic world we all are living in, the Padres won't get ahead of themselves. Their eyes are on the starting line, not on December.
_______________________________
CONNECT WITH US:
Follow SportStars on Twitter & Instagram | Like us on Facebook | Subscribe!
_______________________________
"We will feel fortunate when the ball is kicked off at Pittsburg, at Palo Alto," Walsh said. "We will be grateful to play one game at a time. I know that is the old coaching cliche, but that is the truth in the times we are in right now."
Walsh has been at the forefront of getting football back on the field in this challenging era. He formed the Golden State HS Football Coaches Community with De La Salle-Concord coach Justin Alumbaugh. They forged a plan for high school sports' safe return, and along with the Let Them Play movement, eventually convinced California state officials that sports could be played under careful and precise protocols after a year of dormancy following the onset of the pandemic.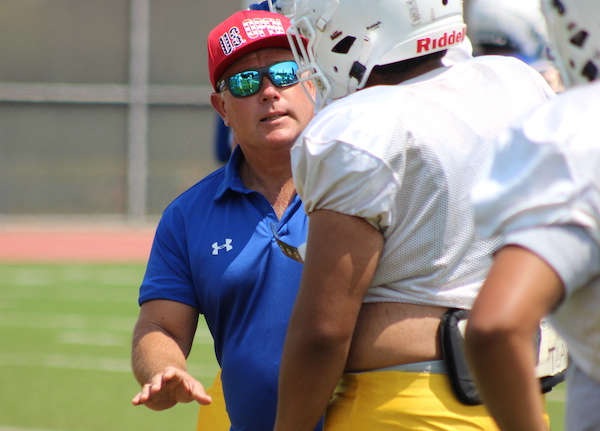 Given the role and effort Walsh played in getting football back, there was a genuine feeling of reciprocity when spring games became reality. A gifted motivator in his two decades at Serra, there seemed to be an extra push of appreciation from his own players.
"(His work) did motivate us to play harder in that it made us more grateful and thankful to have that opportunity to play," senior quarterback Dominique Lampkin said. "So thankful that we have a coach that works that hard to get you able to play."
That feeling extended to following the safety measures that Walsh and the coaches' group established.
"It did make us feel more responsible, not like we owed him something but that he deserves the best out of this team," Lampkin said. "He gave us everything he could so we could play, so we should give him everything we got."
With a full schedule ahead in football's rightful season, eagerness is flourishing.
"It feels great and there's a sense of relief getting back to doing something again that I've done my whole life," Lampkin said. "Everybody's excited, everyone's pumped, and we can't wait to play."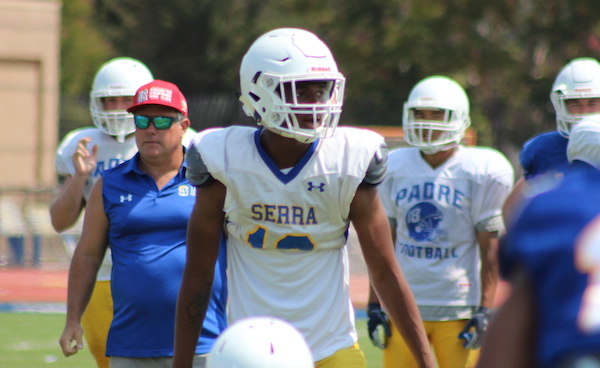 Experience comes piecemeal for many. Lampkin has two half-seasons as a starting varsity quarterback. As a sophomore, he came in midway when Daylin McLemore suffered a broken collarbone. That year after finishing in a three-way tie atop the WCAL with Valley Christian-San Jose and St. Ignatius-San Francisco, the Padres won the Central Coast Section Division I championship and the NorCal Division I-A crown. That led to the 2019 Division I-A state title game, which saw Corona del Mar-Newport Beach take a hard-fought 35-27 victory.
In Serra's five spring wins, Lampkin had 984 yards of total offense, including 192 rushing yards, and 12 touchdowns. Illinois State, Idaho and Fresno State are in the running for his next step.
"He can throw and run it effectively, having him back there is almost like being in the Wildcat every time," Walsh said.
Along with his game skills, Lampkins' personality and humor is evident, though he said he keeps things serious when it comes to football.
"Dominique is a true character," Walsh said. "He keeps things loose, and he is such a fun guy to coach. Sometimes I have to say 'Hey Dom, let's go, it's time to play football."
The exploits continue with the guy with his own customized nickname: Hassan "the Missil3" Mahasin. The senior all-everything back was magical this spring. In the opener, Hassan made a highlight reel TD catch on Serra's first drive, which gave Lampkin the adrenaline rush that football was truly back. The two have played together since sixth grade.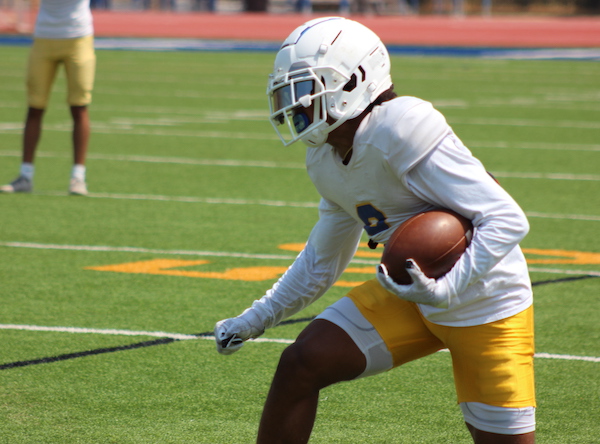 "We have chemistry, a brotherhood together," Lampkin said. "It's second-nature. He's always been a fast kid, quick kid; he's amazing."
Hassan's ability to make things happen has caught the attention of colleges like Boise State, Arizona State, Colorado and San Jose State. He scored 10 times in those five games and totalled 745 yards.
"His instinct is to get into the end zone every time he touches the ball," Walsh said. "We're fortunate to have him for his last year here at Serra.
The might behind the offense comes from an offensive line led by a couple of massive senior tackles, 6-5, 315-pound Drew Azzopardi and 6-5, 295 Nathan Elu.
"They have the one thing no one can teach, which is size," Walsh said, with a chuckle.
"So the responsibility is on us as coaches to see that they put that size to use. They do not have a lot of varsity experience, so they have to grow up fast and be ready to get going week one."
Defensive experience concerns Walsh, who said he's looking for collective leadership after seeing standouts like Nusi Malani and Marcellus Eison step up two years ago and Fynn Williams rising up last season.
In the secondary, Malakei Hoeft is back at Serra for his senior year after moving to Utah a year ago. At 6-2, 155, Sione Laulea is "the longest tallest cornerback we have ever had." Walsh's two decades as Serra coach has seen eight WCAL titles, six CCS titles and a 2017 state championship in a 38-14 win over Cajon-San Bernardino in the Division 2-AA bowl game.
To get on the right track with the grind of a full 10-game fall schedule, Serra begins on Aug. 27 with a visit to No. 3 Pittsburg, where the atmosphere is saturated with football and tradition.
Walsh said Pittsburg is a place that does football right.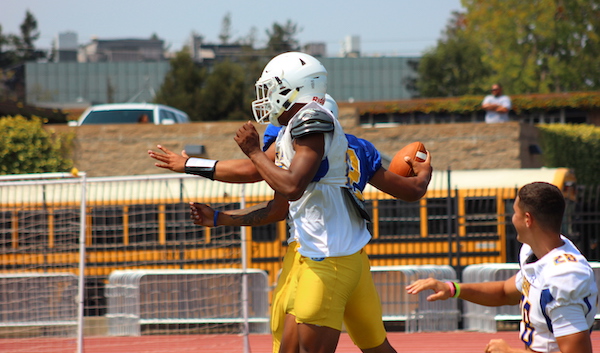 "The band is exceptional, the environment is exceptional," he said. "You can't go limping into that game."
In their last trip to the East Bay Area power in 2018, the Padres lost 45-35. Serra won the 2019 rematch 58-21 at home, but the road loss still sticks with Walsh.
"Last time we played there it was a total nightmare; we were obliterated," Walsh said. "I still have PTSD from that night. That's a tough place to play but that is why we schedule them and get to face Coach Galli and the Pirates."