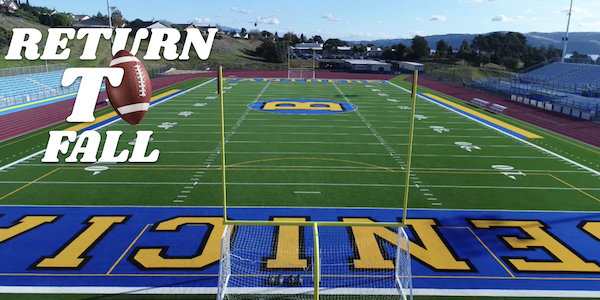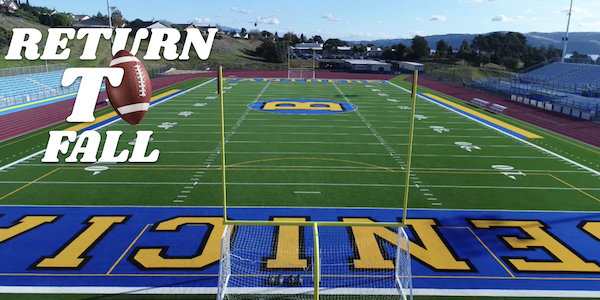 Senior-Heavy With Multiple Next-Level Playmakers, Benicia Panthers Are Ready To Pounce; PLUS: DJ Crowther Plots An Encore • This is the second of 20...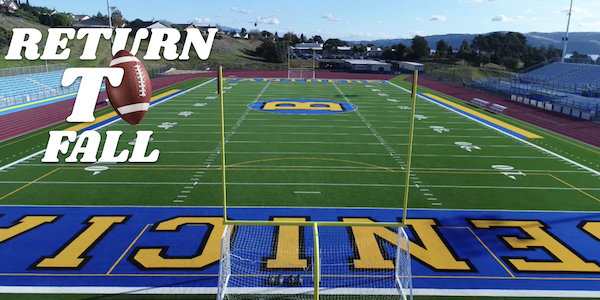 Senior-Heavy With Multiple Next-Level Playmakers, Benicia Panthers Are Ready To Pounce; PLUS: DJ Crowther Plots An Encore •
This is the second of 20 installments to our Return To Fall Series — a daily component to our 2021 NorCal Football Preview coverage.
If experience counts for anything, Benicia football coach Craig Holden has good reason to feel confident as training camp gets rolling along the banks of the Carquinez Strait.
The Panthers' longtime coach will usher in the first practice of the new season on August 9th armed with a veteran-laden squad that certainly doesn't lack for talent.
DB/WR Croix Stewart (UCLA), DB/WR Simeon Harris (Colorado) and DL/TE Miles Bailey (Fresno State) all have Division I careers ahead of them, RB/LB Janari Boone is a "no-brainer Division I football player" in Holden's estimation and QB Tyson Wallace returns for his third year under center before returning to the diamond next spring as a standout outfielder for Benicia's baseball team.
The recruiting hype is quantifiable. In the five-game spring season earlier this year, Boone scored seven rushing touchdowns and made 39 tackles. Stewart caught 13 passes for 189 yards and two touchdowns, Bailey recorded 31 tackles and four sacks, and Wallace accounted for seven touchdowns (five passing, two rushing).
While the measurables certainly look to be in Benicia's favor, the intangibles are really what have Holden optimistic for what lies ahead.
"When kids buy into the program and want to succeed, want to be good and they care about Benicia and not just the name on their back, it's real easy for a head football coach, I'll be honest," Holden said. "They're going to do the right things. These kids do the right things when no one's looking, which as a coach is what you're most impressed by."
The Panthers also have recent success to draw from. In 2019, a 10-2 record featured an undefeated Diablo Athletic League-Valley campaign and a trip to the North Coast Section Division III semifinals. This time around, they'll look to take yet another step forward in a DAL-Foothill Division that features traditional powers Campolindo-Moraga, Acalanes-Lafayette, Miramonte-Orinda, Las Lomas-Walnut Creek and Alhambra-Martinez.
Benicia will open it's nonleague schedule on Aug. 27 against an up-and-coming Pinole Valley program. They follow that up with games against Maria Carrillo-Santa Rosa (3-0 in the spring), Moreau Catholic-Hayward (1-3) and Jesse Bethel-Vallejo (1-0).
If all things are equal on paper, it would seem the Panthers have a great shot to be 4-0 on Oct. 1 when they travel to Windsor. The Jaguars, under new coach Paul Cronin, should be a formidable tuneup before Benicia opens up DAL play against defending champion Campolindo on Oct. 8.
"They're a really tight-knit group of kids. Some of them have been with me for three years, a couple of them came up as freshmen," Holden said. "It's a group of kids that have been in the system for four years and are ready to show the North Coast Section what Benicia is all about."
PLAYER SPOTLIGHT: DJ Do-It-All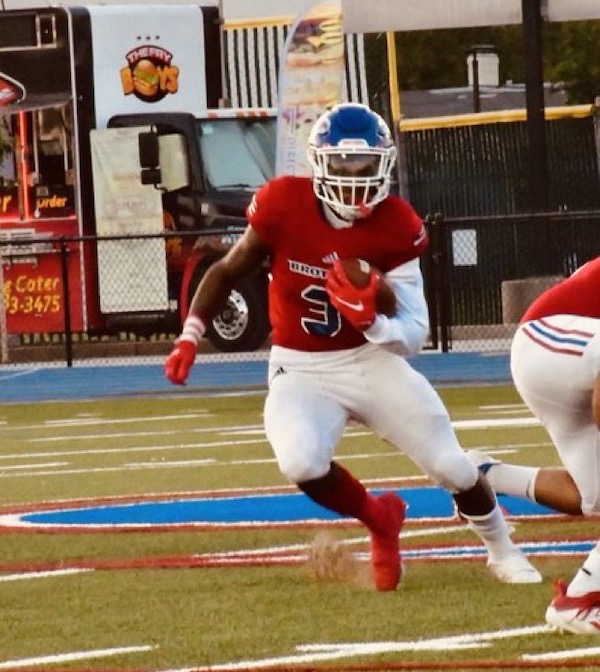 Few Sac-Joaquin Section players made more of their spring opportunity than Christian Brothers' two-way star, DJ Crowther.
SportStars recently named Crowther to it's 2021 Spring All-NorCal Defense as an all-purpose back. It was arguably one of the easiest decisions when it came to selecting the 20-player list.
The 5-foot-9, 185-pound running back and defensive back racked up a little more than 1,200 all-purpose yards over six games for the Falcons. He had 769 rushing yards (averaging 9 yards per carry) and caught 13 passes for 286 yards. He scored touchdowns four different ways with 12 rushing scores, three TD catches, one 87-yard kick return for a score and a 30-yard interception return to the end zone.
Crowther's efforts helped Christian Brothers finish the spring with a 3-3 mark, with all three losses coming to bigger programs (Granite Bay, Jesuit-Carmichael and Vista del Lago-Folsom). Two of those programs finished inside our Final Top 30 rankings.
Crowther currently holds nine scholarship offers, including UC Davis, New Mexico, Army and Eastern Washington. The latter has been a popular landing spot for players of his size and versatility, including former SportStars' Players of the Year, Antoine Custer of De La Salle-Concord and Nsimba Webster of Deer Valley-Antioch. Webster spent the last two seasons with the Los Angeles Rams and is currently on the 49ers preseason roster.
FROM THE FB PREVIEW VAULT: Najee Harris Cover (Aug. 2016)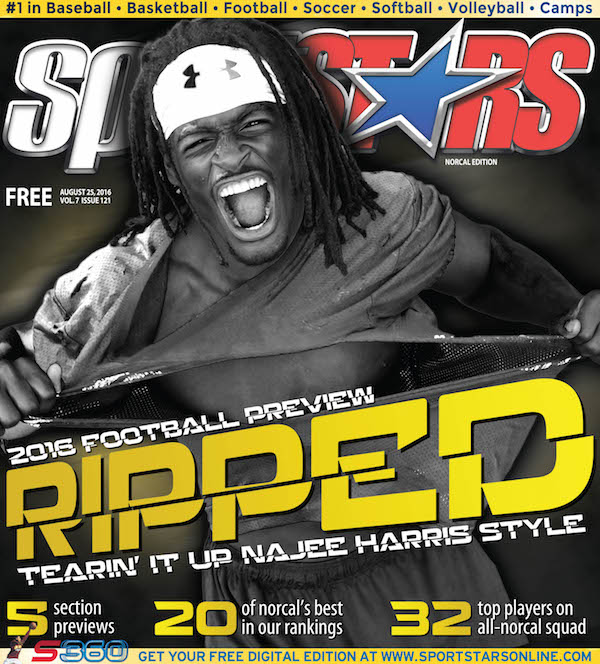 In our June 2020 10th Anniversary issue, editor Chace Bryson shared his memories of our Football Preview cover shoot with Antioch's Najee Harris. Harris was recently the No. 1 running back selected in the 2021 NFL Draft and made his pro debut with the Pittsburg Steelers in the Hall Of Fame Game on Aug. 5.
Najee, was then a senior for the Panthers — and the No. 1-ranked recruit in the country. Period. While we'd covered his first two standout varsity seasons, this was the first time we'd be giving him the full-cover feature treatment.
The cover that came out of that photo shoot, wasn't necessarily what photographer Phil Walton and I went in expecting to get, either.
We were set to meet Najee outside of the Antioch High locker room around 10 a.m. on a morning that was already teetering toward a blistering hot day in late July. He lived near campus and had walked, but had forgotten to bring a ball and some of his other equipment. I offered to drive him back to his apartment to grab them, and by the time we got back to campus the heat had fully arrived.
We wanted to photograph Harris looking as though he was ripping apart an old football that we'd pre-cut near the seams. He couldn't rip it all the way though, because it was the only prop. So each time, he had to act out the aggression as if he was tearing it for the first time. It wasn't exactly easy for him, but he kept doing it — smiling through it all.
After countless pictures of fake-ripping, Phil asked Najee a question:
"How much do you care about that t-shirt? Would you be willing to rip it, Hulk-style?"
"Sure," Najee said. "Let's do it."
He only had one shirt, so we had to get the shot on the first try. Najee and Phil nailed it. We knew we had our cover. We then walked to the football field where Harris gave us another hour of his time taking photos in his uniform. Great kid. Great shoot and great cover. The last of which SportStars designer Mike DeCicco certainly deserves credit for as well.
MORE ON NAJEE
In the week leading up to the NFL Draft, we devoted an entire episode of our SportStories Podcast to Harris. We spoke to his offensive coordinator at Antioch, a former Panthers teammate, a current San Jose State linebacker who lined up against him for three years in high school, his personal trainer of nine years, and CalHiSports.com editor and state prep sports historian, Mark Tennis.
If you missed it, give it a listen below, or on the following platforms: Spotify, Apple Podcasts, Google Podcasts, Breaker, Pocket Casts and Radio Public.
_________
COMING IN TOMORROW'S RETURN TO FALL RELEASE: A look at Vista del Lago-Folsom football along with a new player spotlight and more!