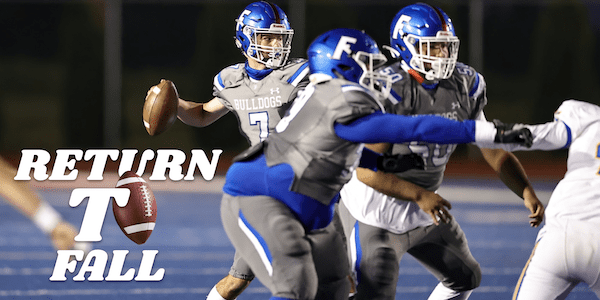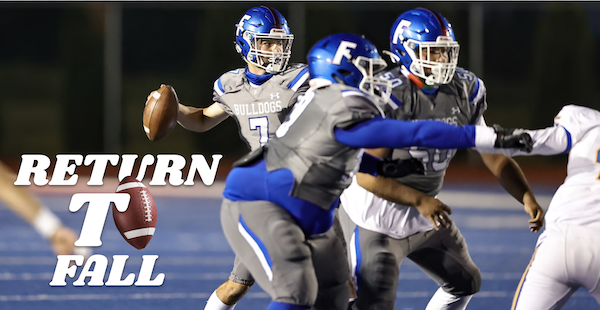 Tyler Tremain And Rico Flores Jr. Continue Folsom Football's Long Line Of Quarterback-Receiver Duos; PLUS A Trailer For SportStars' New Football Podcast • This...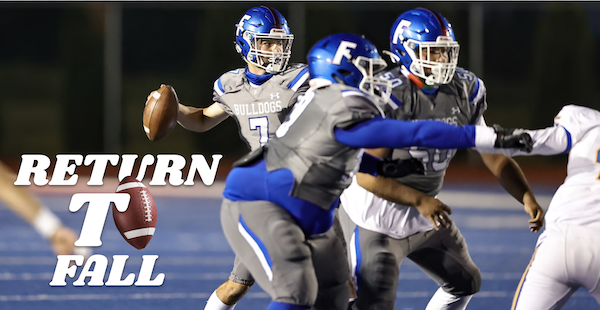 Tyler Tremain And Rico Flores Jr. Continue Folsom Football's Long Line Of Quarterback-Receiver Duos; PLUS A Trailer For SportStars' New Football Podcast •
This is the fourth of 20 installments to our Return To Fall Series — a daily component to our 2021 NorCal Football Preview coverage.
Though Folsom High football's passing attack has not been around as long as Batman and Robin, the Bulldogs continue to produce QB-WR dynamic duos almost as often as DC cranks out Batman-Dark Knight movies.
Folsom's latest aerial assault sequel feature senior quarterback Tyler Tremain and junior wide receiver Rico Flores, Jr. But the billing would not likely have its current hype without the emergence of a true villain in 2020: COVID-19.
At the start of the 2020-21 school year, COVID had schools in lockdown and sports on hold. That triggered Folsom's returning signal-caller Ari Patu to graduate early in December so he could enroll at Stanford University and participate in spring practices on The Farm. In turn, that decision moved Tremain — the quarterback who led Folsom to a 2019 JV victory over De La Salle-Concord — to the top of the depth chart.
"I was new to the school and, before we even knew what the season was going to be, I was working with Tyler a lot just learning the playbook," Flores said of the pair's beginnings. "Then we ended up being starters, and that chemistry that we started with him guiding me as a new player on the team just carried over to the season."
The carryover translated into a 6-0 season for the Bulldogs in which Tremain threw for a State-best 2,024 yards to go with 24 touchdowns. Flores hauled in 10 of those scores while amassing 31 catches for 606 yards. The 10 receiving TDs were a Sac-Joaquin Section-best. Both were named to our 2021 Spring All-NorCal Offense.
_______________________________
CONNECT WITH US:
Follow SportStars on Twitter & Instagram | Like us on Facebook | Subscribe!
_______________________________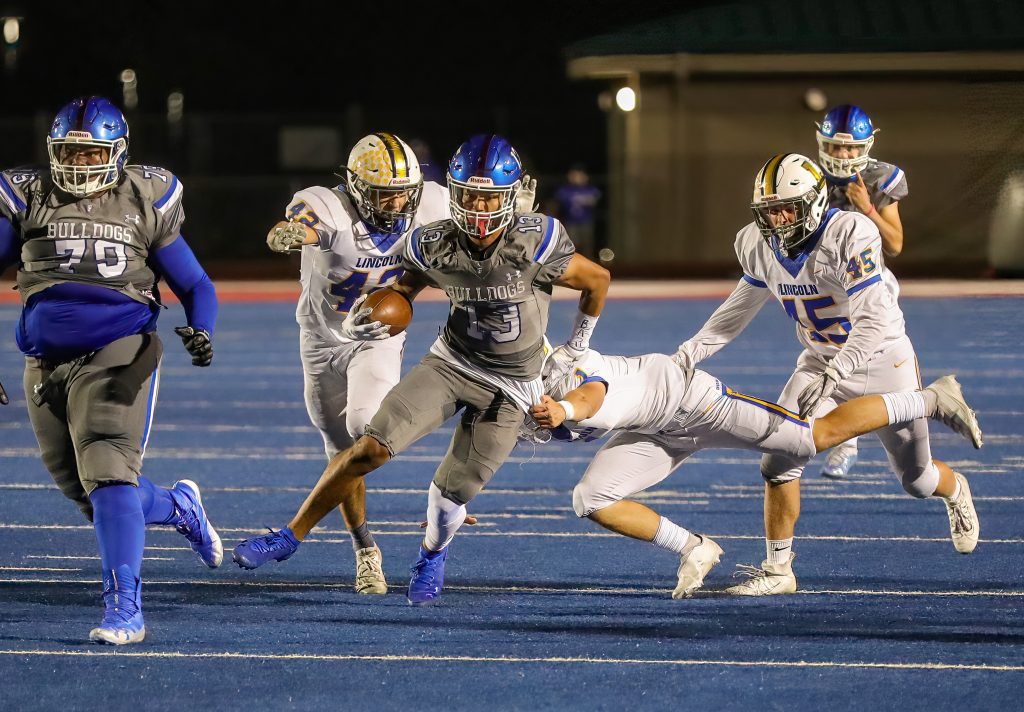 Tremain had at least 3 TDs in every game (and tossed 5 per game in the team's final four contests) and Flores had at least 1 TD catch in every game while averaging more than 100 yards receiving per game.
While the duo's spring performance may have been something of a sleeper hit, Tremain and Flores are excited to see what their sequel can be. They do so knowing that opposing defenses, including nonleague stalwarts Monterey Trail-Elk Grove, De La Salle-Concord and Pittsburg, will be focusing on them.
"My goal is to be the best receiver to come out of Folsom High School," Flores said. "But I just put my head down and go into every game with the mindset that no one can stop me."
Spoken like a true superhero.
ROLL TAPE: Teammate Hot Seat, Flores Interviews Tremain
For this edition of Roll Tape, we let Rico Flores Jr. target his QB1 for the change — in the form of a few questions.
NUMBER CRUNCH: Past Folsom QB-WR Duos
Folsom has generated some of the most prolific offensive numbers, particularly through the air, in the last 15 years. The Bulldogs touted at least one 1,000-yard receiver from 2007-2019, and the program produced the nation's all-time leader in TD passes. Following are the top 3 Folsom QB-WR duos:
SINGLE SEASON
1. 2011 – QB Tanner Trosin/WR J'Juan Muldrow: 122 receptions, 1,895 yards, 23 TD
2. 2014 – QB Jake Browning/WR Josiah Deguara: 114 receptions, 1,671 yards, 24 TD
3. 2013 – QB Jake Browning/WR Josiah Deguara: 104 receptions, 1,354 yards, 16 TD
4. 2012 – QB Jake Browning-WR Troy Knox 104 receptions: 104 receptions, 1,249 yards, 15 TD
5. 2017 – QB Kaiden Bennett-WR Joseph Ngata: 81 receptions, 1,777 yards, 26 TD
6. 2009 – QB Dano Graves-WR Tyler Trosin: 81 receptions, 1,446 yards, 25 TD
CAREER
1. QB Jake Browning-WR Josiah Deguara: 240 receptions, 3,274 yards, 42 TD
2. QB Kaiden Bennett-WR Joseph Ngata: 145 receptions, 3,046 yards, 48 TD
3. QB Dano Graves-WR Tyler Trosin: 151 receptions, 2,749 yards, 52 TD
SPORTSTARS' NEWEST PODCAST: Get Ready For, 7 Friday Night
SportStars entered the Podcast Era this past February when we launched SportStories. Its success has led us to dip another toe in the water as we launch a weekly football-only podcast that debuts Aug. 12 and will run through the end of the season.
The new podcast will be named 7 Friday Night and feature SportStars editor Chace Bryson co-hosting with longtime friend — and one-time video series collaborator (if you know, you know) — Ben Enos for a weekly discussion on NorCal high school football.
Through wit, whimsy and maybe some wisdom, the pair will deliver wrap-ups, predictions, topical discussions and interviews with players and coaches from throughout NorCal. They've also secured a regular guest star whose name should be familiar throughout California football circles.
Listen to the trailer and get ready for the debut episode this Thursday.
_________
COMING IN TOMORROW'S RETURN TO FALL RELEASE: A team preview on San Ramon Valley-Danville + a new player spotlight and more!