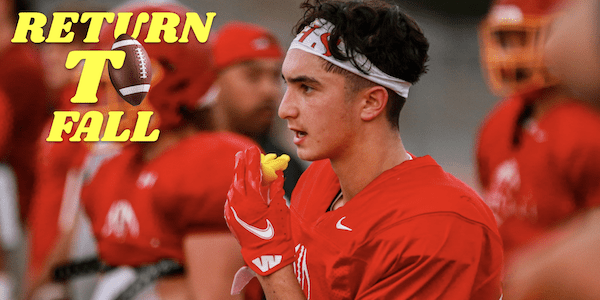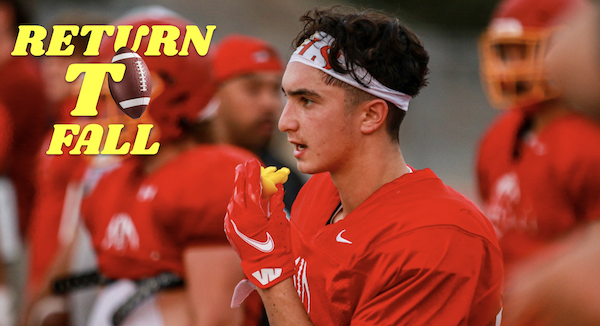 Senior Wideout Jackson Hagopian Hopes To Check All The Boxes While Leading Jesuit Football This Fall; PLUS Nos. 11-10 To Our Preseason NorCal Top...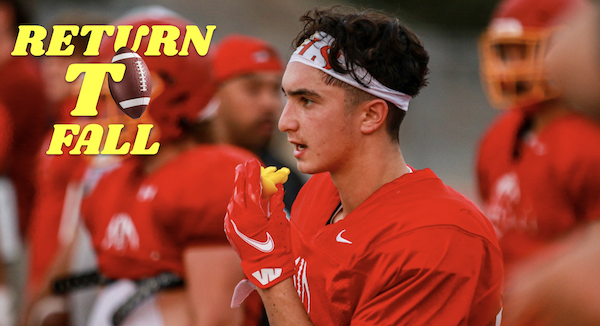 Senior Wideout Jackson Hagopian Hopes To Check All The Boxes While Leading Jesuit Football This Fall; PLUS Nos. 11-10 To Our Preseason NorCal Top 20 Rankings.
This is the tenth of 20 installments to our Return To Fall Series — a daily component to our 2021 NorCal Football Preview coverage.
Jesuit High receiver Jackson Hagopian might not have had a physical pregame checklist before the Marauders' hosted Whitney-Rocklin for a scrimmage on a balmy Friday night in Carmichael. If there was one, though, it might've read like this.
Golden boots — check.
Red Nike gloves — check.
JHS headband — check.
Touchdown — check.
He needed just one offensive snap to cross that last one off. He caught a deep pass from Preston Vukovich and cruised to an 80-yard touchdown before the host Wildcats could get water bottles filled.
"That's one of those play designs where you hope you hit a home run on it," Jesuit coach Marlon Blanton said after the Aug. 13 scrimmage. "Jackson is a home run hitter."
Jesuit's 5-foot, 9-inch, 150-pound senior is the top returning wideout on a squad packed with potential. He caught 14 balls in four games (229 yards, two touchdowns) during last year's COVID-shortened season, and is hoping his prep experience culminates with a dynamic showing in 2021.
He's one of the smallest on the field, and he only gets smaller as he speeds away with the ball, at a clip of 4.54-seconds per 40 yards.
_______________________________
CONNECT WITH US:
Follow SportStars on Twitter & Instagram | Like us on Facebook | Subscribe!
_______________________________
"I have always been undersized, and I compete to prove everybody wrong," Hagopian said. "I look at someone and I know he's bigger than me, but I can still beat him.
"I always have that mentality."
It's what you would expect from a little brother seeking his own heritage.
Jackson's older brother, Joe Hagopian was a two-sport Jesuit star who played baseball at Sacramento City College and New Mexico, before transferring to the University of Texas at El Paso, where he now plays football.
Their father, Shant Hagopian, is a Jesuit baseball alum who coaches with the program.
"I'm not really in their shadows, but I do love building my own legacy here," Jackson said.
"That's a good family, good people," Blanton added. "I love the Hagopians.
"And Jackson is tough, gritty, aggressive and everything you want in a player his size and stature. He's a phenomenal teammate who loves Marauder football."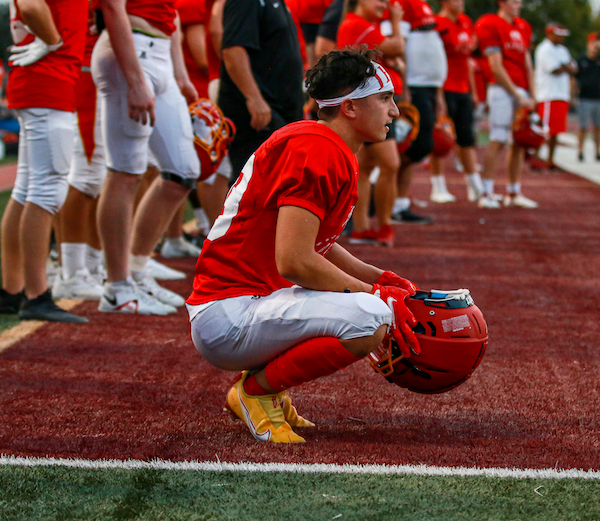 Jackson was interviewed during the later moments of Saturday's scrimmage, as Jesuit flexed its depth against Whitney. He would often abandon thought to bellow encouragement onto the field.
"That a boy Cam, drop that shoulder baby!" he hollered once.
It's the kind of hype that Jackson is known for.
"Little actions like that says a lot about how these guys feel for each other," Blanton said. "One of the things we concentrate on is the love for one another, and that requires actions."
Jackson has room for big actions too.
His sensational catch-and-run against Whitney won't find its way onto a MaxPreps box score, but the next one probably will.
PRESEASON NORCAL TOP 20 RANKINGS: Nos. 11-10
11. MONTEREY TRAIL-ELK GROVE (5-0)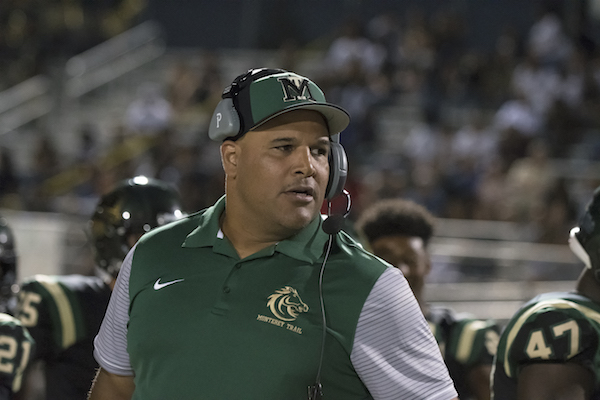 Of the teams in our Top 20, the Mustangs' seven returning starters may be the fewest. However, over the last five years, Coach TJ Ewing's program has shown a consistent ability to replace key contributors and not skip a beat. Among the standout players returning from an undefeated spring are senior QB Frank Acruri who can make plays with both his arm and his legs, as well as senior all-purpose back Brevin Amiga and senior linebacker Tanaki Tonga. Filling the gaps on defense will be the biggest key if Monterey Trail wants to stay in the rankings for the duration of the season.
FIRST GAME: Aug. 20 vs Folsom
10. LINCOLN-STOCKTON (4-0)
Outside of Folsom, there may not be a Sac-Joaquin Section team with more top-level talent at the skill positions than the Trojans. The honor roll starts with senior tailback Jonah Coleman. The 5-foot-9, 205-pound Arizona commit averaged more than 11 yards per carry during his last full season in 2019. Kenyon Nelson is a junior dual-threat QB who already holds an offer from Tennessee. Senior linebacker Tim Thomas III recently committed to Fresno State and senior WR/DB Jomarion Briggs is weighing offers from UCLA and Arizona, among others.
FIRST GAME: Aug. 20 at Edison-Stockton
FROM THE FB PREVIEW VAULT: Ronnie Rivers, Freedom-Oakley (Aug. 2015)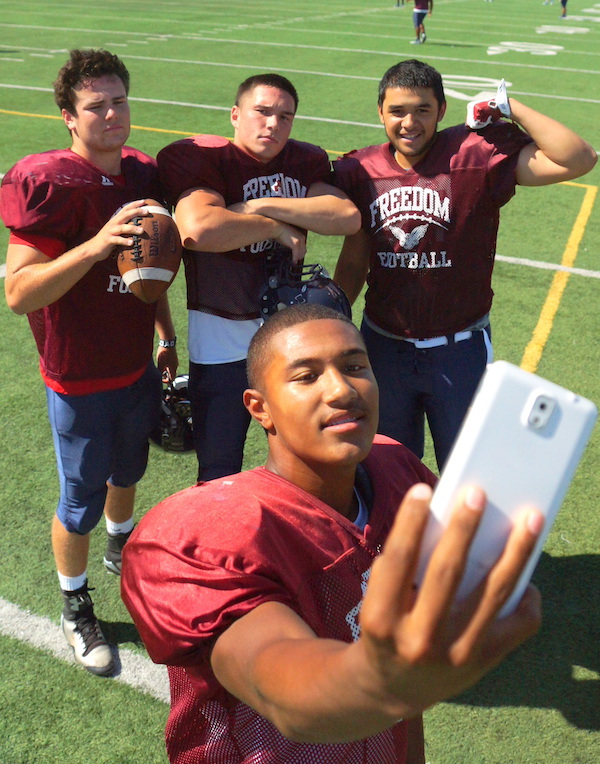 Selfies were one of our themes for the 2015 NorCal Football Preview, and Freedom-Oakley running back Ronnie Rivers got into the spirit with a few of his Falcons teammates.
Rivers will begin his final year at Fresno State this season where he's become one of the most prolific all-purpose backs in program history. The first TD he scores this season will be his 45th — which will set the Bulldogs' new record for career touchdowns. That likely won't be the only list he tops in the Fresno State record book by season's end, either.
Meanwhile, his younger brother Devon Rivers led the North Coast Section in rushing last spring with 911 yards for Heritage-Brentwood. Just a junior this season, he has a very real chance of holding most of the Patriots' rushing records before graduating in 2023.
_________
COMING LATER TODAY IN A RETURN TO FALL RELEASE: More Preseason Top 20 Teams Are Revealed, Plus A Player Spotlight On San Ramon Valley's Jackson Brown and MORE