Running Game, Pass Rush Lead Elk Grove Over Lincoln; McClymonds Passes First Big Test + VIDEO Of Heritage-Brentwood Win • PICTURED ABOVE: Elk Grove...
Running Game, Pass Rush Lead Elk Grove Over Lincoln; McClymonds Passes First Big Test + VIDEO Of Heritage-Brentwood Win •
PICTURED ABOVE: Elk Grove defensive end, Pita Folaumotui Vi (Ike Dodson photo)
On paper, Friday's matchup between 2-1 Lincoln High and winless Elk Grove was a toss-up.
It didn't play out that way, especially in the second half, as the Thundering Herd took their first win of the season in 49-23 fashion.
Elk Grove overwhelmed Lincoln with 21-unanswered points in the fourth quarter and 424 total offensive yards — without completing one pass.
Elk Grove running back Zeke Burnett and quarterback Ethan Archuleta played like they were on their own fantasy football team, combining for 43 rushes for 396 yards and six touchdowns.
Lincoln pulled out special plays to score points, like a 50-yard rush by quarterback Johnny Bauser, reminiscent of the "Beast Quake," and a sensational double-pass touchdown finished by Thomas Mukai to Gabriel Burns.
Outside of a few explosive plays, the Fighting Zebras spent most of the night struggling to survive backfield penetration by Elk Grove outside linebacker/defensive end Pita Folaumotui Vi
_______________________________
CONNECT WITH US:
Follow SportStars on Twitter & Instagram | Like us on Facebook | Subscribe!
_______________________________
The 6 foot, 3 inch, 230-pound defender is a menace on the grid. He was a constant harassment to Bauser and Co., and made four tackles for loss, including a sack Friday.
Folaumotui Vi is just different. He stands out on nearly every play.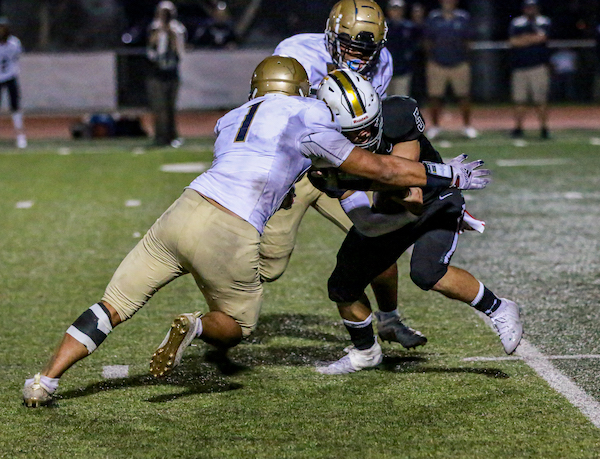 "We just get down to business," he said moments after Friday's win. "Thats how we do it at Elk Grove.
"We have on of the best D-lines in Sacramento, as you can see. Shout out to my team, because I couldn't have done it without them."
Elk Grove begins its Delta League schedule as heavy favorites next Friday when it travels to Davis (0-4) for a 7:15 kickoff.
Warriors Come Out To Play
Despite being ranked inside our NorCal Top 20 Rankings and within the Top 5 of most Bay Area rankings, McClymonds-Oakland has remained a bit under the radar over the first month of the season.
That's likely to change somewhat now that the Warriors have reached the most daunting three-game stretch to their schedule. It's a trio of nonleague games that started at home Friday with a 33-22 win over a previously-unbeaten Marin Catholic-Kentfield team.
The win improved the program's modest NorCal winning streak to 28 games. McClymonds' last loss to a NorCal foe came at Palo Alto on Sept. 7, 2018. If that streak get to 30 games, the Warriors most certainly won't be under the radar anymore.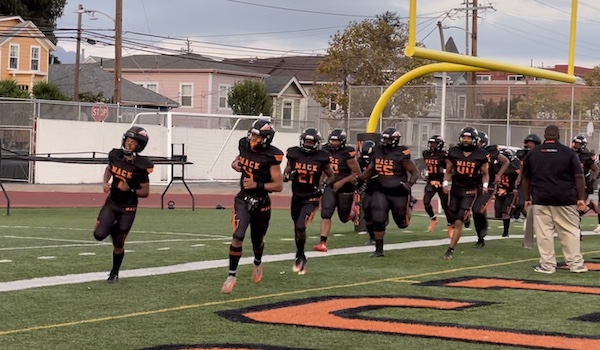 Over the next two weeks, Mack will travel to Menlo-Atherton-Atherton (1-2) and host NorCal No. 5 Pittsburg (2-1). Menlo-Atherton will host the Warriors on an extra week of rest after having its game against Placer-Auburn wiped out due to COVID issues.
Mack's win over Marin Catholic featured standout performances in several phases of the game — not surprising for a team with 19 returning starters. Senior QB Dreyan Paul threw for 240 yards and three scores. He also rushed for 89 yards (which included a 20-yard loss on a poor shotgun snap) and a touchdown. Sophomore Tajir Golden rushed for 93 yards and receivers Jay'Vion Cole (2 TDs) and Dwayne McDougle each topped 100 yards on eight catches a piece. Finally, Tayshon Clayton and Malik Richardson accounted for 4.5 of eight Warriors sacks on defense.
"It was a great game," McClymonds coach Michael Peters said afterward. "We're getting better and we're young, and we've got to get even better for the next two weeks because it's going to be tough. I like what I see."
VIDEO: Heritage Picks Up Steam With Homecoming Win
TOP 20 RESULTS
No. 1 Folsom def. Oak Ridge-El Dorado Hills 54-7
No. 3 De La Salle-Concord def. Cathedral Catholic-San Diego 49-21
No. 5 Pittsburg def. Wilcox-Santa Clara 31-26
No. 6 Rocklin def. Whitney-Rocklin 39-8
No. 7 McClymonds-Oakland def. Marin Catholic-Kentfield 33-22
No. 13 Bellarmine-San Jose def. No. 8 Central Catholic-Modesto 28-21
No. 9 San Ramon Valley-Danville def. Antioch 21-17
No. 11 Los Gatos def. Half Moon Bay 49-21
No. 12 Jesuit-Carmichael def. Pleasant Grove-Elk Grove 49-7
No. 14 Edison-Stockton def. Pitman-Turlock 55-6
No. 15 St. Mary's-Stockton def. Bishop O'Dowd 42-6
No. 17 Benicia plays at Clayton Valley-Concord on Monday
Salinas def. No. 18 Aptos 42-14
No. 19 Lincoln-Stockton def. Monterey Trail-Elk Grove 38-35
Granite Bay def. No. 20 Del Oro-Loomis 28-14