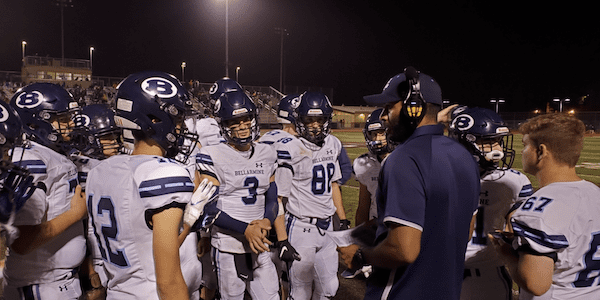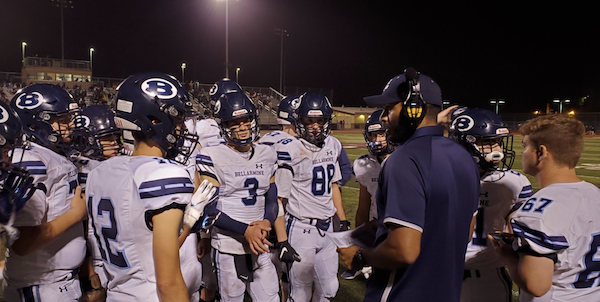 While Still Built Upon The Same Principles Of Past Teams, Coach Jalal Beauchman's Bellarmine Program Has A New Look — And It's Working •...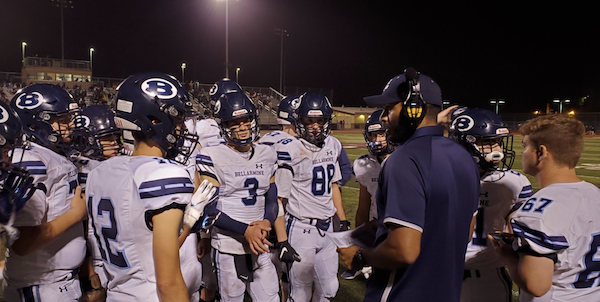 While Still Built Upon The Same Principles Of Past Teams, Coach Jalal Beauchman's Bellarmine Program Has A New Look — And It's Working •
For nearly four decades, there wasn't much room for debate when it came to the identity of the Bellarmine football team. 
One look at old press clippings involving the San Jose high school's program leaves little doubt as to how one might describe Bells football under legendary head coach Mike Janda.  
"Hard-nosed."
"Smart."
"Physical."
"Do things the right way."
Now, want to know what the 2021 Bellarmine football team under second-year head coach Jalal Beauchman is all about?
See above.
A resounding 41-6 win over San Leandro pushed the Bells up to No. 13 in the most recent SportStars NorCal Top 20 rankings, setting them up for NorCal's biggest intersectional matchup this Friday when they host No. 8 Central Catholic-Modesto at San Jose City College. The win over the Pirates showcased all the familiar principles of what has established Bellarmine as one of Northern California's powerhouse programs over the years. The grit of a tough running game remains, and the tenacity of a well-schooled group is still evident.
Only, maybe it now comes with a fresh coat of paint.
Bellarmine football under Beauchman, himself a 2006 graduate of the school and the 2005 West Catholic Athletic League Receiver of the Year, looks to the naked eye a little different than it used to. The Bells don't line up in the double wing formation much anymore, instead opting to spread defenses out and look for matchup advantages in space.
The abridged 2021 spring season gave Beauchman a chance to begin that transformation, but through two games in the fall, the changes seem to be taking hold. A week one win over Menlo-Atherton provided plenty of offensive fireworks as the new Bells offense led the charge in a 56-41 victory.
Two weeks later, that prodigious production continued against the Pirates. Senior quarterback Wade Smith was front and center, throwing for 167 yards and a touchdown while also running for 30 yards and another score. Junior running back Ben Pfaff added 97 yards and three touchdowns on the ground.
Smith's evolution at quarterback has been particularly important. When he joined the program, Bellarmine's run-heavy offense was well established. As a quarterback, that meant handoffs would probably play a larger role in his life than winging the ball down the field.
With a change in coach also came an adjustment in what it meant to play the most important position on the field.
"It's definitely a big change going from my sophomore year and handing the ball off on about 90 percent of plays to all of a sudden needing to learn to read defenses and stuff like that," Smith said. "I think I've adapted to it well. Last year was kind of a growth period, and this year I've kind of settled into that role and I'm confident."
_______________________________
CONNECT WITH US:
Follow SportStars on Twitter & Instagram | Like us on Facebook | Subscribe!
_______________________________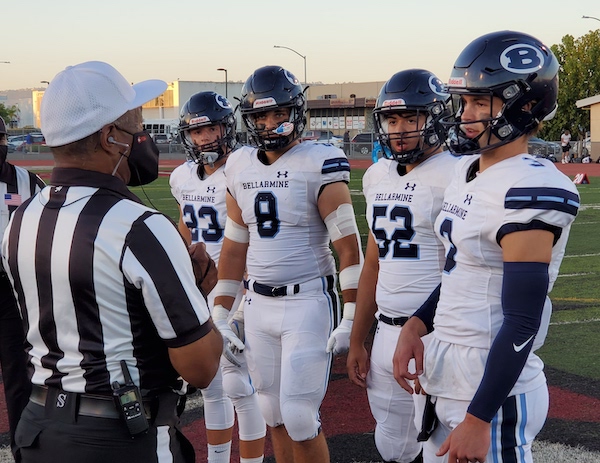 Smith's ability to adapt to his new role hasn't escaped his teammates' notice. 
"Wade has been phenomenal. On and off the field, he's a great leader. He's a role model for everyone," Pfaff said. "He's been balling out, making plays, extending what seems like is going to be nothing. He's a guy everyone looks up to on our team and he's a great player."
When it comes to offensive production, Pfaff has been right alongside his senior quarterback in the early going. After rushing for 185 yards and four touchdowns in the second half of the win over Menlo-Atherton, he again shouldered the load with 17 carries against San Leandro. Now a junior, Pfaff spent the spring season on the varsity level, but injuries ultimately limited him to just two games.
"He helps me so much," Smith said of his backfield mate. "Whenever I'm on the field and something's wrong with me or I made a bad play, I know the offense can get the momentum back just by turning and giving the ball to him. That's priceless."
A look under the hood shows a Bellarmine offense that perhaps hasn't changed as much as a cursory glance would indicate. The playcalling against San Leandro still showed a 60/40 split – 60 percent rush, 40 percent pass. So, while it might not be as easy to spot as it used to be, the idea of establishing a strong running attack, no matter the formation, is still present.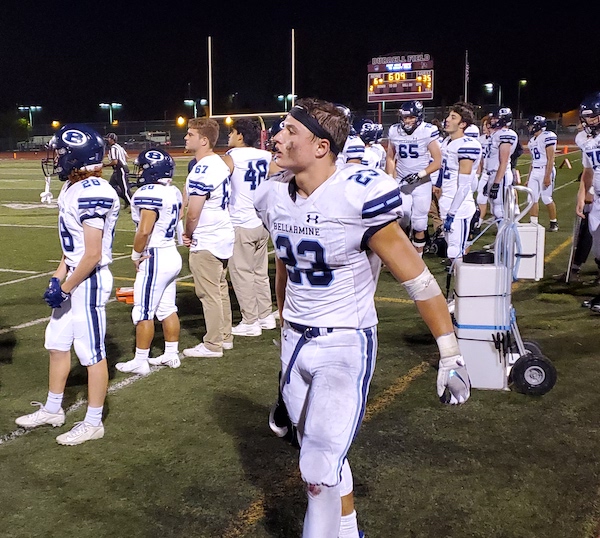 "The new offense in general has been refreshing. We're trying to keep up the traditions of our old coaching staff and old Bellarmine football but this new offense really just brings a sense of refreshment and shows that we're back but we're back in a new way," Pfaff said. "It's been a great experience. These coaches have done a great job of teaching it and we've done a great job learning and executing it."
Big point totals through two weeks provide concrete evidence that the offense is heading in the right direction under Beauchman and his staff.
Still, he remains focused on consistent improvement and process rather than the end result.
"We're just worried about executing on each play and the score will take care of itself," Beauchman said. "It's good to look back and see that we've been able to put up a lot of points in the first two weeks but we ultimately know that we can't approach it that way and come into a game thinking about how many points we want to score. All we want to think about is the next play."
While the daunting West Catholic Athletic League schedule looms in the not-too-distant future, the next test for Bellarmine comes in the form of a 3-0 Central Catholic-Modesto team that has already picked up impressive wins over St. Mary's-Stockton and San Ramon Valley-Danville.
The Raiders will pay a visit to San Jose City College on Friday night for what should be one of Northern California's premier matchups of the week. That means there won't be time to rest on the accomplishments of their first two games if the Bells want to stay unbeaten heading into league play.
Resting on accomplishments isn't the Bells thing anyway. What's the next play?